The Smithsonian Migratory Bird Center is dedicated to understanding, conserving and championing the grand phenomenon of bird migration. Founded in 1991, we are located at the Smithsonian's National Zoological Park in Washington, D.C. → Join our Center
Spotlight
Join us on Saturday, May 21, for a trip to Delaware to view a spring migration spectacle: the annual spawning of the horseshoe crab and the shorebirds that time their migration to feast on the eggs.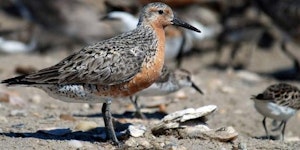 Delaware Bay may be the biggest spawning area in the world for these relics from the ancient world. You may see thousands of shorebirds including the rare and declining red knot.
Expedition Blogs
First-hand updates from our researchers in the field.

Small Coffee Grower Certified Organic and Bird Friendly
---

Magee Marsh