Nov. 11, 2015
The Andean Bear exhibit is celebrating two very special birthdays on November 10 and 11: Mayni and Muniri are turning one year old! In the latest Keeper Q&A Sarah Colandrea reveals plans for a birthday bash and the cubs' future.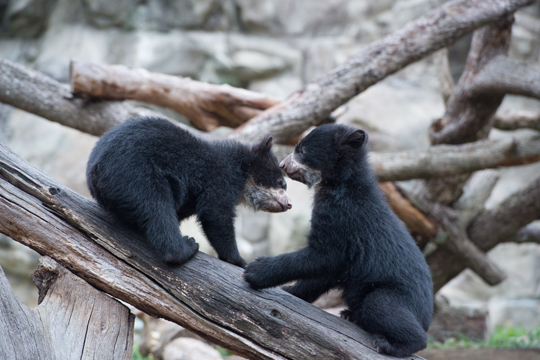 How are the cubs celebrating their birthdays?
On November 11, our Department of Nutrition will be making special fruitsickle cakes for Mayni and Muniri. They have a big appetite: Mayni now weighs 88 pounds and Muniri weighs 84 pounds! Mayni is the more outgoing of the two cubs. He is the one that will leave mom to stay in the yard when shifting in or vice versa stay behind when shifting out. Muniri likes to be with Billie Jean and is more cautious about being left alone.
We'll also have some treats for mom Billie Jean and dad Cisco so they can join in the festivities!
Will they receive gifts?
Keepers give the bears various enrichment items—these could be bobbin feeders, spools, puzzle feeders, and many others. Both Mayni and Muniri are extremely playful and love to investigate new toys! Recently, we gave them some buoys to play with, and they had a blast.
As one can imagine, the bears are pretty tough on their toys. If readers are interested in giving them a birthday gift, a donation (of any amount) to the Animal Enrichment Program would help animal care staff purchase some new toys for the bears.
What's been your favorite moment working with the cubs?
One day, Mayni stayed inside while Billie Jean and Muniri had already ventured outside. He stayed near me at the door. Without breaking eye contact, he stood up on his rear legs and spun in circles against the door. He did this several times in a row! It was an adorable and playful moment.
What can zoo visitors expect to see when they visit the bears?
Andean bears make nests high up in trees and often take naps in them. It's truly an amazing sight to see! When the bears aren't napping, they're often playing in the yard– wrestling and chasing each other and Billie Jean.
Behind the scenes, what are the cubs learning?
Right now the cubs are learning basic husbandry training skills, like coming inside and going outside when called, as well as climbing on a scale.
For how long will the cubs remain with Billie Jean?
At about one year of age, we will begin separating the boys from mom. The current Species Survival Plan recommendation is to send them to a new Association of Zoos and Aquariums accredited zoo in early 2016. We will be sure to update fans as their departure date approaches!
This story appears in the November 2015 issue of National Zoo News. Want Zoo stories delivered straight to your inbox? Sign up for the e-newsletter here.