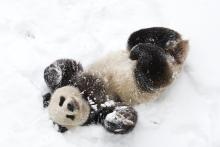 Giant Panda Housewarming Celebration
Saturday, February 23, 2019
Celebrate the David M. Rubenstein Family Giant Panda Habitat's new, colorful and interactive exhibit, on Feb. 23, 2019.
Animal Discovery Days
March 20, April 4, May 29 and more
Animal Discovery Days shine a spotlight on different animals around the Zoo. Each day includes special demonstrations, activities and opportunities to learn about wildlife conservation.
Come spend the night at the Smithsonian's National Zoo!  Spaces are still available for our adults-only overnights featuring the Elephant Community Center, American Trail, Cheetah Conservation... more
Spend a wild night at the Smithsonian's National Zoo this summer!