Feb. 26, 2016
The Small Mammal House's baby boom got a little bit bigger Feb. 4 with the births of two fennec fox kits! Keepers are hand-raising the kits—one male and one female—who were born to 7-year old mother Daisy and 2-year-old father Charlie. What does it take to care for a baby that weighs a mere 40 grams at birth? Biologist Kenton Kerns gives the scoop on raising the tiny tots in our latest keeper Q & A.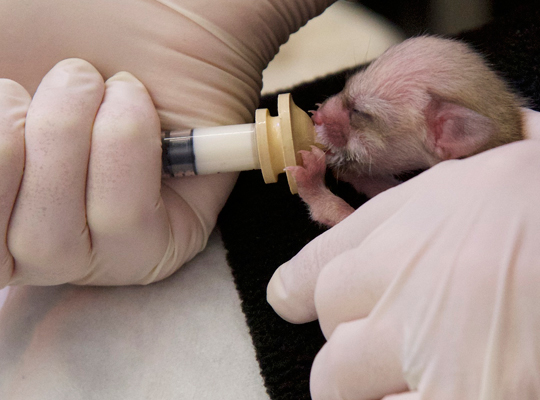 Why are the kits being hand-raised by keepers?
At her previous Zoo, Daisy had limited success raising babies on her own. Since she doesn't have many relatives in the North American fennec fox population, her genes are very valuable. When we received the recommendation to breed her with Charlie from the Association of Zoos and Aquariums' Species Survival Plan, we knew that we were going to have to hand raise her kits to give them the best chance at survival.
We set up a nursery in the Small Mammal House complete with all the supplies we might need for raising tiny fennec fox babies: an incubator, feeding syringes, thermometers, sample-collecting bags, gloves, masks, scrubs, towels, sheets, and equipment our vets use during routine checkups.
How do you care for fennec fox kits?
Prior to Daisy's pregnancy, Small Mammal House keepers teamed up with Zoo veterinarians and nutritionists to create a kit care plan. As soon as the babies were born, we removed them from the exhibit and placed them in the incubator to regulate and monitor their body temperature.
Our nutrition team developed a formula made of Esbilac (puppy milk replacer) and KMR (kitten milk replacer) to simulate the composition of a fox mother's milk. Initially, we fed the kits every two hours around the clock for the first ten days. As the kits grew stronger, we reduced feedings to every two hours beginning at 6 a.m. and ending at midnight.
By the time they are a month and a half old, they will be transitioned to solid foods, including beef, vegetables (broccoli, cauliflower, sweet potato, carrot, corn, beans, squash), fruits (apple, banana), wax worms, and kibble.
How are the kits doing?
They're doing great! Like most newborns, they spend the majority of their day sleeping. They're very wiggly and vocal during feedings and at times when we take their temperatures. Both kits have opened their eyes, and those characteristic fennec fox ears are starting to protrude.
At birth, the kits weighed about 40 grams each. As of Feb. 25 (three weeks later), the male more than doubled in size to 83 grams, and his sister weighs a sturdy 76 grams. We're happy that they're healthy and continue to grow!
Will the kits go on exhibit?
For the first couple of months, the kits will remain in the nursery behind the scenes. Our colleagues who manage the fennec fox Species Survival Plan will let us know in a few weeks whether our kits will remain at the National Zoo or go to other institutions to be a part of their breeding programs. Our hope is to have at least one of the kits on exhibit in the Small Mammal House. We'll keep visitors updated as the foxes reach key milestones—including receiving their names—on the Zoo's Facebook, Instagram and Twitter pages.
This story appears in the March 2016 issue of National Zoo News. Want animal tales delivered straight to your inbox? Sign up for the e-newsletter here.