Jan. 27, 2014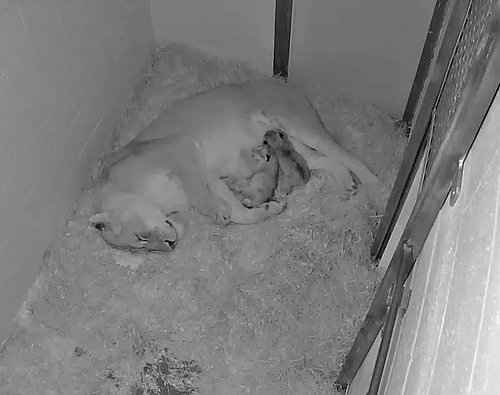 The Smithsonian's National Zoo's Great Cats team celebrated the arrival of its first litter of African lion cubs in four years. On Jan. 24, the Zoo's 10-year-old lion Nababiep gave birth to three cubs—two surviving—in an eight-hour period. These cubs are the third litter for Nababiep and the fourth for 8-year-old father, Luke.
Animal care staff watched Nababiep give birth via a closed-circuit webcam and continue to monitor the family. The first cub was born at 3:58 a.m. and appeared active and healthy. Five hours later at 8:51 a.m., Nababiep delivered her second cub, but it was stillborn. The third cub was born at 11:24 a.m. and appeared active and healthy.
Below is a short video clip featuring the brand new cubs.