Mar. 26, 2015
May 10, 2015
Watch Wild Inside the National Zoo: Episode 10: Curious Cubs for awesome footage of Mayni and Muniri playing.
March 16, 2015
March 02, 2015
November 19, 2014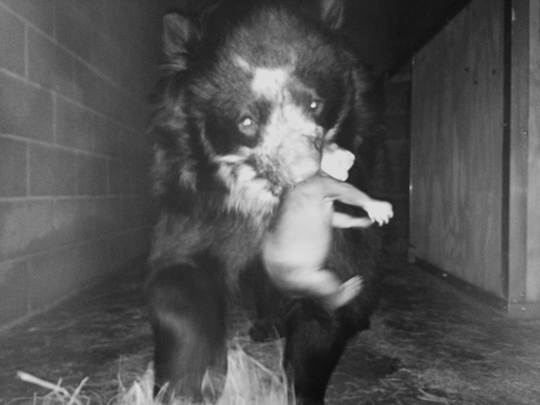 Yesterday, keepers were fortunate to capture this moment of Billie Jean bringing one of her cubs out of the den! They opened the door between the bear and staff areas, exposing the family to ambient light and noise. Since Nov. 15, keepers have presented Billie Jean with some food and some flakes of hay to refresh her bedding. Interestingly, she's prioritized moving the hay before eating (though she has snacked a bit on leaf-eater biscuits and other non-perishable treats). Overall, mom and cubs are doing well, and the keepers are pleased with the family's progress thus far!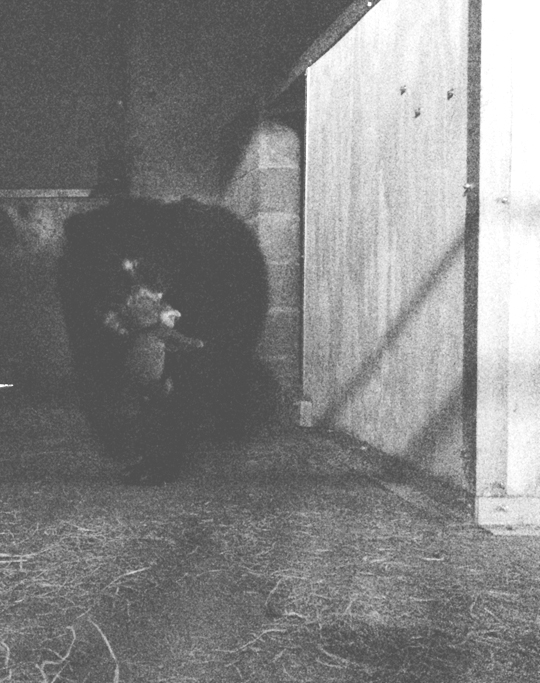 November 14, 2014
November 12, 2014
The Smithsonian's National Zoo is excited to announce the birth of two Andean bear cubs born to 8-year-old Billie Jean. The cubs were born November 10 and 11 and their father is Cisco, the twenty-one-year-old male who came to the Zoo per a breeding recommendation by the Association of Zoos and Aquariums' Species Survival Plan. This is the third birth for Billie Jean and she is once again proving herself to be an attentive mother.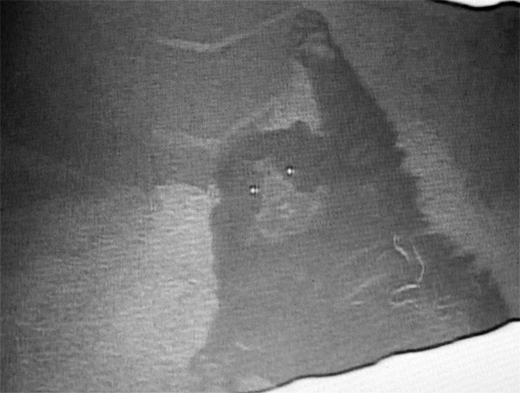 Animal care staff is closely monitoring Billie Jean and the cubs via a closed-circuit camera, allowing Billie Jean to care for her cubs without interference. Both cubs are active and vocal, and Zoo staff is hopeful that Billie Jean will continue to exhibit the same maternal instincts she did in January 2010 and December 2012, when she proved to be an excellent mother to Bernardo, Chaska, Curt and Nicole. Andean bear cubs have a high mortality rate, but staff remains cautiously optimistic that the cubs will thrive.
Billie Jean and Cisco bred in April, however, it is difficult to pinpoint exactly when she became pregnant because reproduction in this species involves delayed implantation.The birth of these cubs is significant for the population of Andean bears in human care. They are one of four litters born in North American zoos in the past nine years.
Andean Bears are listed as vulnerable on the International Union for Conservation of Nature's Red List of Threatened Species, and it is estimated that there are only 2,000 left in the wild. They are South America's only bear species, and as their name suggests, they live in the Andes mountain range from western Venezuela south to Bolivia, with sightings reported from eastern Panama and extreme northern Argentina.
November 6, 2014
Our 8-year-old female Andean bear Billie Jean has been eating less of her regular diet, yet her weight has jumped 50 percent—from 145 pounds to 218 pounds. She chooses to stay in her den even when offered outdoor access. Overall, her movements signal that it's difficult for her to get comfortable. And, she's nest-building. All of these signs heighten hopes that Billie Jean may give birth for the third time!
The father-to-be, 21-year-old Cisco, arrived at the National Zoo in Sept. 2013 from the Queens Wildlife Center on a breeding recommendation. The pair bred in April. However, it is difficult to pinpoint exactly when Billie Jean became pregnant because reproduction in this species involves delayed implantation. The blastocyst (fertilized egg) does not attach to the uterine wall until several months after breeding occurs.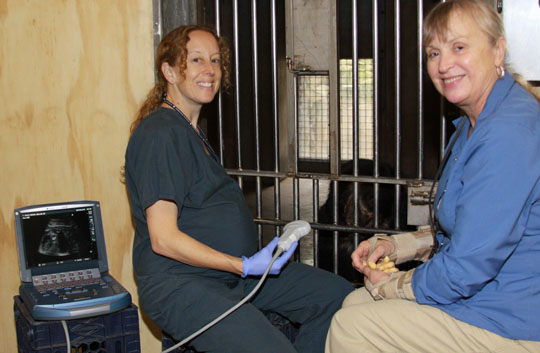 Zoo veterinarians and keepers began conducting ultrasounds in late August. They hoped to capture early signs of pregnancy. The earlier a fetus is detected, the earlier keepers can best prepare for a cub's arrival. In mid-October, the ultrasound conducted revealed two live fetuses that appeared to be developing well!
While keepers and veterinarians are encouraged by their observations, they are cautiously optimistic. Like all bear species, Andean bears can resorb one or both fetuses at any stage of the pregnancy, resulting in only one or no cubs. And just like any animal pregnancy, there is a possibility that cubs could be stillborn or born with a terminal defect.
However, keepers are monitoring Billie Jean closely and are encouraged by her progress thus far. Based on their observations, we anticipate the arrival of healthy cubs around mid-November. We will be sure to update you as Billie Jean's pregnancy progresses!
Zoo visitors can see 2-year-old bears Curt and Nicole, as well as Cisco, on exhibit near the lower entrance to American Trail, weather permitting.
January 30, 2014
Andean bears are hardy! Temperatures in Washington, D.C. have dipped into the teens and single digits, but our bears don't seem to mind the cold. We give them indoor and outdoor access so that they can choose to take in the elements or stay in their heated dens. In the winter, we are especially wary of branches breaking under snow or ice. Before the bears go out, we thoroughly check their yards to make sure the trees are in good shape.
The weather certainly hasn't stopped Curt and Nicole from climbing trees! Winter is a great time to spot them and the elaborate nests they build. Of course, they still enjoy wrestling and playing, but they have their own favorite activities. Curt is more of a cautious explorer, whereas Nicole is a bit more rambunctious and will get investigate anything and everything! Billie Jean keeps a watchful eye over all their play sessions.
We spend roughly an hour a day in training with the cubs, but a lot of that training is just getting the bears used to us being in close proximity. They are asked to come close to the fences, get on the scale, and other stationary behaviors that help us examine their bodies. The bears love peanuts and will try very hard to follow our commands when they know peanuts are their reward! Billie Jean, Nicole, and Curt are fed as a family group, so it is a bit tricky to say exactly how much each individual bear is eating. At estimation, they eat about 7 pounds of food per day.  Varied food items are a kind of enrichment that we give them. They especially love apples! And, they're growing. Nicole weighs 75 pounds and Curt weighs 123 pounds!
Recently, we've started giving the family visual access to Cisco, our adult male, who was brought to the Zoo on recommendation to breed with Billie Jean this spring. So far, reactions from all bears have been positive! Even though we don't plan for the cubs to have physical access to Cisco, just having visual access is a great way to vary our bears' social enrichment. We try to update their environments, so to speak, as much as we can to stimulate them to use their natural behaviors in fun and exciting ways.
By spring, Curt and Nicole will likely be ready to move into their own enclosure that's separate from Billie Jean's space. Behaviorally, they'll let us know when it's time. Soon after they are separated, we should receive a recommendation for them to go to another Zoo and breeding program. Whether or not we physically introduce Cisco and Billie Jean depends on if we are able to get the cubs successfully separated from Billie Jean before we are out of this year's breeding season, which is in spring. We have hopes that the pair will breed, but again it is up to the bears to move at their own pace.
September 13, 2013
Our 9-month-old Andean bear cubs are growing up! Nicole and Curt spend a lot of time climbing trees, wrestling each other, and chasing each other about the yard. Nicole is smaller than Curt, but she's more agile and definitely holds her own in wrestling matches. Playful activities like these build up muscles, reflexes, and skills they will need as adults—although  the cubs also set aside plenty of time for sleeping.
Easygoing Curt prefers to stick close to mom Billie Jean, though he won't hesitate to exert himself when it comes to food or toys. Nicole, on the other hand, is inquisitive, independent, and fond of climbing high into trees. She has started displaying nest-building behavior, bending and shaping thin tree branches into a nest-like shape where she can sit.
Once they become more independent from mom, keepers will begin training the cubs in behaviors that help animal care staff evaluate their health, including opening their mouth, showing their paws, and practicing to receive a vaccination. The cubs have learned to tolerate taking food directly from their keepers and to shift in and out of their den. They are still nursing from Billie Jean but also enjoy solid foods like omnivore chow, fruit, and vegetables. Keepers are now weighing all three Andean bears on a weekly basis, which allows them to monitor the cubs' health and diet as they continue to grow.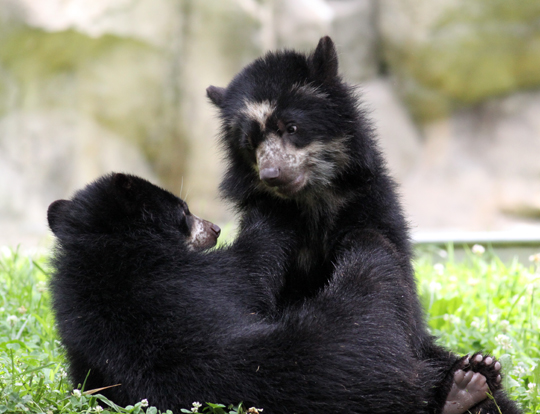 June 11, 2013
Look who's moving on up! Andean bear cubs Curt and Nicole have been busy since their debut a month ago at the Andean bear exhibit.
Both cubs are perfecting their arboreal skills and now regularly climb up to the very top of the tree in their yard. (They are also getting back down all on their own.) Mom Billie Jean made it to the top of the tree recently as well to snack on some mulberries. The keepers have been coming up with some creative enrichment activities for the cubs, especially on hot days. Last weekend one of the keepers used a power washer to spray some water into the yard, and the cubs had a ball playing in the mist of cool water. The cubs are spending most of their mornings running around their yard, wrestling and play-fighting.
The cubs are in their yard every day from 10:30 a.m. to 12 p.m. Keepers call them inside in the afternoon because they are usually all tuckered out from playing in the yard all morning and need to nap. They have been responding and coming inside quickly when keepers open the door to the indoor exhibit. After they come inside, they nurse from Billie Jean and eat.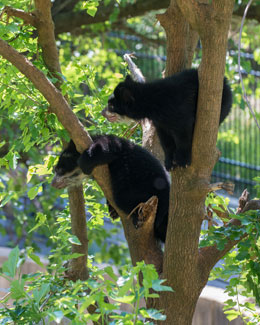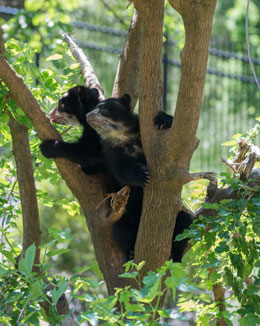 May 8, 2013
Many of you watched Andean bear cubs Curt and Nicole on the den cam as they learned to walk, play, and climb. Now, the cubs are ready for their next adventure—the outdoor yard! Last Friday, Curt, Nicole, and Billie Jean were shifted to Chaska's old den at the opposite end of the exhibit, to provide them direct access to the large yard they will soon inhabit. Unfortunately, this means the family will no longer be visible on the Andean bear cub live-feed, as their new enclosure is not equipped with a cam. Unlike the giant panda habitat, which received a generous donation from the Ford Motor Company to update the exhibit's existing cam technology, we are unable to outfit both dens and outdoor yards with additional cams at this time due to a lack of resources.
Smithsonian's National Zoo staff are ever so grateful for the thoughtful comments and observations many of you have posted on our Facebook wall these past five months as the cubs matured. We appreciate your understanding, and hope those of you in the D.C. area will visit the Zoo this Mother's Day weekend for Curt and Nicole's public debut!
April 30, 2013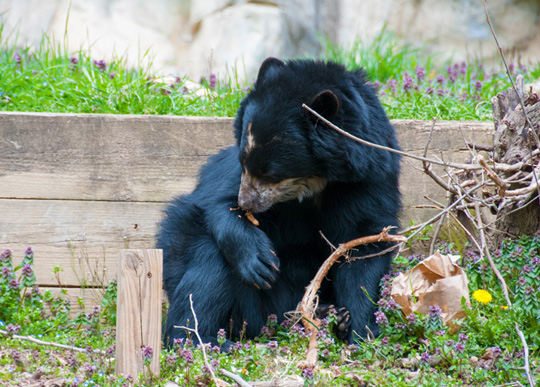 Visit the Andean bear exhibit this weekend and early next week to see Chaska before she leaves for her new home at the Salisbury Zoo on May 1! Chaska was born at the Zoo in 2010. She is the offspring of Billie Jean and Nikki, our male Andean bear who passed away last year. She will continue to serve as an ambassador for her species at her new home.
April 25, 2013
Big news: our Andean bear cubs officially have names! Keepers chose the name Nicole for the female cub. They wanted to honor the memory of her father, Nikki, who passed away last August after a year-long battle with cancer. The male cub, Curt, is named in honor of late Zoo Advisory Board Member Curt Winsor.
Over the next few weeks, keepers will be baby-proofing the yards by adding hay bedding and other elements to make the yard as safe as possible for adventurous baby bears who like to climb. Once animal care staff determine that the family has acclimated to the yard, they'll make their public debut! Unfortunately, the bears' outdoor enclosure is not equipped with a cam. We hope that you'll be able to come to the Zoo and see them in person.
March 12, 2013
The Andean bear cubs are approximately 11 weeks old, and now the only thing standing between them and their behind-the-scenes indoor enclosure is mom Billie Jean! Previously, when the cubs ventured forth into this area, mom always blocked their way or herded them back. Last Saturday was the first time Billie Jean actually allowed them to explore past the outer den and into the enclosure. In no time, both cubs were exercising their still-developing climbing skills! The cubs are now roughly the same age as Bernardo and Chaska were when Billie Jean first allowed them out of the den.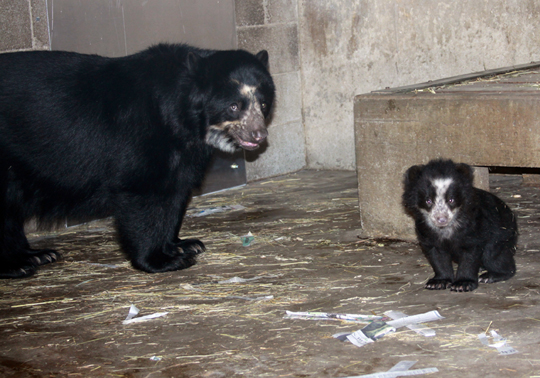 Billie Jean has been shifting into the adjoining den for keepers so they may clean the enclosure—a task she tolerates, but isn't thrilled to accommodate. She's consuming more food now, so this has become a necessity. Keepers don't approach the den when the cubs are present, and try to clean as fast as they can. Hopefully, Billie Jean will become even more accustomed to this routine.
March 4, 2013
It's been smooth sailing ever since both Andean bear cubs received a clean bill of health during their first veterinary exam. After the exam, keepers noticed Billie Jean had stopped bringing the cubs out of the den to retrieve fresh bedding materials, however, she resumed doing so yesterday. As a few of you pointed out, Billie Jean was given access to some shredded newspaper to add to her nest, and all three bears seem to enjoy the novel addition to their bedding!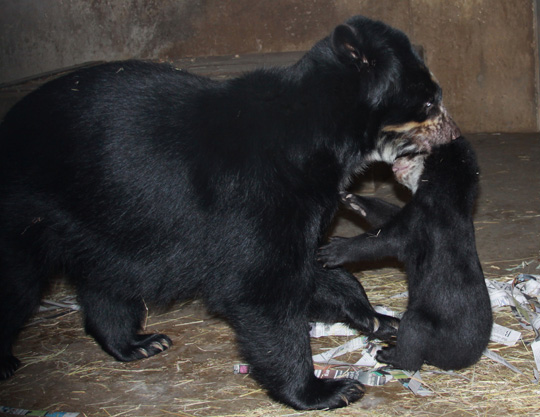 This week, the cubs began to explore the exciting new world that exists outside the inner part of the den, as their mobility and independence grow by the day. You might notice the two of them venturing towards the entrance of the den, climbing over the hay containment board (an ability the cubs have now mastered!), and even exploring other parts of the den that are beyond the cam's range. Billie Jean has not permitted them out into the actual enclosure, yet. Both cubs are also now exploring their capabilities of standing on their hind legs—which means it won't be too much longer before they're climbing!
February 20, 2013
The cubs have had their first exam, and they both received a clean bill of health today from the Zoo's veterinarians! A team of 14 people including vetrinarians and keepers performed a complete physical exam on each cub which entails: listening to the cubs' hearts and lungs; checking their mouth, eyes, legs, feet and genital area; and feeling their bellies. The cubs also received the first in a series of routine vaccines. Although it is difficult to determine the sex at such a young age when genitalia have not fully developed, the cubs appear to be male and female. The larger cub weighs 10.1 pounds; the smaller weighs 9.2 pounds.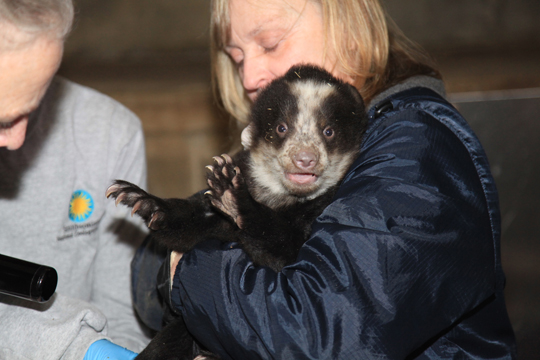 February 18, 2013
As cam watchers have probably noticed, Billie Jean is bringing the cubs out of the den more frequently. Sometimes she seems to be in search of food or hay, and sometimes it seems she brings a cub out when one is being particularly noisy.
The other morning when one of the keepers was getting ready to feed her, she brought a cub out and placed it on the floor. She kept it close while the keeper fed her some food! She took the cub back to the nest was she was finished eating.
We're hoping to get in to give the cubs their first exam in the next few days. We're working with getting Billie Jean comfortable separating from the cubs. This process involves feeding her some of her favorite food while we open and close one of the doors into her den. We're trying to get her as comfortable as we can hearing the doors open and close and with then being separated from the cubs for a short while.
When we do get an opportunity to go in and examine the cubs, the cam will be turned off. We'll turn it back on later in the day after the exam.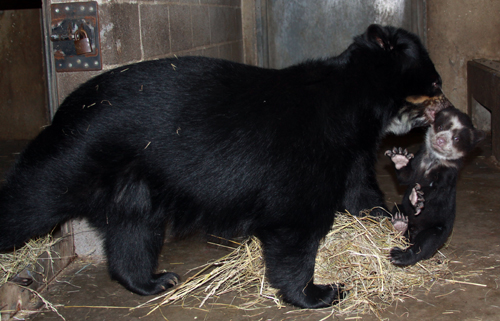 February 12, 2013
We're so glad you're enjoying watching our bear cub cams, both Andean and sloth! We're thrilled to be able to share this experience with you. Very few people have ever gotten to observe maternal behavior and cub development in these early weeks and months in the den, so this experience is as exciting for us as it is for you. We hope you've been able to follow along on your computer, but also on your mobile devices using our app. And we so appreciate those of you who have snapped and shared screenshots with us!
As you've probably noticed, as all three cubs are getting larger, they're getting more mobile. Billie Jean routinely takes her cubs out of the den for small excursions, and they seem to be trying out their legs. Before long, the cubs will start to explore beyond their den on their own. Which means we'll be trying to get photos of them, and if we are successful then we will share them with you! Unfortunately, it also means they won't be as consistently visible on the cams as they have been.
Several of you have asked about vet exams. The vet exams all depend on the mother bears. Billie Jean and Hana each have to feel comfortable being separated from their cubs for short times in order for animal care staff to conduct the cub exams. This is even more difficult in Hana's case, as sloth bears cubs ride on their mothers' backs. When we are able to conduct the exams, you can be sure we'll keep you updated and share all the adorable photos.
We also hope that, when the cubs begin to go outside this spring, you'll be able to come to the Zoo and see them in person!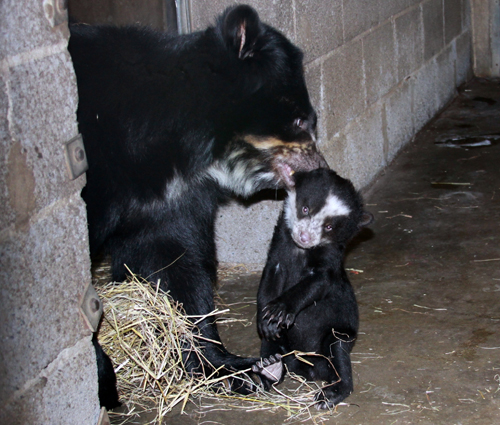 January 27, 2013
The keepers got another snapshot of Billie Jean carrying the other cub out of the den! (We know it's the other cub because the two cubs have distinct facial markings.) While we don't usually know why she leaves the den, or why she brings the cubs with her, this time it was clear to the keepers that she was on a mission to acquire fresh hay, which she uses for bedding. She picked up on cub, carried it out of the nest, through one enclosure to another, put her paws up on a bench and tried to grab some hay one-pawed. That's when the other cub, back in the nest, started hollering. She immediately returned to the nest—without the hay.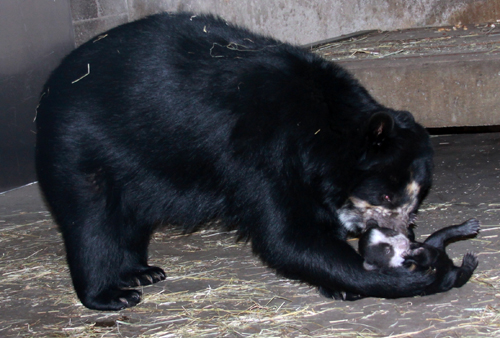 Photo courtesy of Karen Abbott, Smithsonian's National Zoo.
January 25, 2013
Several of you have mentioned seeing the daring rat that occasionally pokes its nose into Billie Jean's den. The Andean bear building is a warm, dry area protected from the elements, so it is inherently attractive to all sorts of opportunistic rodents. Because of the way Andean bears eat (browsing and foraging), the keepers have to leave food scatter around for them. This availability of food also attracts rats.
Rats are amazingly smart animals. The Smithsonian's National Zoo studies their cognition—something you can learn more about at the Think Tank exhibit. We have a team of pest management specialists who work diligently with keepers to reduce and control our visiting rodent population throughout the Zoo.  Our pest management team has actually observed rats outsmarting traps by flinging them against walls, and then making off with the bait. This particular rat is, according to the keepers, "almost uncatchable." She (they're almost sure it's female) has avoided all traps set out for her and even managed to breed. They have removed 10 offspring, but she still manages to elude capture and occasionally walks casually across Billie Jean's den.
Of course, much as we admire rats' cognitive abilities, we would still prefer them not to be in with our other animals. However, we refuse to use pesticides in our exhibits—and even that might not work completely. The visiting rats certainly provide our pest control team an element of job security!
However, fortunately, Billie Jean is a 200-pound bear with strong instincts to protect her cubs. No rat—however clever or cunning—poses a serious threat to her or the cubs.
This screenshot is thanks to Flickr user lestelledoro. Share your own screen shots here!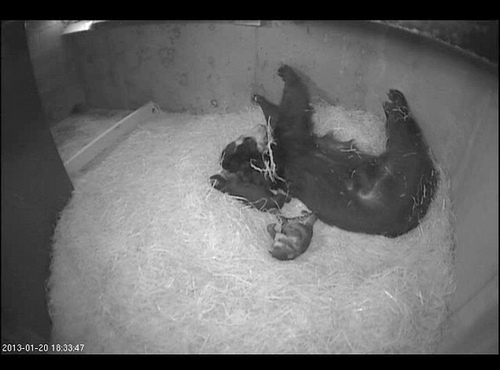 January 22, 2013
The keepers got their first good look at one of Billie Jean's cubs! She brought the cub out into the main den. It's natural for her to carry the cubs this way; it's no different from a cat carrying her kittens by the scruff of the neck. We don't know why she brings the cubs out every now and then, but this is the first time she's brought one out while a keeper was there.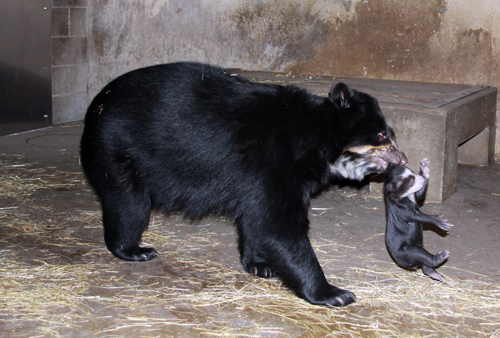 January 14, 2013
Our Andean bear cubs are one month old today! As you can see from the cams, they're considerably bigger than the specks they appeared to be when they were born. Big as they are, it will still be at least another four to six weeks before we're able to give them their first veterinary exam.
Like you, we're continuing to watch the cams! Footage like this isn't just cute and entertaining, it's also scientifically ground-breaking. As far as we know, no human has had the chance to watch Andean bear cubs the way we're watching these. We're also going back to review Billie Jean's behavior pre-birth to get a fuller understanding of her maternal behavior.
For those of you who have asked why Billie Jean might temporarily take a cub out of the nest and into the main den, we don't know. There's nothing in the main den (no additional bedding) that might tempt her there, but we're allowing Billie Jean to be in charge of mothering her cubs, and she's doing an excellent job.
This screenshot is thanks to Flickr user spiderxcat. Share your own screen shots here!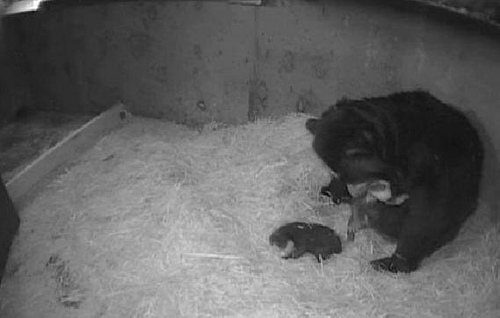 January 9, 2013
Andean bear Billie Jean and her cubs continue to do well! She's slowly starting to eat, though in very small amounts, which is normal. Because Billie Jean is typically so responsive to her human keepers, animal care staff are working hard not to take her attention away from the cubs. The goal is to let her know the keepers are there, to know where her food is, and to get her used to hearing routine noises again.
For now, we're continuing to monitor her by cam, and we hope you are, too! Many of you noted that Billie Jean moves the cubs around quite a bit. This behavior is completely normal for a mother Andean bear.
This screenshot is thanks to Flickr user terpgirl702. Share your own screen shots here!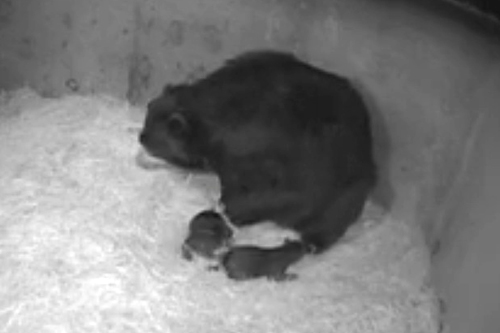 December 29, 2012
Billie Jean and her cubs appear active and well. The cubs continue to vocalize, and if you listen closely you might even hear them nursing! Keepers will continue to keep their distance in order to maintain a den that most closely resembles an environment one would observe in the wild.
Our team of keepers are seeing the same things you are seeing on the Andean bear cam right now.
We encourage you to share your screen shots on our Andean Bear Cam Cubwatch Flickr group, as every capture of the cubs' development is a valuable contribution to the Zoo!
This screenshot is thanks to Flickr user Heather Farmer.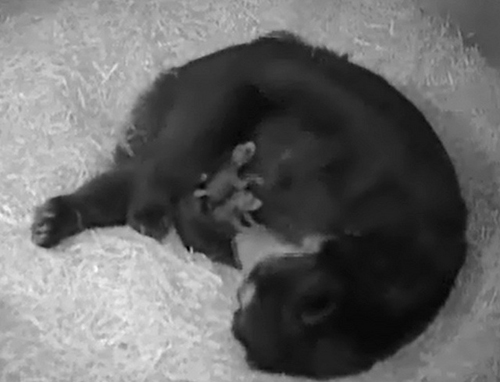 December 20, 2012
Today is Day 8, a milestone day for our cubs! We're very fortunate to have cubs that have survived more than seven days. Of course, cub mortality is still a risk, but things are looking encouraging!
This screenshot is thanks to Kristen Bullard, Smithsonian's National Zoo.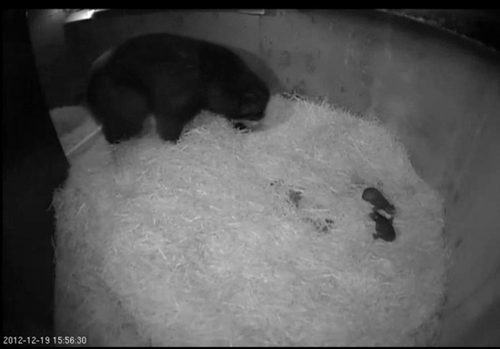 Billie Jean got up to leave the den very briefly yesterday. This screenshot (also captured by Kirsten Bullard) depicts her right before she left.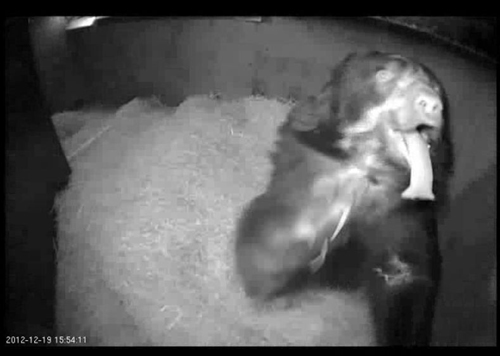 December 17, 2012
Billie Jean is being an excellent mom as she was last time. She's beginning to leave the den for short periods. She was out of the den, briefly, a few hours ago. We've been leaving her measured amounts of food and monitoring how much she eats. So far, she's only eating a little bit which is normal. The cubs are still vocalizing, and they are beginning to make the trilling vocalization typical of Andean bear cubs. We're still leaving her alone and staying away from the den. We want everything to be as close as possible to the way it would be in the wild.
This screenshot is thanks to Flickr user lilicammy.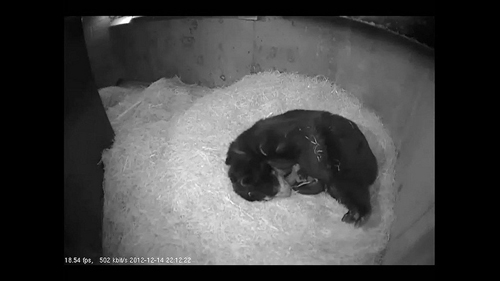 December 15, 2012
Each birth is different, but last time Billie Jean had cubs, she began leaving the nest briefly (for a few seconds at a time) on Day 4. When she does, that's a great time to get a glimpse of the cubs! Keep your eyes on the cam and be sure to share any awesome screen shots with us.
This screenshot is thanks to Flickr user Diane Picturebookz.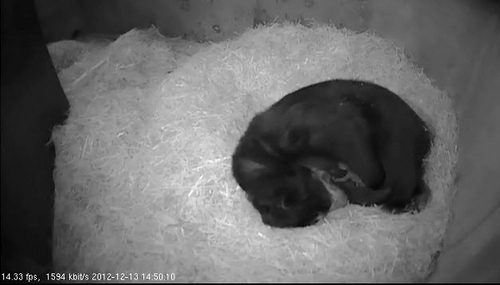 December 14, 2012
We continue to watch the cam! We're hearing squeaking, the cubs appear to be nursing, and we suspect everything's going well.
Thanks to Flickr user lilicammy for sharing this screen grab with us. Share your screen grabs on Flickr!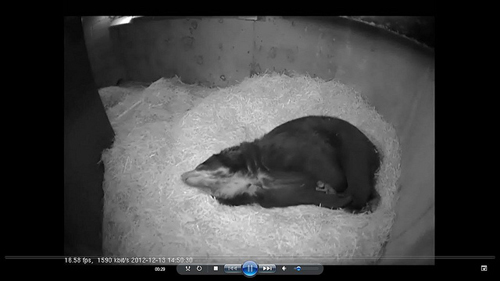 December 13, 2012
Everyone's excited about the Andean bear cubs! If you're like us, you can barely tear your eyes away from the cam to get work done. If that's you, then we need your help! When you're watching the cam and you happen to spy an especially cute moment, pause the cam, take a screenshot, and share the photo with us on Flickr.
For instance, here's what Billie Jean's doing right now: Just sleeping.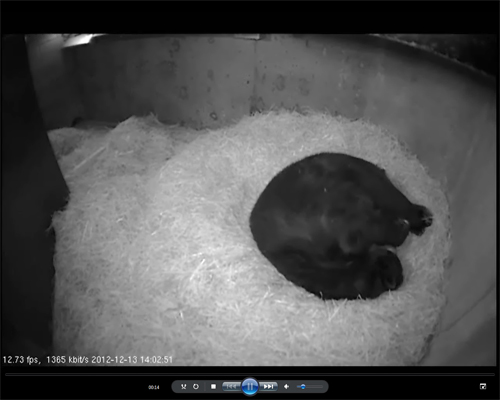 December 13, 2012
As far as we can tell from the cams, the two cubs appear to be doing well and Billie Jean is tending to them. We will continue to monitor her on the cams, but won't be going in with her or the cubs.
This first week is critical for cub development; the mortality rate of Andean bear cubs in their first year is around 40 percent.