Oct. 29, 2015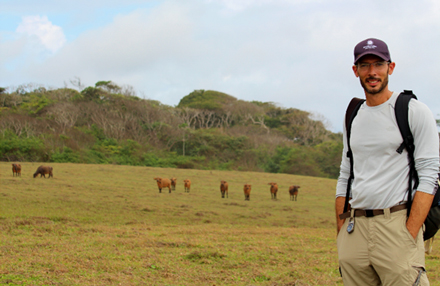 Smithsonian's National Zoo biologist Gil Myers journeyed to Gabon to participate in the Smithsonian's National Zoo and Conservation Biology Institute's Gabon Biodiversity Program. Gil's trip highlights the connections between the Zoo's exhibits in Washington, D.C. and its field activities in Gabon.
In addition to being a sitatunga keeper at the Zoo's Cheetah Conservation Station, Gil is also the studbook keeper for the Association of Zoos and Aquariums (AZA) Species Survival Plan for sitatunga in captive populations in North America. The stud book documents the pedigree and entire demographic history of each individual in a population of species. These collective histories are known as the population's genetic and demographic identity and are invaluable tools that track and manage each individual cared for in AZA-accredited zoos.
Gil's trip to Gabon was a learning experience for both Gil and his colleagues in Gabon. Field work provided Gil an opportunity to learn about sitatunga in their natural habitat and the conservation challenges they face. For the local Gabon Biodiversity Program staff, it was an opportunity to learn about how their field activities are linked to the sitatunga in human care. The program has been on the front lines of integrating conservation needs with development priorities to sustain biodiversity in Gabon and training the next generation of conservation practitioners.
About the Gabon Biodiversity Program
The Smithsonian Conservation Biology Institute provides innovative research and conservation actions through its Gabon Biodiversity Program. The 1,132,000-hectare Gamba Complex of Protected Areas in southwestern Gabon is rich in biodiversity, encompassing many habitat types and species of concern including gorillas, forest elephants, and sea turtles. However, the Gamba Complex also contains the largest oil development in the country. Since 2000, the team has worked collaboratively through a partnership between the Smithsonian Conservation Biology Institute, Shell Gabon, and other stakeholders, including the Government of Gabon. The partnership acts as a regional research hub to work with technical personnel in-country and in Washington, D.C. to conserve biodiversity in Gabon.
Thursday, Oct. 15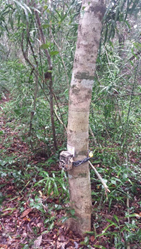 Today, I set camera traps with field biologists. Natural open areas within the forest are carefully selected along a GPS-recorded transect line to document if wildlife—particularly the elephants, gorillas, chimpanzees and forest buffaloes—are using the area. Aside from the camera images, evidence of fresh foot prints, dung, nests and feeding are used to document species presence. This information will help to identify species movement patterns and identify the forest corridors most critical to protect for the long term.
Friday, Oct. 16
U.S. Ambassador to Gabon, Cynthia Akuetteh, made a site visit to the Smithsonian's Gabon Biodiversity Program. This great honor shows her interest in conservation biology. She's not only the chief of mission for all U.S. government activities in Gabon she is also a Friends of the National Zoo member! In the evening, there was a special program to engage with local stakeholders and celebrate local biodiversity. This event was part of Smithsonian's outreach to Shell Gabon, our partner and primary donor in the region. Our team regularly hosts lectures and environmental education events to engage with local stakeholders.
Photo by David Korte
Saturday, Oct. 17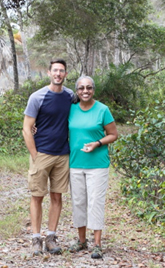 I was honored to go on a special day trip to Loango National Park with Ambassador Akuetteh. Loango is one of Gabon's 13 national parks, located west of the Gamba Complex. This was an opportunity to see the park and appreciate Gabon's biodiversity.
Photo by David Korte
Monday, Oct. 19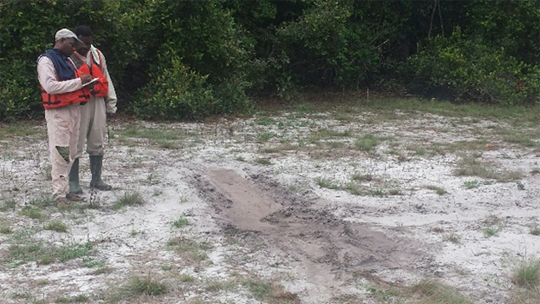 Today, I traveled with field biologists to a remote section of the Mouambi River searching for Nile crocodile activity and nests. Nile crocodiles have been heavily hunted for years and the species has been struggling to make a comeback. We found six encouraging nests, but two had been predated by the ornate monitor lizard. The body imprint left by the female in the sand revealed she was of impressive size.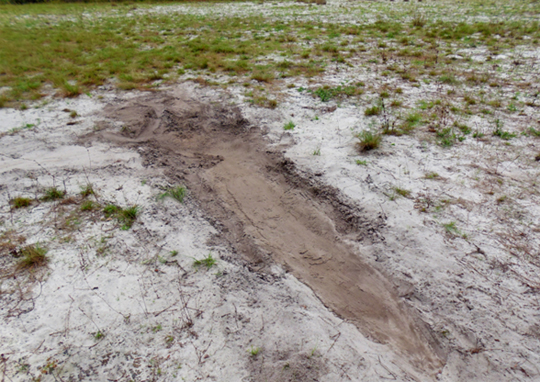 Tuesday, Oct. 20
I helped check on a camera trap near Gamba and was surprised to see a pair of fresh gorilla tracks. We followed the large silverback knuckle-prints and smaller female prints until they entered another forest. The crack of a stick break sounded like gorillas pulling down branches.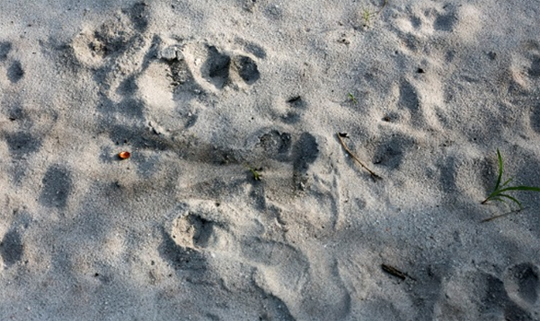 I noticed some movement in the canopy. It was a hairy arm that gave away a female gorilla building her nest in a tree. Eventually the female spotted us, but instead of shrieking a warning call, she made her way quietly into the forest.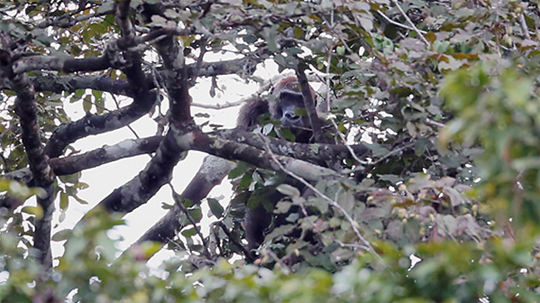 Photo by David Korte
Thursday, Oct. 22
Today, I joined field biologists in an area known as Vera Plaines, inspecting two plantations for elephant and gorilla crop damage. Within huge tracts of forest, plantations of multiple acres are created using slash-and-burn methods. It was upsetting to learn how much wildlife and habitat is lost from this devastating practice of agriculture. Fortunately, we identified very little evidence of crop damage at these locations, but it is a reoccurring problem. The biologists are determining where the damage is occurring most and developing positive relationships with plantation workers to avoid future human and animal conflicts. I observed my first wild female sitatunga on the way back from the study sight!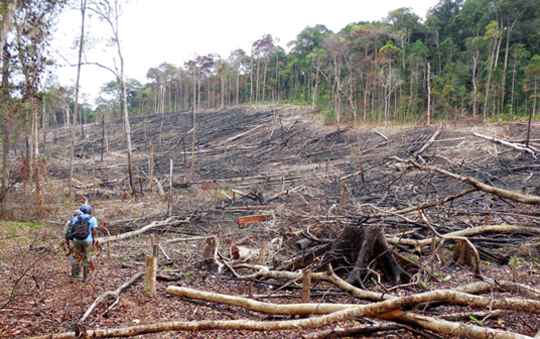 Saturday, Oct. 24
Today I hiked for four hours through the coastal forests and along the Atlantic Ocean beach in Loango National Park. Loango National Park is a Gabon gem, rich in wildlife and protected habitat. My highlight of the day was venturing upon a herd of 14 forest buffalo grazing in a narrow strip of savannah between the forest edge and the ocean surf. What an incredible sight to see so many! The herd watched with extreme caution, but to my delight, did not retreat back into the security of the forest.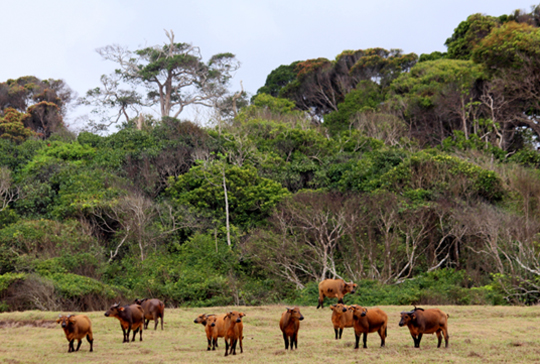 Tuesday, Oct. 26
Journeyed through the forest onto a mostly overgrown savanna in the Ivinga corridor, south of Gamba. The trail is used mostly by elephants, monkeys, and the few sitatungas I was hoping to see. Forty meters ahead, a dark shape moved. As it crossed the trail into vegetation, we saw it was a large adult male silverback. He was feeding on twigs and leaves bordering the savanna, facing us, but still unaware of our presence.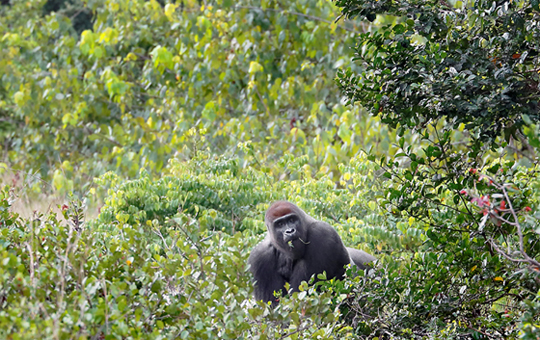 Photo by David Korte
Tuesday, Oct. 27
I did an evening presentation on sitatunga for the community in Yenzi. Check out some of the amazing "neighbors"! There was a herd of 13 elephants, including calves, feeding near the community!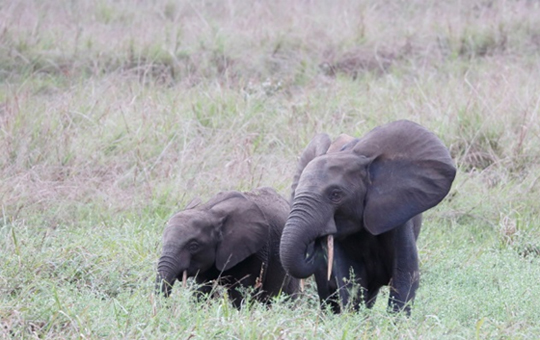 Photo by David Korte
Wednesday, Oct. 28
Experiencing Gabon to the very end—an amazing two weeks. With the morning hours I had left, I took a canoe onto Lake Yenzi. Just off shore, a male elephant was lounging in the shallows and blowing bubbles in the water. As I paddled by, I was caught off guard at the actual depth of the water when the top of his head and back suddenly became his entire body. Although I knew I was at a safe distance, my heart was beating fast. What a morning!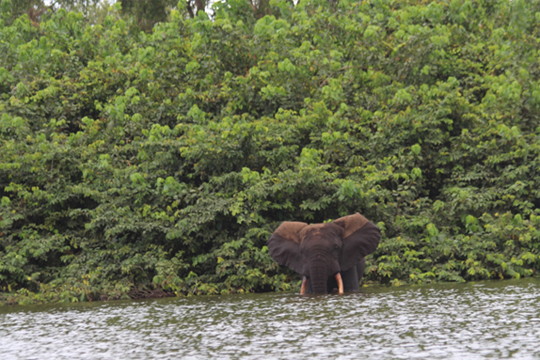 Thursday, Oct. 29
My journey to the Gamba Complex in Gabon has officially come to an end. As I sit in the Paris International Airport waiting for my last flight home, I've been reminiscing about all I have learned and experienced with the fabulous Gabon Biodiversity team.
My two-week wildlife sights included: forest elephants, forest buffaloes, common hippos, Western gorillas, red-capped mangabey, putty-nosed monkeys, moustached monkeys, sitatunga, side-striped jackals, rope and palm squirrels, Nile crocodiles, 73 species of birds (including goliath herons, palm-nut vultures, giant kingfishers, grey parrots, five species of hornbills, a great blue turaco and breeding colonies of river martins and rosy bee-eaters), and many butterfly species and giant millipedes. Although not seen, fresh foot prints of leopards, chimpanzees, red river hogs, duikers and mongooses were identified, plus sea turtle and ornate monitor lizard body prints on the beach. Not too bad...