Jul. 11, 2016
For the first time, the Smithsonian Conservation Biology Institute (SCBI)'s kiwi pair are parents! Keeper Wesley Bailey reveals how a strict diet helped dad Ngati Hine Tahi get in shape and resulted in the pair's first chick.
This story appears in the July 2016 issue of Smithsonian Conservation Biology Institute News. Want animal tales delivered straight to your inbox? Sign up for the e-newsletter here.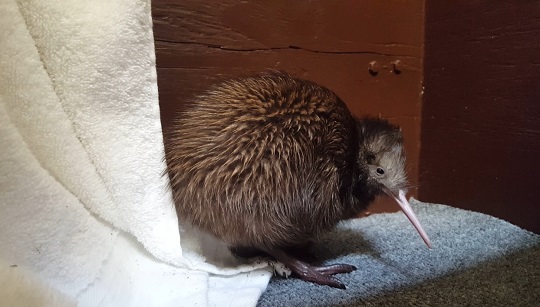 Dieting, it turns out, isn't just for humans. Losing weight has been the key to successful breeding for the pair of brown kiwi that recently became the first at the Smithsonian Conservation Biology Institute (SCBI) in Front Royal, Virginia, to produce two chicks... and a third fertile egg.
"This pair had previously produced 16 infertile eggs," says Wesley Bailey, animal keeper at SCBI. "It wasn't until we got the male down to a much lower weight that he all of a sudden started producing. Now he's three for three eggs."
When the pair, Ngati Hine Tahi (male) and Ngati Hine Rua (female), came to SCBI as a gift from the government of New Zealand in 2010, the male was already a little bit overweight. A propensity for stealing the female's food and interest in snacking on worms in his yard after rain put Ngati Hine Tahi at 7.4 pounds at his peak, more than 40 percent above the ideal weight for brown kiwi. The extra bulk made it difficult for Ngati Hine Tahi to get into position for successful breeding.
Bailey decided to put Ngati Hine Tahi on a diet. Keepers offer kiwi three food items: earthworms, mealworms and a mixture of meats, fruits and vegetables. Because females have longer beaks, Bailey started to put the meat/fruit/veggie mix into the bottom of longer tubes so the male couldn't quite reach her food.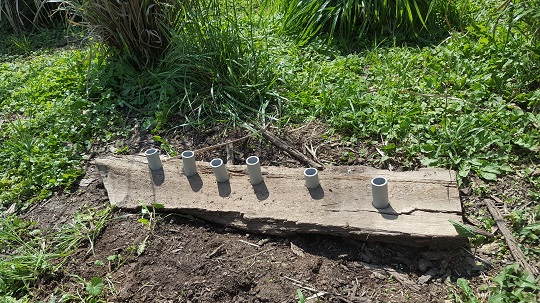 Tube feeder that keepers designed for Ngati Hine Tahi's diet
After installing a still-frame infrared trail camera to capture the nocturnal animals' behavior overnight, Bailey discovered that the female was pulling the tubes out of the ground and Ngati Hine Tahi would rush over and eat the food. Next, Bailey secured the feeding tubes into holes he drilled into logs in the kiwi enclosure. This seemed to do the trick. Now Bailey is turning his focus to meteorology, keeping the pair indoors or reducing their food when it looks like a few days straight of rain.
Today Ngati Hine Tahi weighs about 4.8 pounds, which is 35 percent less than his peak weight. If his third fertile egg continues to develop, it will hatch early August.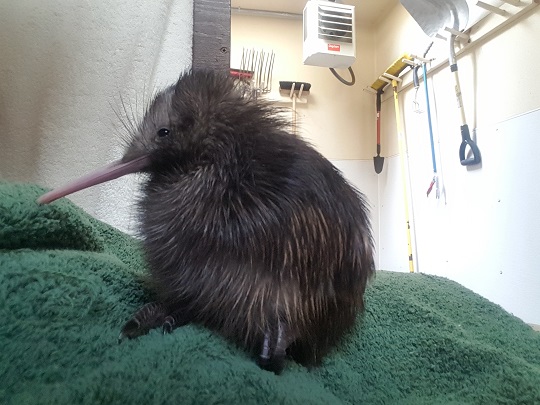 Baby kiwi born on May 10
"By getting to know these individual animals, Wesley has helped grow the population of this endangered species," says Warren Lynch, SCBI biologist and bird programs manager. "Wesley's creativity has improved the male's health, while still ensuring that he can maintain his quality of life. This is really the best in animal husbandry."