2017 Donor Impact Report
Thank you for your generous support of the Smithsonian's National Zoo and Conservation Biology Institute
"Your commitment to our mission enables us to continue important conservation projects in countries around the world, such as Kenya and Myanmar, to breed critically endangered species like Bourret's Box turtles, which the National Zoo bred for the first time in captivity, and to care for and exhibit some of the world's rarest and most endangered animals. Our efforts and work inspire millions of visitors each year and fuel the passion of future conservationists. We could not accomplish so much or maintain strides toward our mission without your support—our successes are yours as well. Thank you."
Steve Monfort
Acting Director, Smithsonian's National Zoo
John and Adrienne Mars Director, Smithsonian Conservation Biology Institute

We are conservationists.
Successful Launch of Conservation Commons and the Earth Optimism Summit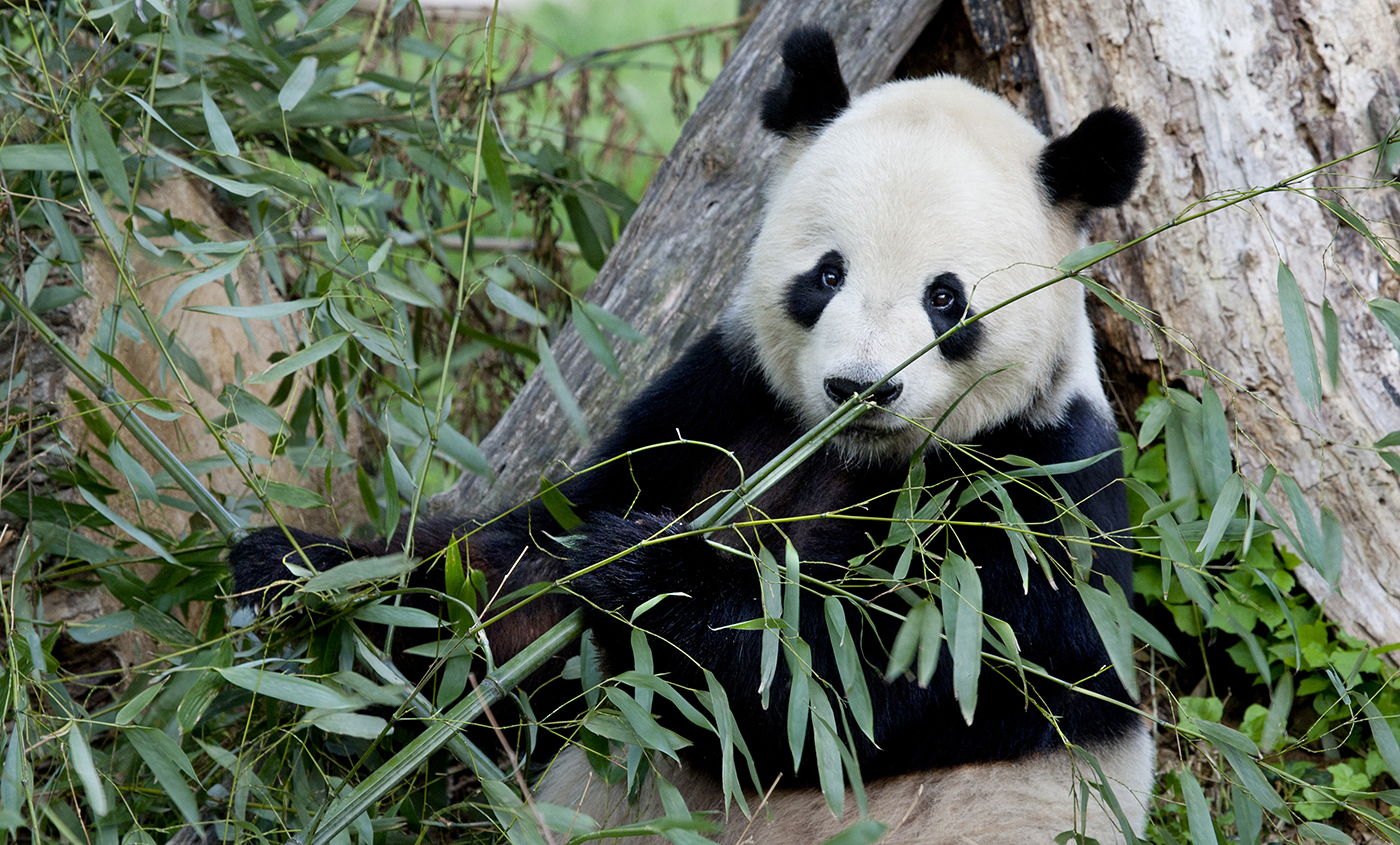 The year 2017 marked the inaugural Earth Optimism Summit. The event, held in Washington, D.C., on Earth Day weekend, aimed to change attitudes. It highlighted success in conservation and convened global thought-leaders to bring about action. The Summit successfully convened a community of Smithsonian and conservation scientists from more than 100 organizations, members of the media and a large contingent of students. The event raised awareness about the Smithsonian's collective efforts to sustain biodiversity on our human-dominated planet.
Listen to some of the Summit's talks and panels.
"The Earth Optimism Summit brought people together to share and learn from each other's conservation successes. When we shift the focus from problems to solutions, we empower people to replicate and scale up these successful programs in their own communities, creating an influential international network," said Steve Monfort, Acting Director of the Smithsonian's National Zoo and John and Adrienne Mars Director of the Smithsonian Conservation Biology Institute.
The Summit also marked the public launch of Conservation Commons, chaired by Steve Monfort. The Commons, an initiative comprised of a team of conservation experts from the Smithsonian Conservation Biology Institute, National Zoological Park, National Museum of Natural History, Smithsonian Tropical Research Institute and the Smithsonian Environmental Research Center, seeks to integrate the Smithsonian's considerable conservation resources to tackle complex problems on a scale that is truly consequential to sustaining biodiversity on Earth.

We train future conservationists.
Saving Species Worldwide: India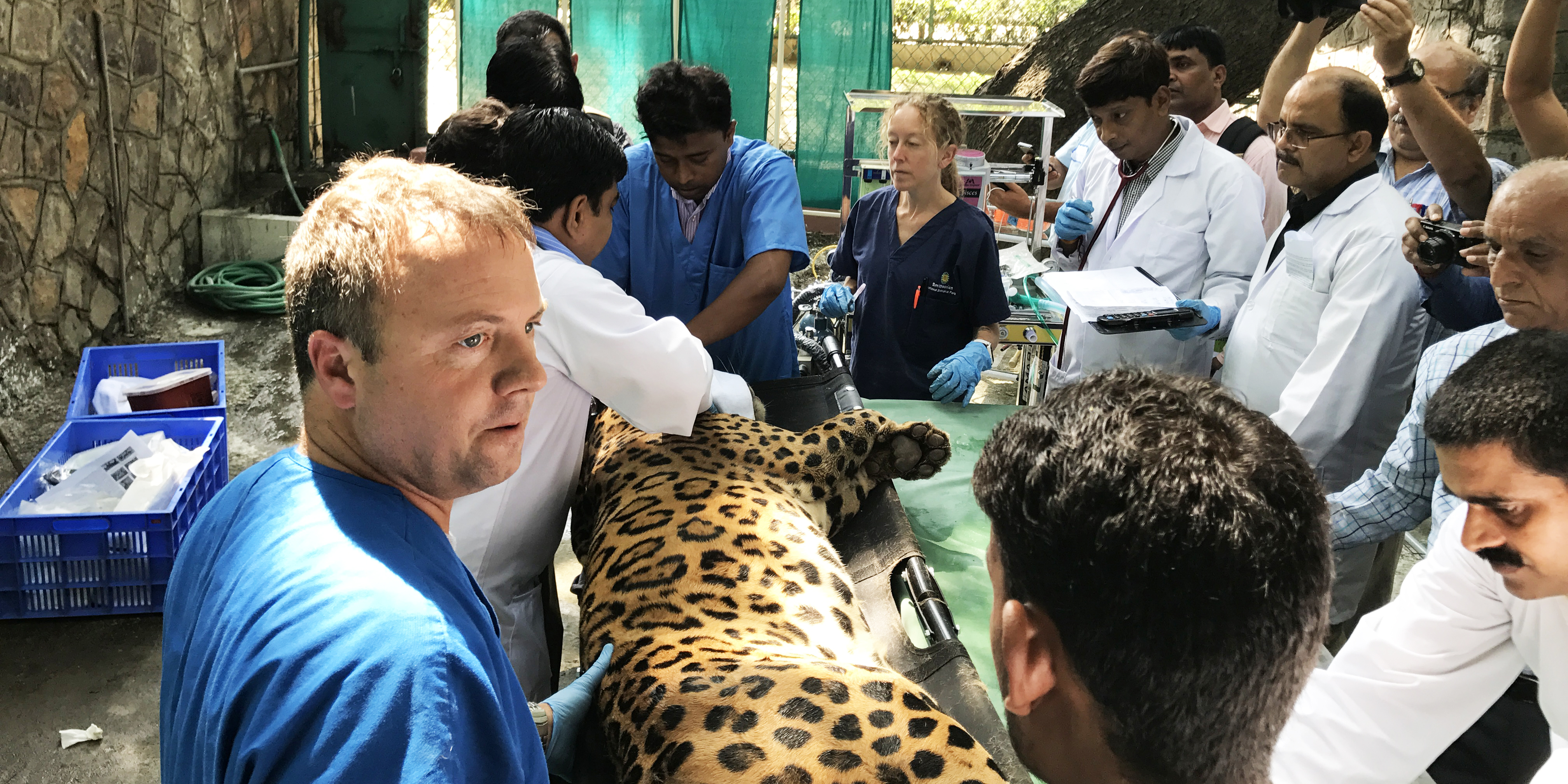 In 2017, Budhan Pukazhenthi, Smithsonian Conservation Biology Institute reproductive physiologist, Tony Barthel, Smithsonian's National Zoo's curator of Asian elephants, and Jessica Siegal-Willott, supervisory veterinarian medical officer, traveled to India to train colleagues on animal care, husbandry and veterinary medicine.
The team conducted training courses at the National Zoo (Delhi), Sri Chamarajendra Zoological Gardens (Mysore), Bannerghatta Zoo (Mysore) and Arignar Anna Zoological Park (Tamilnadu) on the nuances of diagnostics, medicine, preventative medicine, anesthesia, best husbandry practices, nutrition and the importance of enrichment and training to animal health and well-being, as well as the aspects of conservation breeding.
"Sharing knowledge and expertise is key to making a difference," says Pukazhenthi.
The growing relationship in India will include additional training programs, which will transition from cats to ungulates (hooved mammals), birds, reptiles and eventually endangered Asian elephants and rhinoceroses.
Collaboration opportunities like this are important to building a network, sharing information and making a larger impact on conservation. This collaboration began with a memorandum of understanding, signed in 2016 by former director Dennis Kelly and member secretary of Central Zoo Authority of India D.N. Singh, to launch a professional animal management-training program.

We are animal care experts.
Tales of a Tiger Cub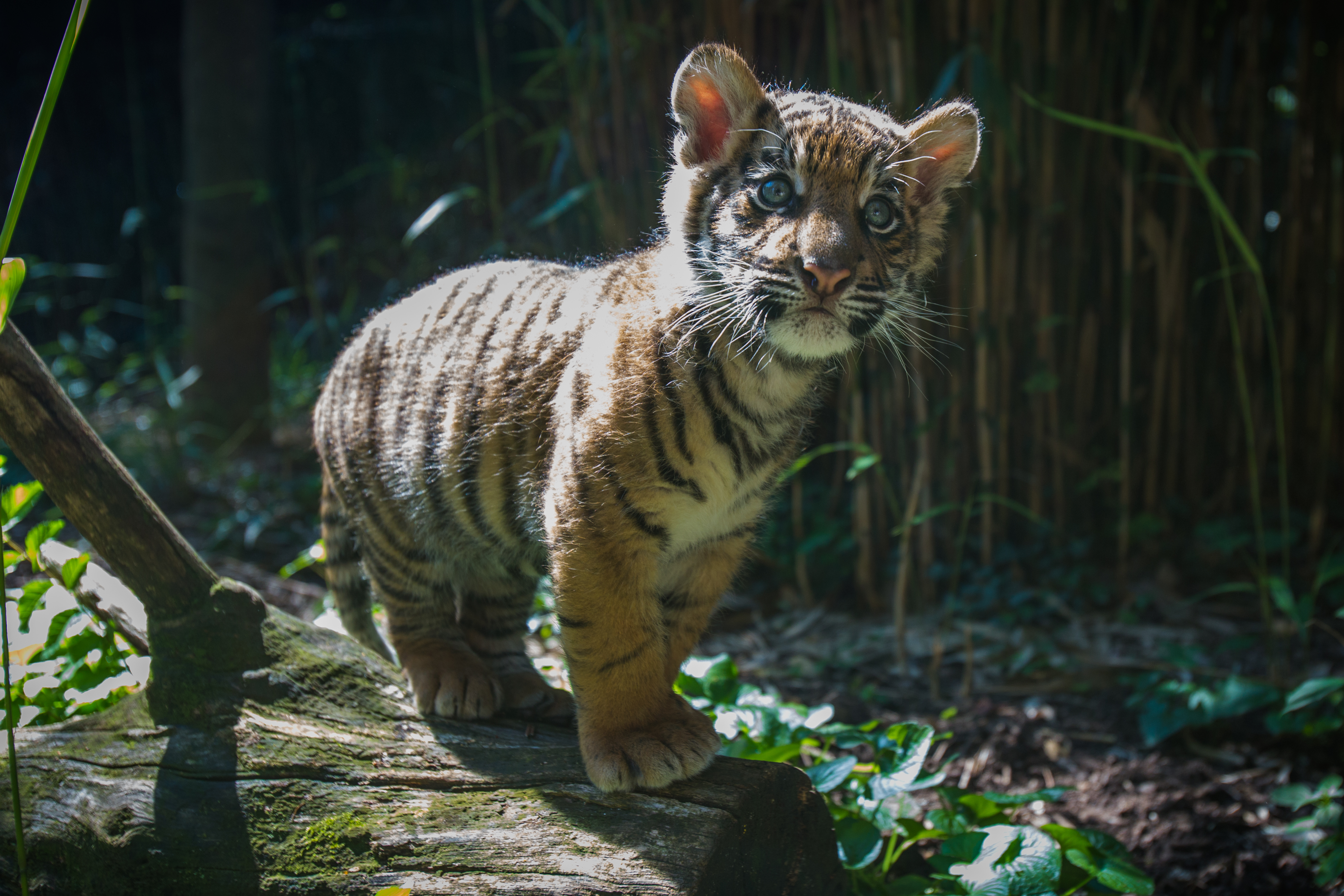 Welcoming a male Sumatran tiger cub is always an exciting event, but when the young cub's mother, Damai, began displaying aggressive behaviors toward him whenever he tried to nurse, the Great Cats team had to intervene. For over a month, the team supported the cub through supplemental feedings and tried to reconnect mom and cub multiple times before having to make a hard decision.
In September 2017, the cub was was successfully matched with another young male at the San Diego Zoo Safari Park and both are thriving.
"As his caretakers, we've done everything in our power to help him survive, thrive and socialize with his mother so that he can grow up to be a 'healthy' tiger. Now that Damai is no longer displaying the maternal behaviors we once saw, our best option is to pair him with the cub at San Diego Zoo. Having another tiger that is about his age to interact with will be tremendously beneficial to the both of them. They'll be able to play, wrestle and learn how to be tigers together, which is instrumental to his long-term social development," said Craig Saffoe, curator of Great Cats.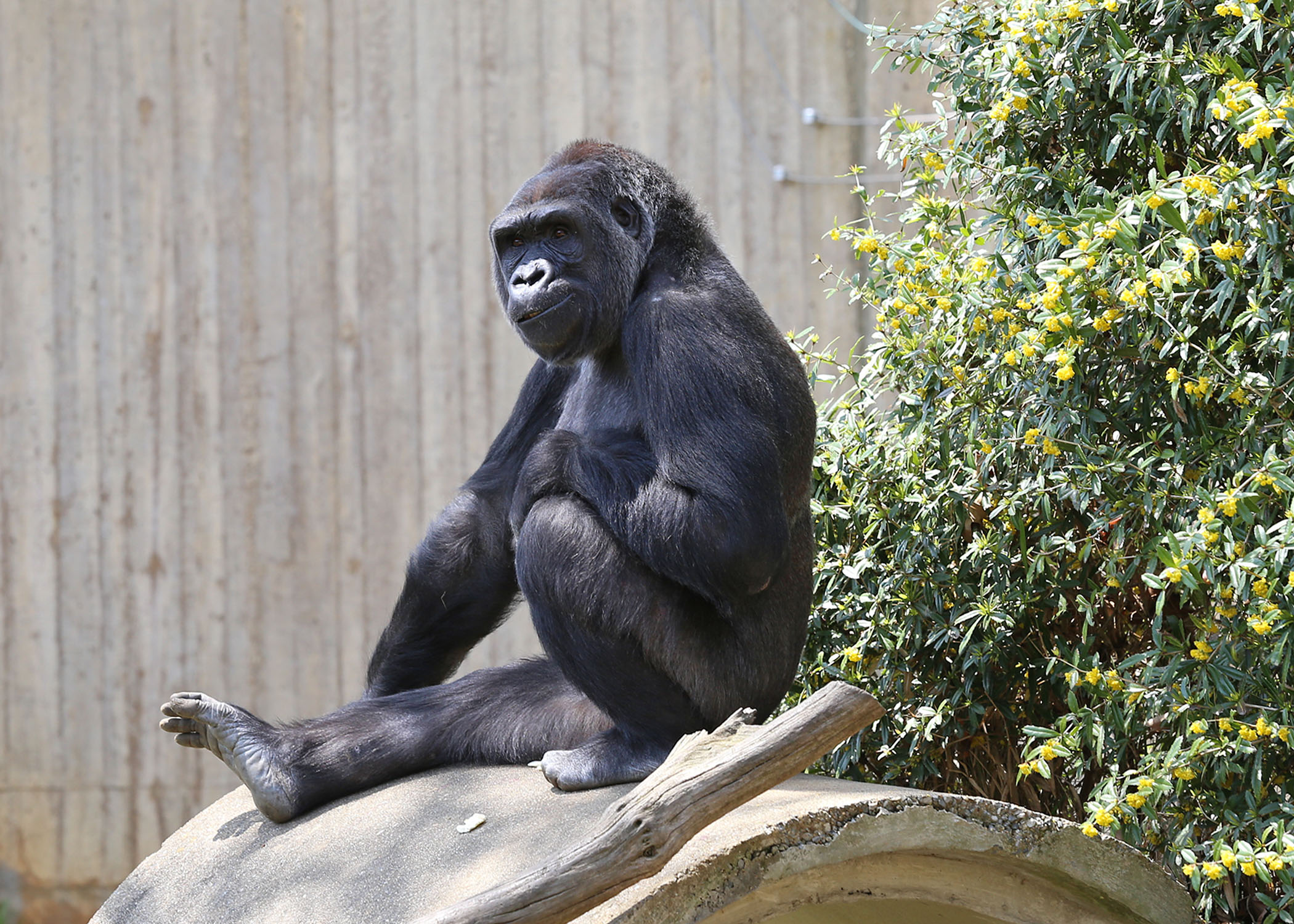 #GorillaStory
For the first time in nine years, primate staff made preparations for the highly anticipated birth of a critically endangered western lowland gorilla. Calaya, a 15-year-old female, is expected to give birth to her infant, fathered by Baraka, a 25-year-old silverback, between late March and early May 2018.
"It is a rare and exciting event that we will soon have not one, but two, primate infants at the Great Ape House. Both Redd, our 1-year-old Bornean orangutan infant, and this western lowland gorilla belong to species that are critically endangered in the wild," said Meredith Bastian, curator of Primates.
"Our growing primate family gives us an opportunity to highlight the differences between the biology, development and social nature of these amazing animals and inspire Zoo visitors to care about their conservation."
 

We introduce people to amazing animals.

It's Electric!
The Zoo debuted its Electric Fishes Demonstration Lab on Oct. 6, 2017 thanks to donors to the 2016 Electric Fishes Appeal. The multisensory exhibit is home to a 5-foot-long electric eel (capable of generating up to 800 volts of electricity), four black ghost knifefish, more than a dozen bluntnose knifefish and three elephant-nose knifefish.
Features of the new exhibit include LED lights, a wave-form screen and speakers—all powered by the electricity the electric eel generates. Four metal strips in the tank detect the eel's pulses of electricity, which then activate the lights, screen and speakers, allowing visitors to see the eel's strength.
Bears ... Oh, My!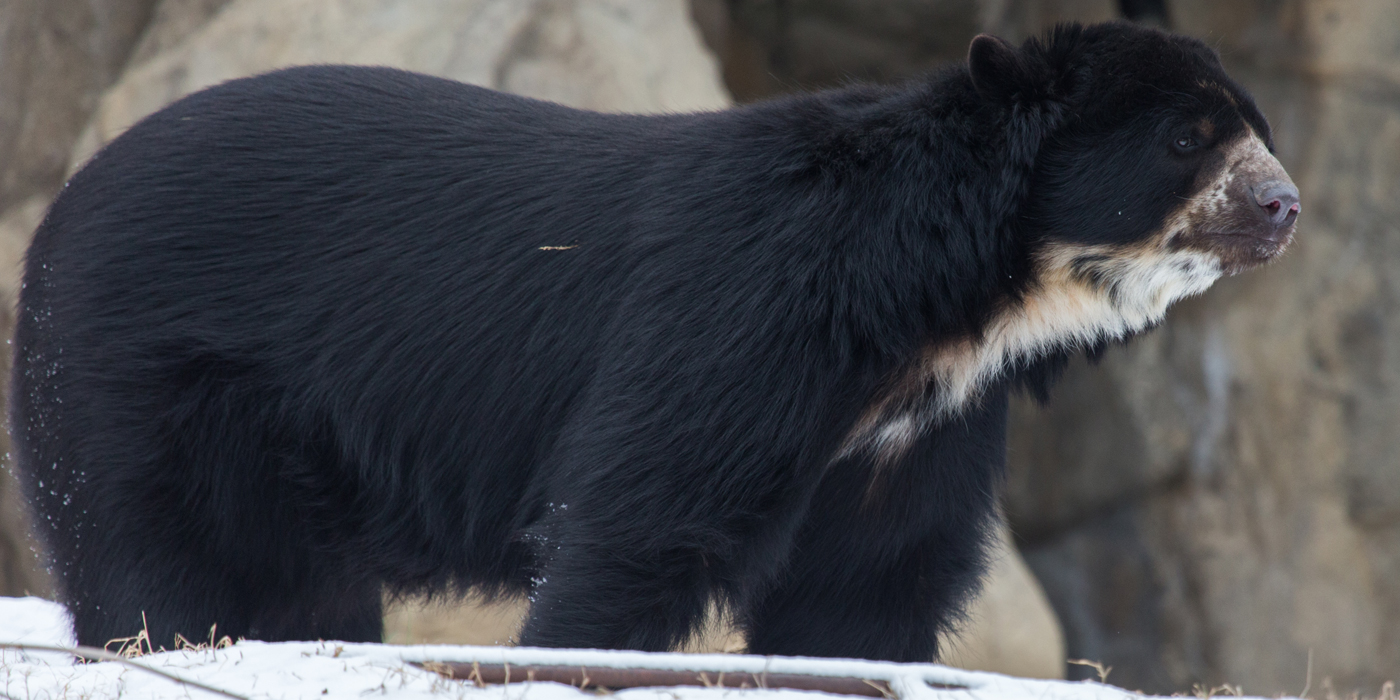 Quito, a 4-year-old male Andean bear from Zoo Duisburg in Germany, joined our adult female Andean bear, Billy Jean, in November 2017. The pair have been recommended to breed by the Association of Zoos and Aquariums' Species Survival Plan. This match is important as Quito's genes are unrepresented in the North American Andean bear population. Stay tuned!
Niko, a 2-year-old male sloth bear, arrived from Germany's NaturZoo Rheine in late 2017 and joined 3-year-old Remi at the Zoo's Asia Trail exhibit. Currently, only 28 sloth bears exist in the North American population. Continued successful breeding and studies of populations of sloth bears in human care are important to the survival of their vulnerable wild counterparts.

We study animals and habitats worldwide.
Giraffe Tracking in Kenya Could Pave Path for Species Conservation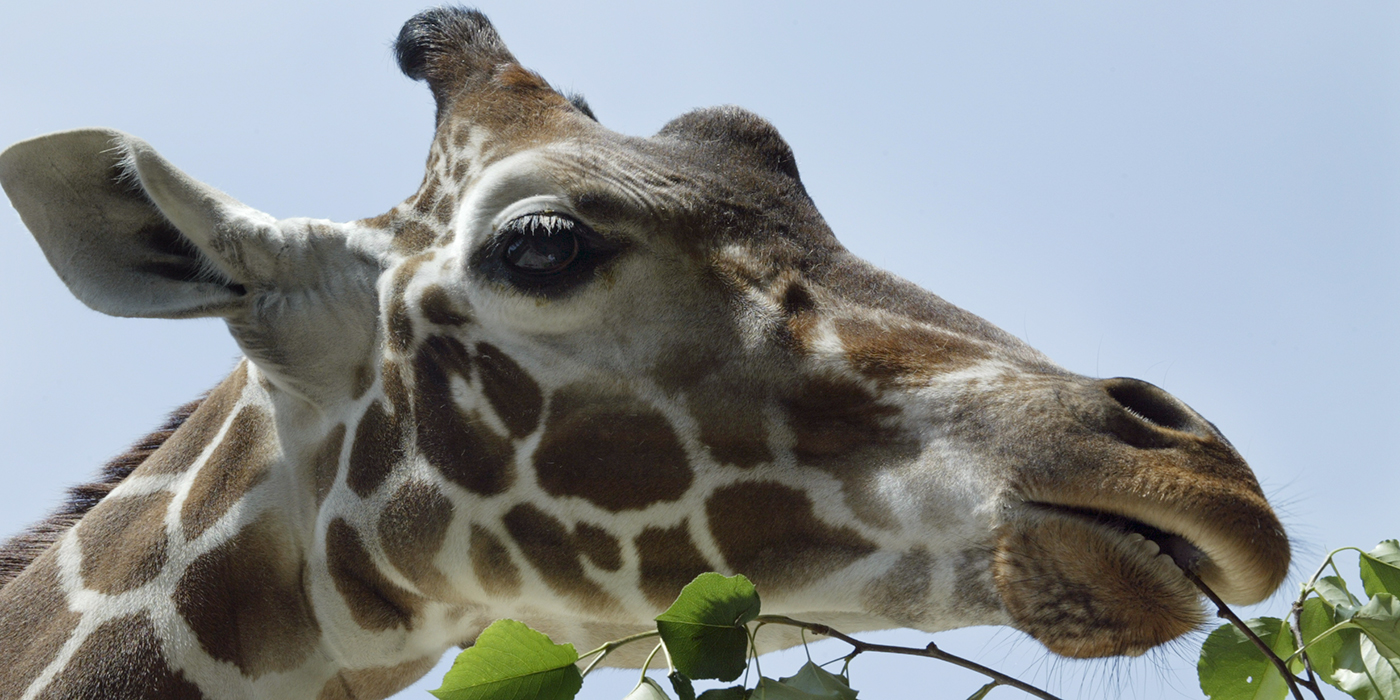 The Smithsonian Conservation Biology Institute embarked on a new study, which brought together SCBI's Conservation Ecology Center, Smithsonian's Global Health Program and the Kenya Wildlife Services, along with five other notable conservation organizations, to help conservationists better understand why giraffes are in a rapid decline and how best to save them from extinction.
In June 2017, SCBI scientists secured GPS collars around the ossicones, or horn-like structures on the head, of 11 reticulated giraffes in Kenya to study their movements. The collars send hourly GPS locations via satellite to the researchers daily.
This study helps answer questions that have never been able to be properly answered before, such as how far the animals move, what type of habitat they depend on and what the biggest threats to their survival are. As well as what the cause of the newly emerging giraffe skin disease is, how it spreads, and how it may interact with other threats, such as habitat loss, climate change and localized poaching.
This study reinforces the importance of community conservancies—lands managed to support the sustainable coexistence of people, livestock and wildlife, including giraffe and many other species. Biological specimens collected during giraffe collaring procedures help veterinarians better understand the health and well-being of wild giraffes. These specimens also provide clues about the causes and agents of giraffe skin disease, a vexing parasitic disease affecting wild giraffes. Veterinarians are also using movement data to determine if this disease may be transmitted through interactions with other species sharing the same habitats.
Asian Elephants in Myanmar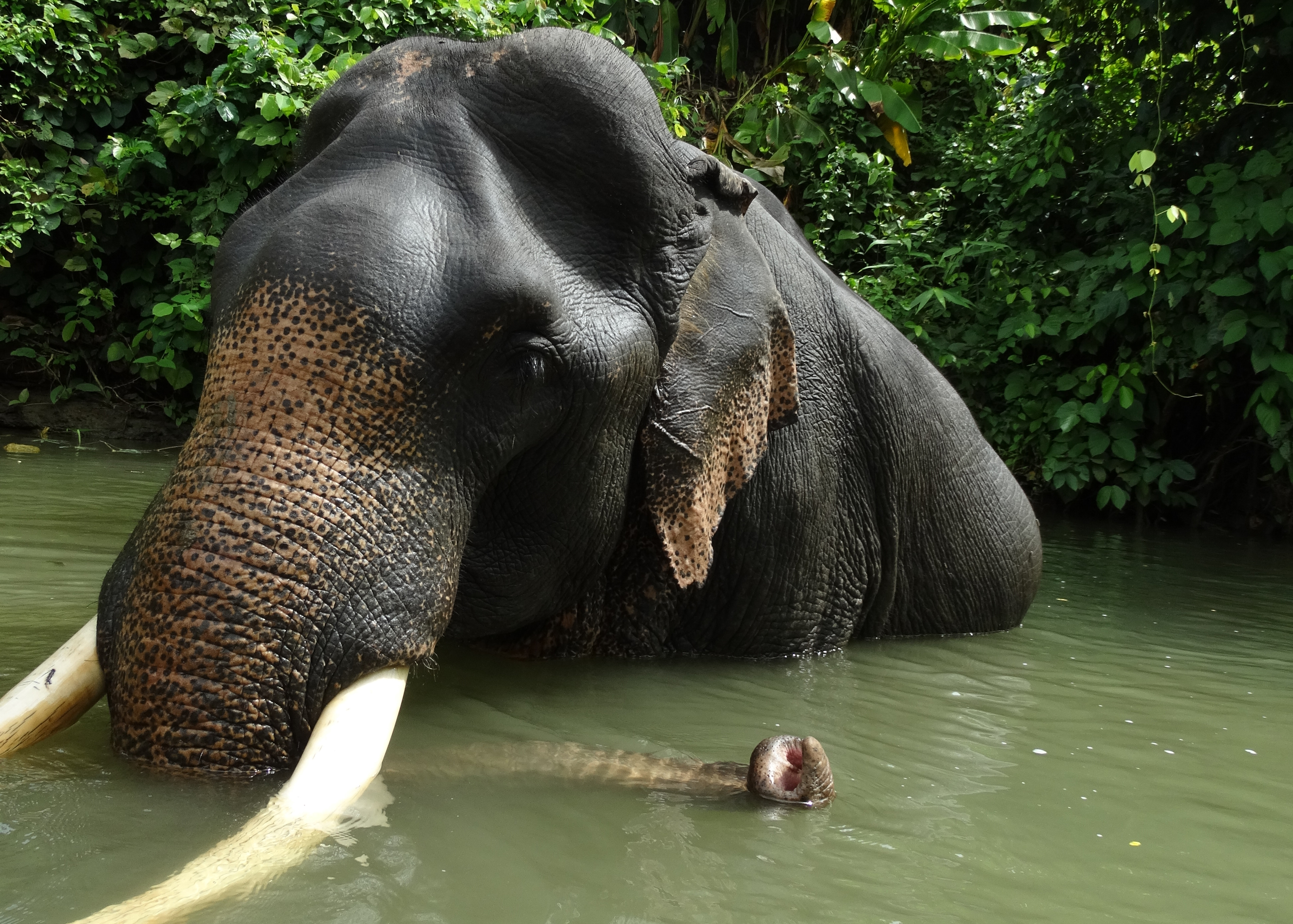 For fifteen years, SCBI's Conservation Ecology Center has worked on Asian elephant conservation in Myanmar, a country with less than 2,000 wild elephants left. In that time, they have learned where the elephants go and what resources they need in order to survive.
SCBI scientist John McEvoy and partners use tracking collars to learn about elephant behavior and movement, and which factors best predict whether or not an elephant will raid a crop, attack a house or engage in other types of human-elephant conflict.
The team collared 19 elephants in April 2017, but they became alarmed when the majority of the collars stopped transmitting within months of deployment. Worst fears were confirmed when animals were found killed by poachers, not for their ivory, but for their meat and skin that is used in the production of ointments and creams used in "traditional" Chinese medicine. New movement data also highlights that fact that human- elephant conflict, generally, presents a grave threat to elephant survival.
The work that SCBI and partners—including the local people, government officials and non-governmental organizations—have done on the ground to detect and prevent poaching has helped stem the losses. The team supports outreach in local townships to teach people how to reduce potential conflict with elephants.
They are optimistic that if this level of collaboration continues to grow it will lead to the development of programs that mitigate the challenges elephants and humans face when they interact, resulting in a brighter future for Asian elephants in Myanmar.
Preserving Coral for the Future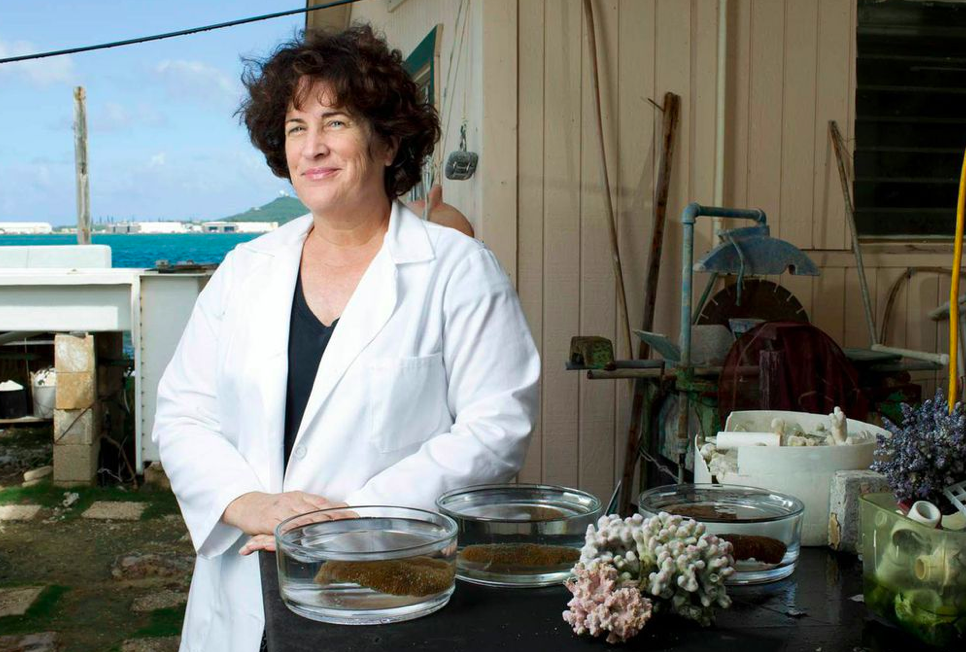 As global warming, acidification and disease threaten a healthy future for the world's coral reefs, conservationists in recent years have turned to the lab to study advanced reproductive methods, especially cryopreservation—or the freezing of coral eggs, sperm and other material—as a tool to produce coral larvae.
On Oct. 31, 2017, SCBI's Mary Hagedorn and partner organizations published a new paper—the first to determine how conservationists can use cryopreserved sperm to rear coral in much higher numbers for large-scale restoration efforts in the future.
In addition, the study is the first to find that coral larvae produced with frozen sperm is just as successful in the lab as in the wild in reaching the life phase when it metamorphoses from a free-swimming larva into a single polyp or settled "teenage" or "juvenile" coral. The research proved true even when using sperm that had been frozen for two years and transferred from one place to another over hundreds of miles.
"This is the first major step from a laboratory setting toward getting these corals out on the reef," said Hagedorn. These fundamental research studies, which may support later restoration efforts, are important because coral reefs are living, dynamic ecosystems that provide invaluable services: they nurture more than a quarter of all marine life, provide natural storm barriers for coastlines and maintain livelihoods by adding more than $300 billion annually to the global economy.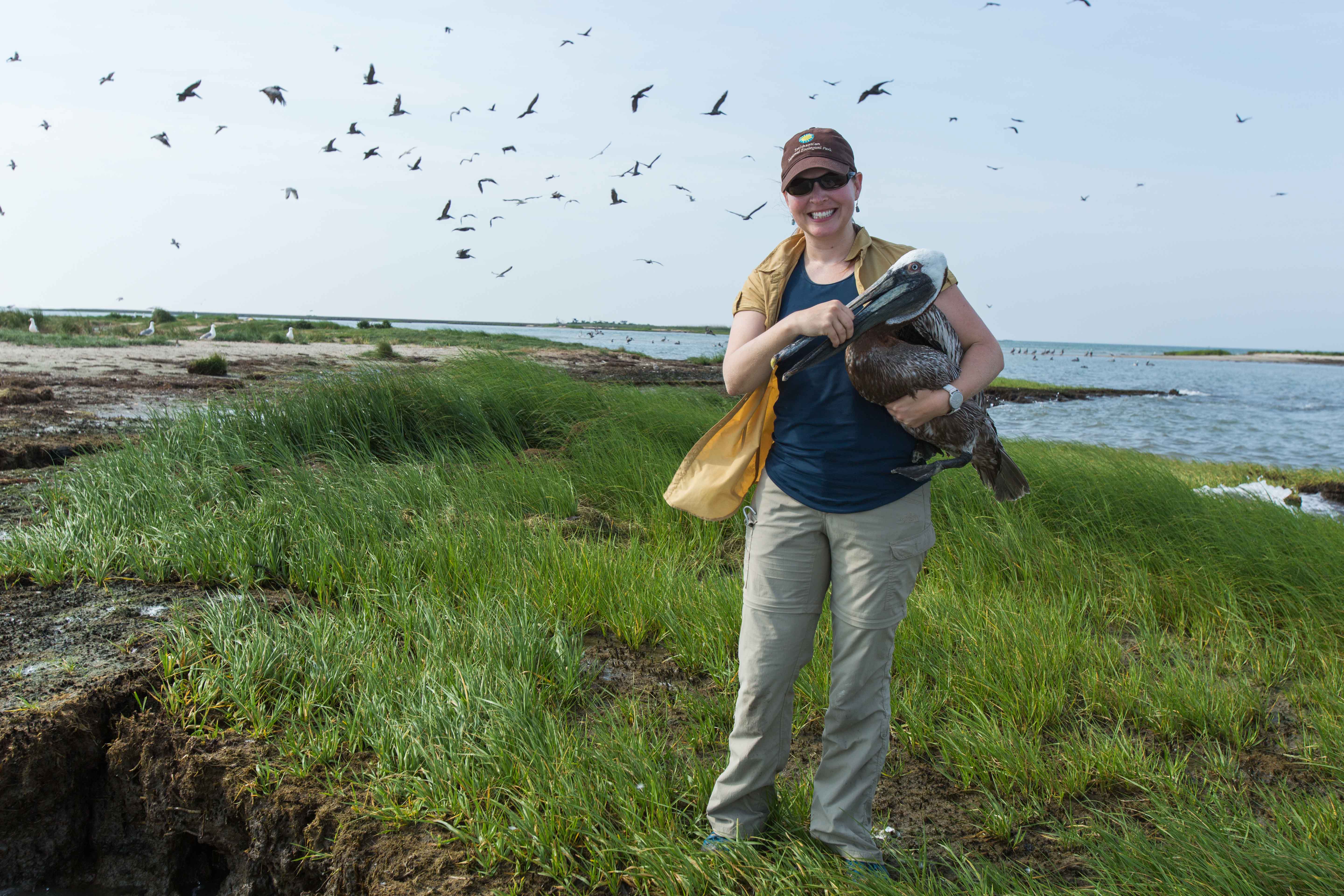 Brown Pelican Tracking
For the first time ever, SCBI's Migratory Bird Center has teamed up with the Maryland Department of Natural Resources to track the migration of brown pelicans tagged in the Chesapeake Bay.
TThis project provides insight into how population ranges are expanding and how this large avian predator uses Chesapeake Bay habitats. The study compares how the pelicans' migration timing and movement patterns compare to brown pelicans tracked by Clemson University in the Carolinas.
Brown pelicans that nest in the Chesapeake Bay bred there for the first time in 1987. A decade ago, it was not common to see pelicans, whose populations had dwindled due to the use of DDT on the eastern shore of Maryland. The return of this charismatic bird is an indication that progress has been made toward the recovery of the Chesapeake Bay.
Paving the Way for Critically Endangered Frogs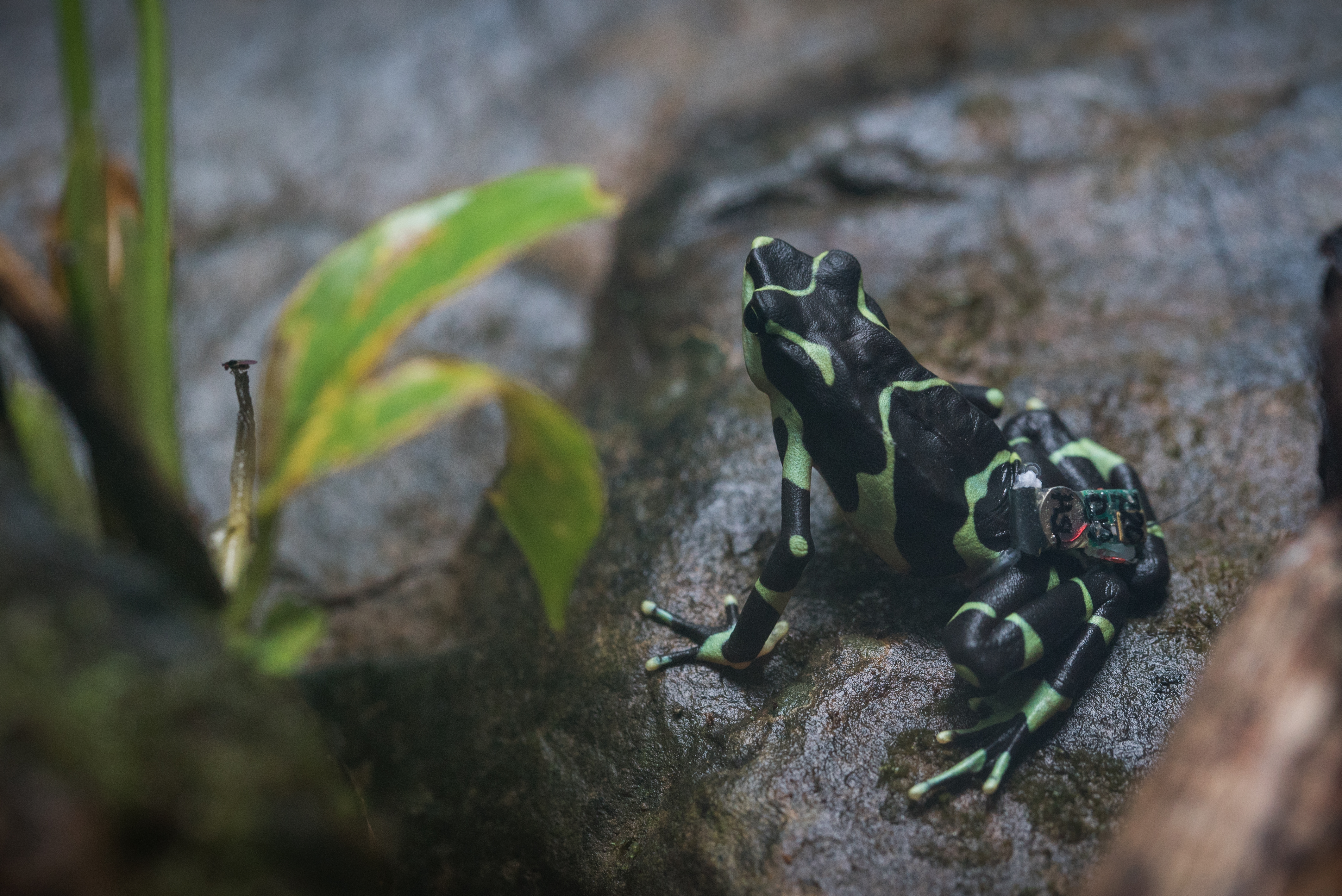 In Central America, Australia and the Western United States, frogs have been pushed to the brink of extinction, as a result of the chytrid fungus—a lethal disease discovered right here at the Smithsonian's National Zoo.
A few years ago, Zoo staff founded the Panama Amphibian Rescue and Conservation Project, which aims to rescue 20 at-risk species of frogs that would have otherwise gone extinct from the deadly fungus. The program successfully established thriving insurance populations of 12 species in human care, while pursuing parallel efforts to find a cure for this menacing disease.
In May 2017, the first-ever release trial of 90 limosa harlequin frogs took place in Mamoni Valley Preserve in the Panamanian rainforest, an area we believe remains chytrid-free. The limosa harlequin frogs in this release trial are the first captive-bred generation of the species and are especially sensitive to the amphibian chytrid fungus.
The study and trial release aims to determine the factors that influence not only whether frogs can survive the transition from human care to the wild, but whether they also persist and reproduce.
Amazingly, scientists tracked the movement of these frogs using tiny radio-transmitters affixed to a harness around their waists! This technology allowed them, for the first time, to study survivorship, dispersal and behavior—new knowledge that will be key to saving not only this species but many other critically endangered frog species.
Saving the Whooping Crane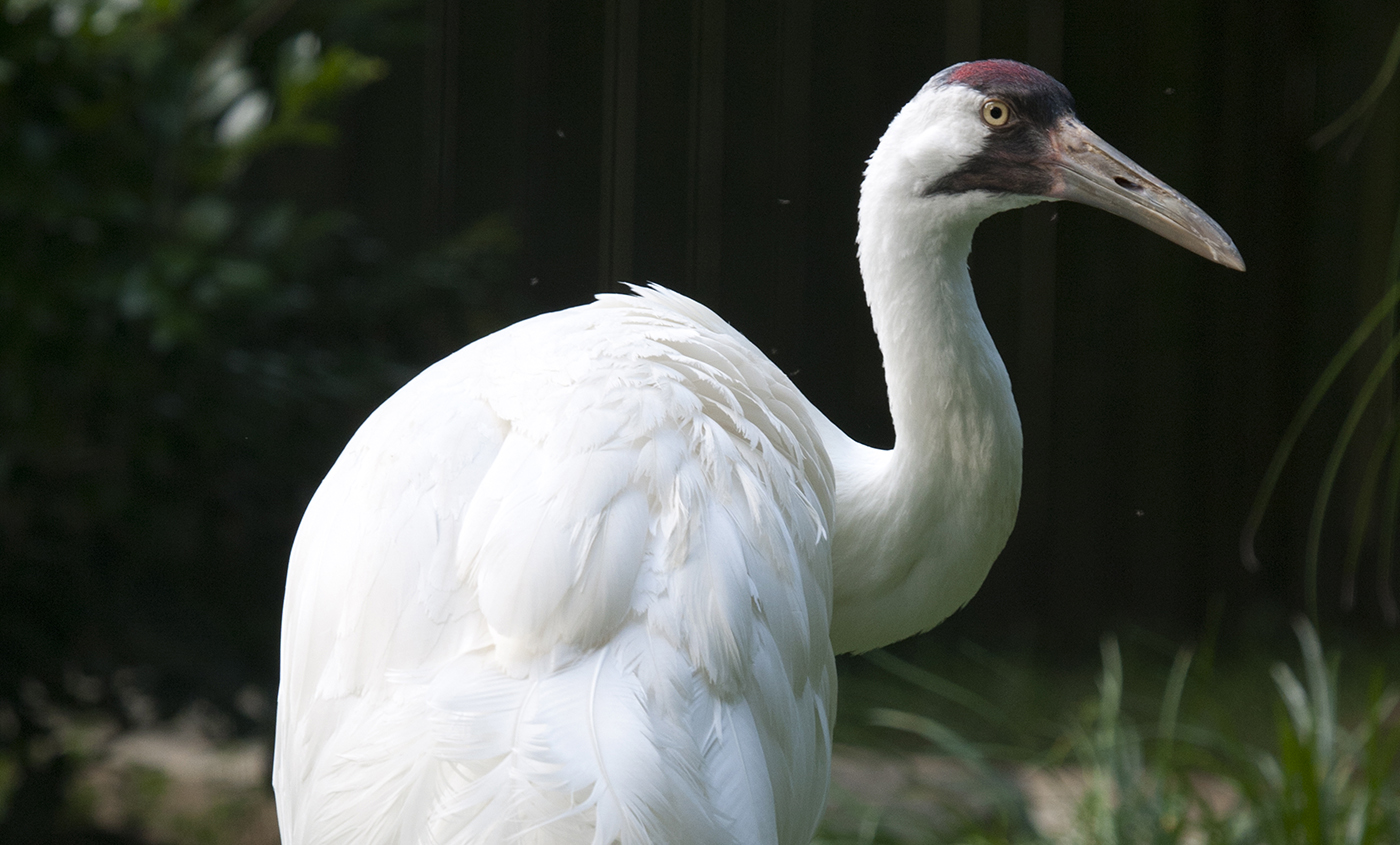 With only about 400 remaining in the wild, whooping cranes are one of the rarest birds in North America. Habitat loss and hunting decimated the population, and by the 1940s, only 16 whooping cranes remained. Since the 1960s, the Patuxent Wildlife Research Center in Laurel, Maryland, has been the epicenter for the breeding, research and reintroduction efforts of whooping cranes.
Shockingly, Patuxent announced in 2017 that it would be discontinuing its whooping crane program due to budget cuts. Fortunately, SCBI stepped in to help fill the void. They have acquired five breeding pairs from Patuxent, scheduled to arrive in April 2018.
They are in the process of establishing a research and breeding center for the cranes in Front Royal, Virginia, to better understanding the biology of these beautiful birds, with the ultimate goal of restoring this magnificent species back to the wild.
Wild Guam Rail Population Outnumbers Captive Population for the First Time in 32 Years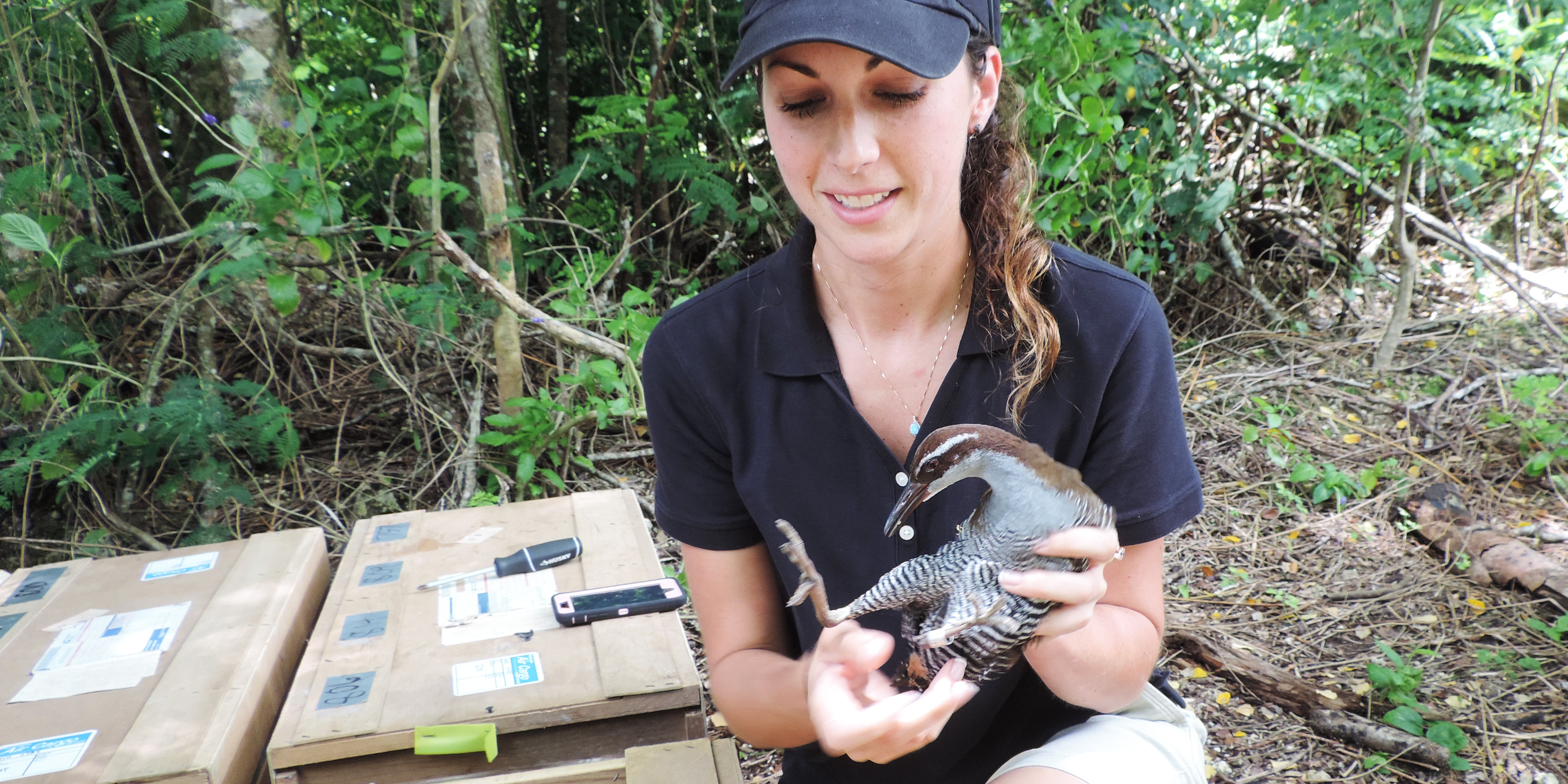 SCBI has a 30-plus year history of studying and breeding Guam rails, a ground-dwelling bird native to Guam, which was driven to extinction in the wild by the invasive brown tree snake. Although officially classified as "extinct in the wild" by the International Union for Conservation of Nature, small populations of Guam rails have been released on the snake-free Rota and Cocos islands, Commonwealth of the Northern Mariana Islands, since 1989.
In September 2017, two female Guam rails born at SCBI were released into the wild on the island of Rota as part of a larger release conducted by the Guam Department of Aquatic and Wildlife Resources. In total, 49 Guam rails were released by DAWR, marking the first time since 1985 that there are more Guam rails in the wild than in human care. There are now approximately 200 Guam rails in the wild and 115 in human care.