Dec. 17, 2015
Off-Season Update from the Nestwatch Food Web Project
It's the off-season for me, and that means less time spent watching birds, and more time watching my computer. As much as I love being outside, it's actually a really exciting time to look at all the data we collected over the last three years, and get a chance to sit down and really see what the birds are telling us about the plants and insects in our backyards.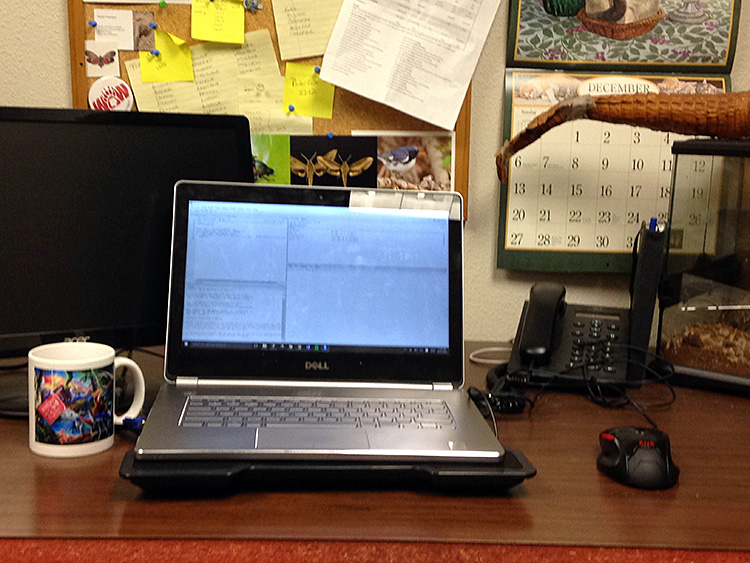 An ornithologist's view during the non-breeding season.
If you've read my other blogs from 2013-2015, you may remember that I'm a PhD student who works within Neighborhood Nestwatch studying how non-native plants affect food resources for Carolina Chickadees. We put up nest boxes in backyards all over the DC metropolitan areas, monitor chickadee nesting success, survival and behavior.
This 2015 season we continued monitoring chickadees at more than 150 different sites, and more than 50 of those were new to the project this year! Here's a recap of our season.
We monitored 57 chickadee nests of which 20 were successful at raising young to fledge. Our low success this year was due to abundant House wrens that kicked many of our chickadees out of their boxes.
We color-banded 95 new adult chickadees and 66 nestlings.
We also re-sighted 63 chickadees that returned from previous years.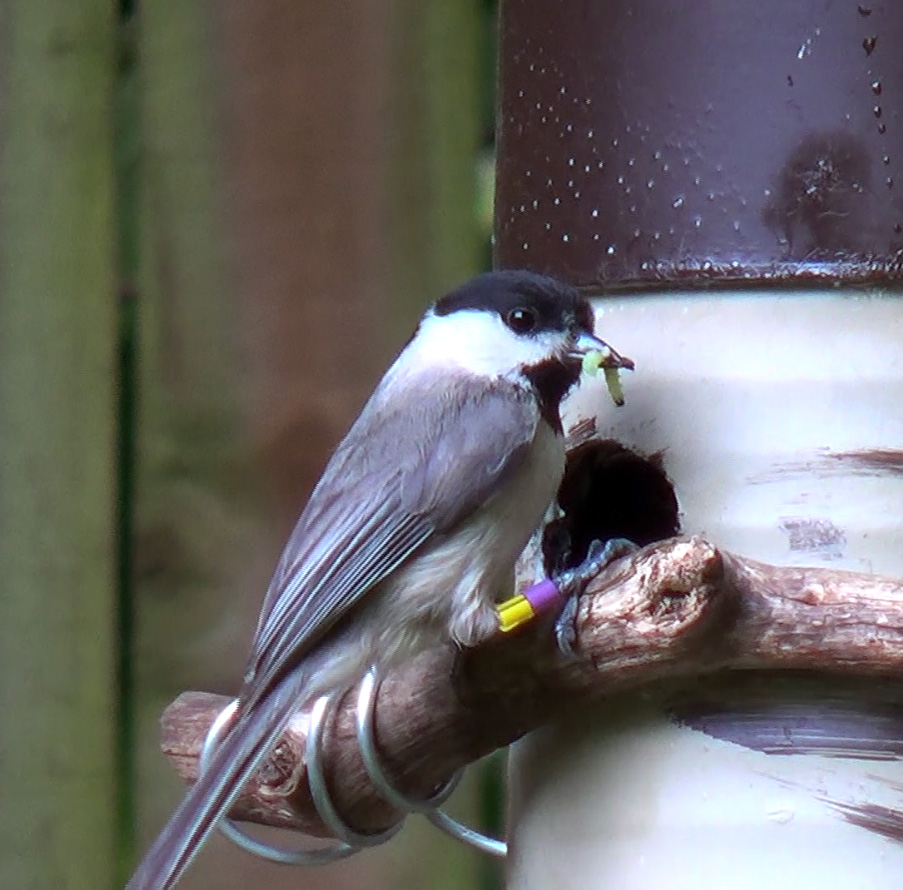 One of our female chickadees, Aluminum, Yellow/Purple, who was successful at raising young this year.
One of the questions I've decided to tackle first is to see whether chickadees prefer to forage and breed in yards that have more native plants. In August I attended an ornithological conference in Nova Scotia where I presented some preliminary results. The title of my talk was "Behavioral Responses by Carolina Chickadees to Non-native Vegetation". I got a lot of great feedback from other chickadee researchers and was very grateful receive an award for "best PhD student paper" by the Association of Field Ornithologists.
The questions I addressed in this talk were threefold: Are native trees more likely to support:
Caterpillars for chickadee food?
Chickadee breeding?
Chickadee foraging?
Turns out, the chickadees are actually pretty picky birds! Our color-banded birds preferred to feed in native trees at almost every single yard we studied. In addition, oak trees were the top preferred tree in 70% of the yards. Our insect data suggests that oaks also tends to support a high abundance of caterpillars too, so it makes perfect sense that chickadees would spend most of their time foraging in them when they are available.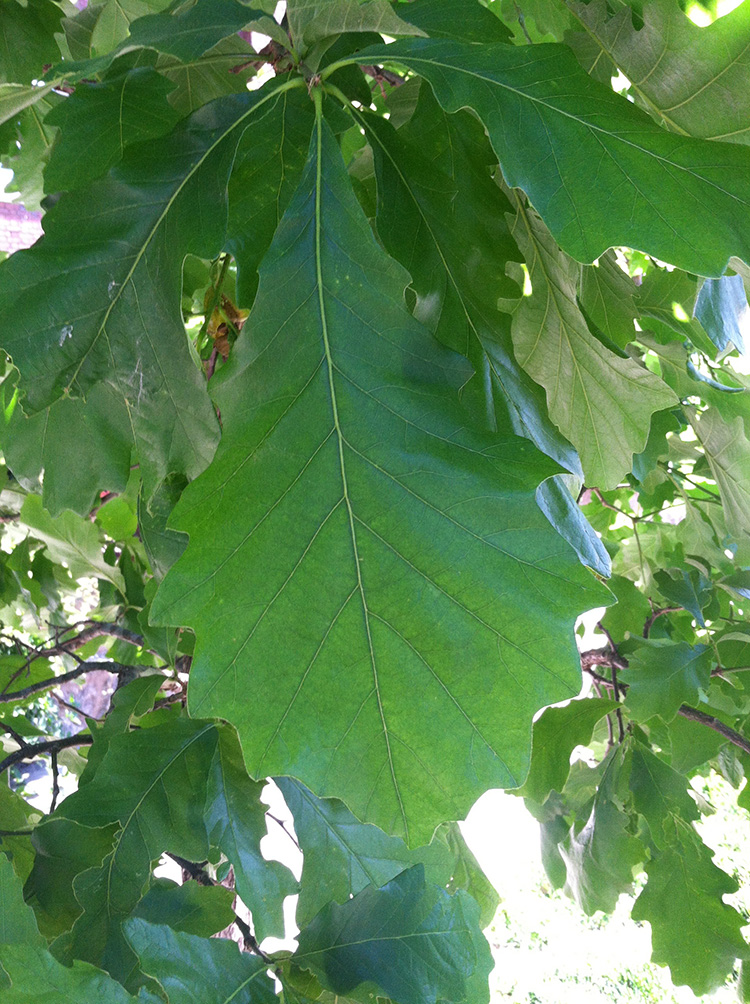 Swamp White Oak (Quercus bicolor) an oak occasionally planted as a street tree. There are over 15 different species of Oaks in DC area backyards.
In fact almost all the trees that were most preferred by chickadees were natives that supported many different species of caterpillar. For example:
Native oaks (supports 534 caterpillar species)
Native maples (supports 297 caterpillar species)
Native cherries (supports 456 caterpillar species)
Native elms (supports 215 caterpillar species).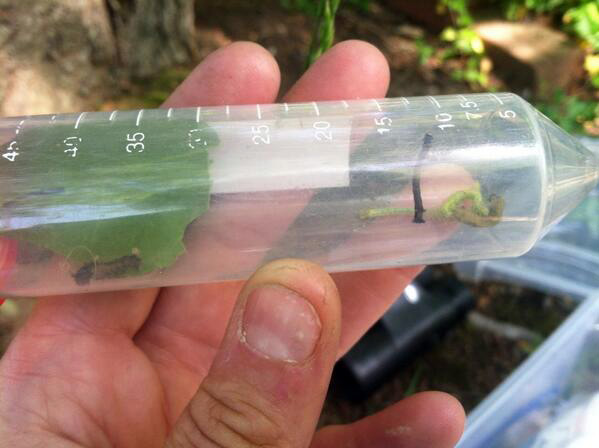 Eight tiny caterpillars found in one 5-minute sample on Red Oak (Quercus rubra).
Our most abundant caterpillar in the spring is the Fall cankerworm (Alsophila pometaria), a common 'inchworm' caterpillar that can be found on many different tree species. Their name refers to the adults which are active in the fall, but the caterpillars hatch and begin feeding as soon as the leaves begin to emerge in late April through May. This caterpillar can cause some tree damage, but fortunately for us, chickadees and other backyard birds love eating cankerworms. By providing wildlife habitat, birds can help keep caterpillar populations down for trees, and birds get an abundant protein-rich food source to feed their young. It's a win-win situation to support food webs in your backyard.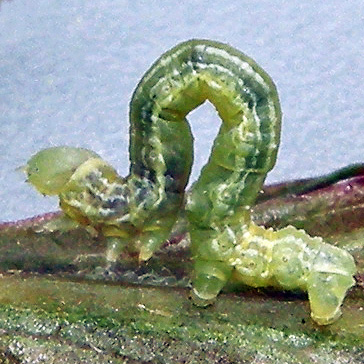 A fall cankerworm caterpillar. Photo: B.Keim
For the rest of this winter, I'll be looking at some of reproductive data to see if there are any consequences to chickadees when they breed in areas with more non-native plants. I'll also be making plans for our data collection in 2016. Wish me luck!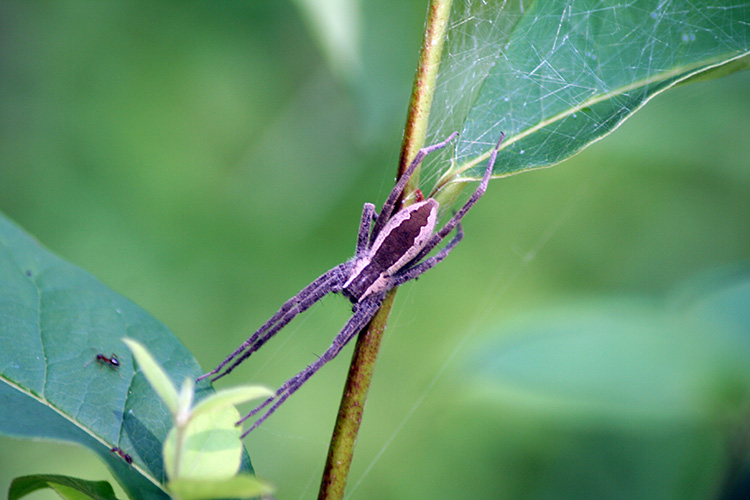 Chickadees also like to feed on spiders, which control other pest insects in your garden like aphids and whiteflies.
Time to Breed!
Apr 28, 2015
Even though the leaves are barely out on the trees, some of our resident birds already have eggs in their nests! This year marks the third season of the Neighborhood Nestwatch Food Web project, a study looking at the effects of exotic plants on food resources for breeding birds in the Washington, D.C. area. We focus on the spunky Carolina chickadee, a resident bird that almost exclusively eats insects during the breeding season. In fact, bugs make up 95% of the chickadee's diet during the breeding season (April-June).
Just today we followed a pair of chickadees foraging for insects along the stems of a large red oak that was retained in a resident's backyard in Takoma Park. While the female begged for food from her mate, we watched him grab a small caterpillar and feed her, even though the leaves have just started to emerge! These birds have expert eyes that are always on the search for an over-wintering or newly hatched insect that hasn't quite found the perfect hiding spot.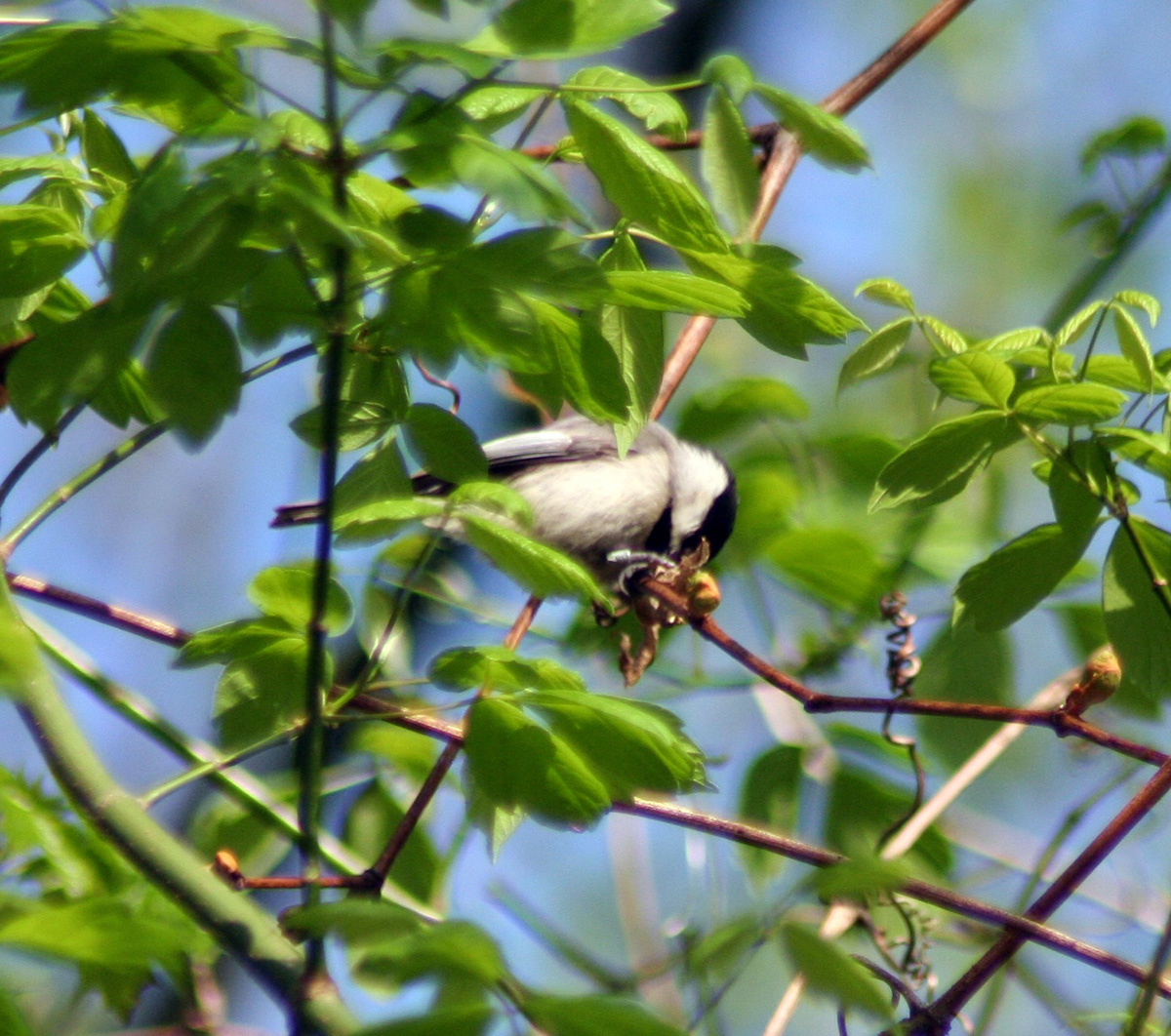 One of our banded chickadees foraging for insects in Box Elder, a type of native Maple tree.
This year the Nestwatch Food Web team has four new technicians ready to chase chickadees around the backyards of DC. Caroline Jordan, hails all the way from Utah and brings some supreme bird catching skills to help us color-band new individuals. Julie Cotton, a D.C. native, has a background in behavioral ecology and expert eyes to follow the foraging behavior of urban backyard birds.
Denise Ecker, from Pennsylvania, honed her keen observation skills on the elusive wood thrush, and is ready to find new chickadee nests in urban neighborhoods. And finally, Teresa Wolanin adds immense bug knowledge to the team and can identify the incredible diversity of critters you can find in your own backyard. I'm really glad to have such a stellar team this year.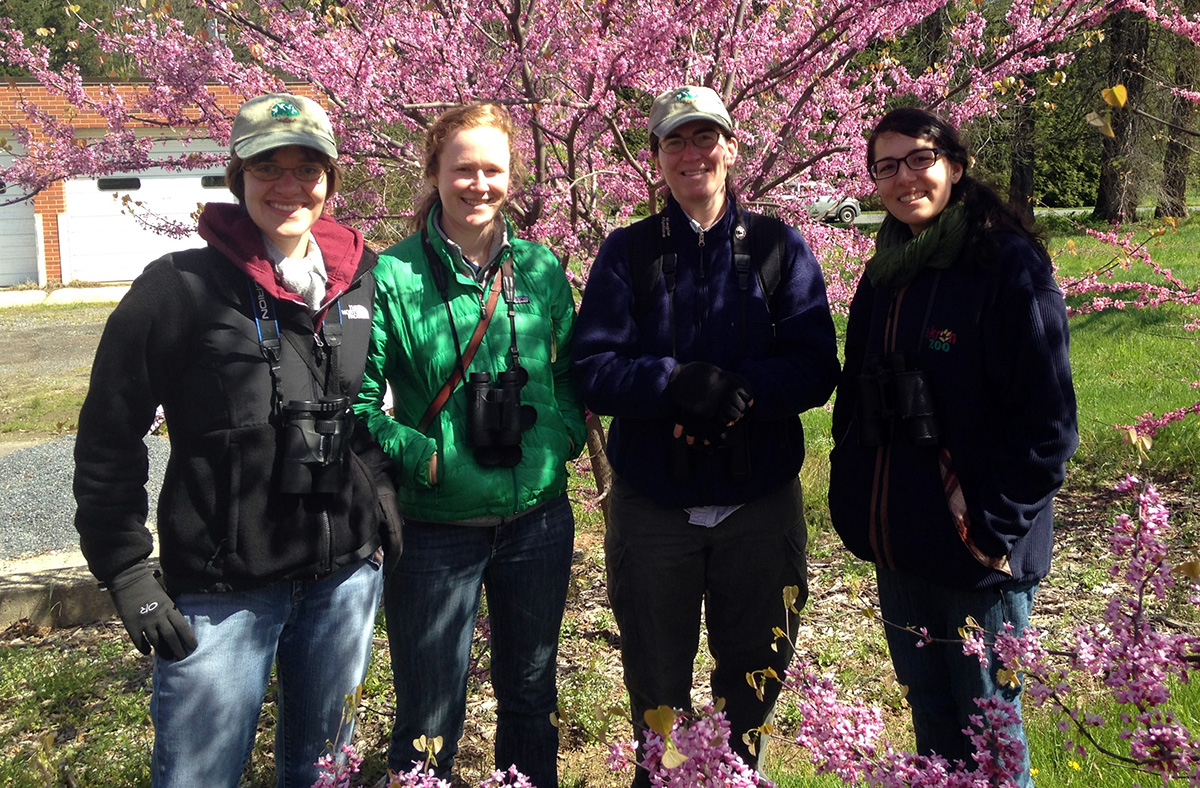 We just finished the third week of our field season, but we already have 66 nests! Fortunately, we have a lot of help! In total there are more than 150 different yards with chickadee nest boxes in the D.C. area that are being monitored weekly by awesome participants that are willing to let us know if they get a nest in their Nestwatch Chickadee Box. Without their help, we would never be able to collect as much data as we do!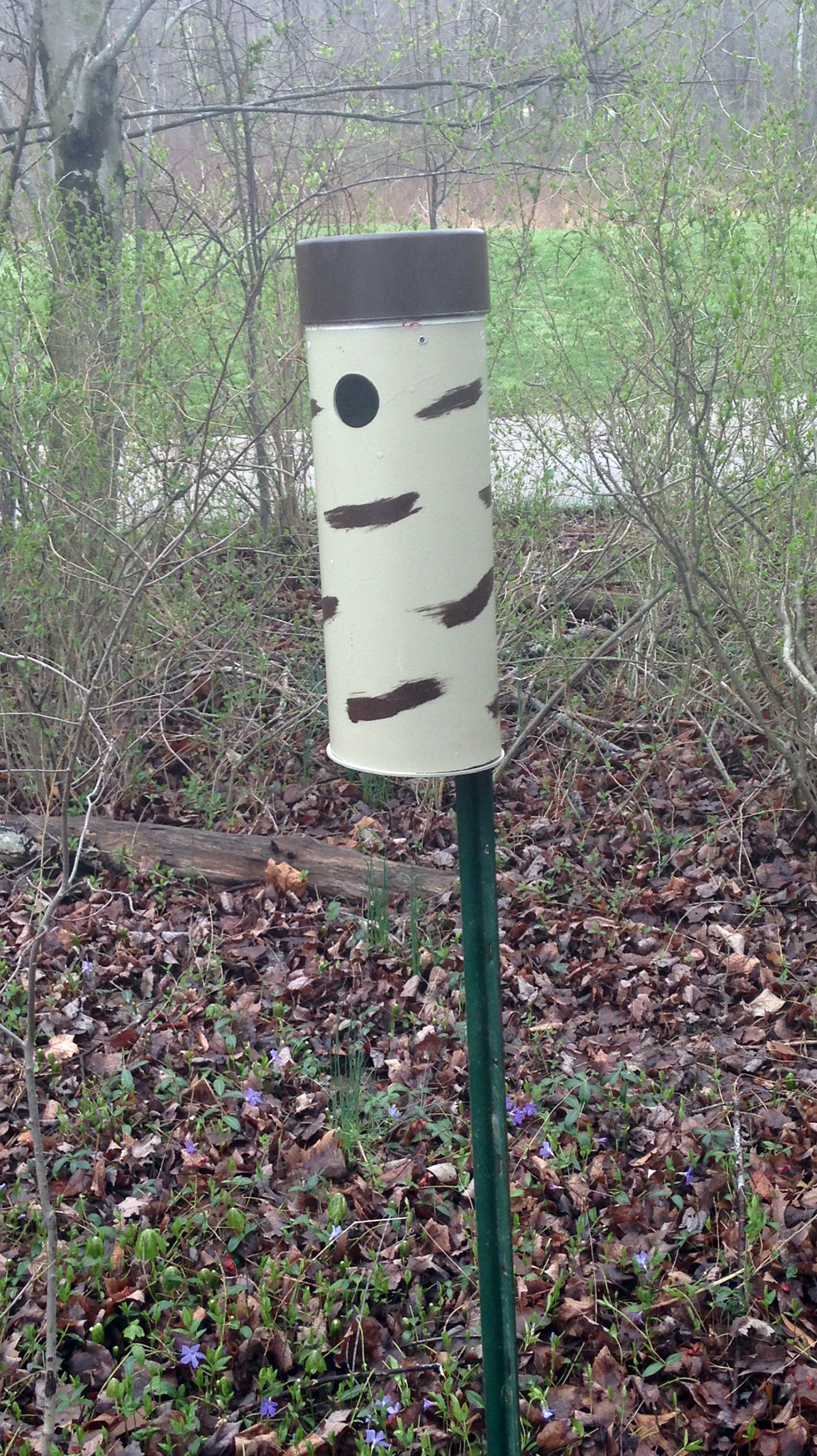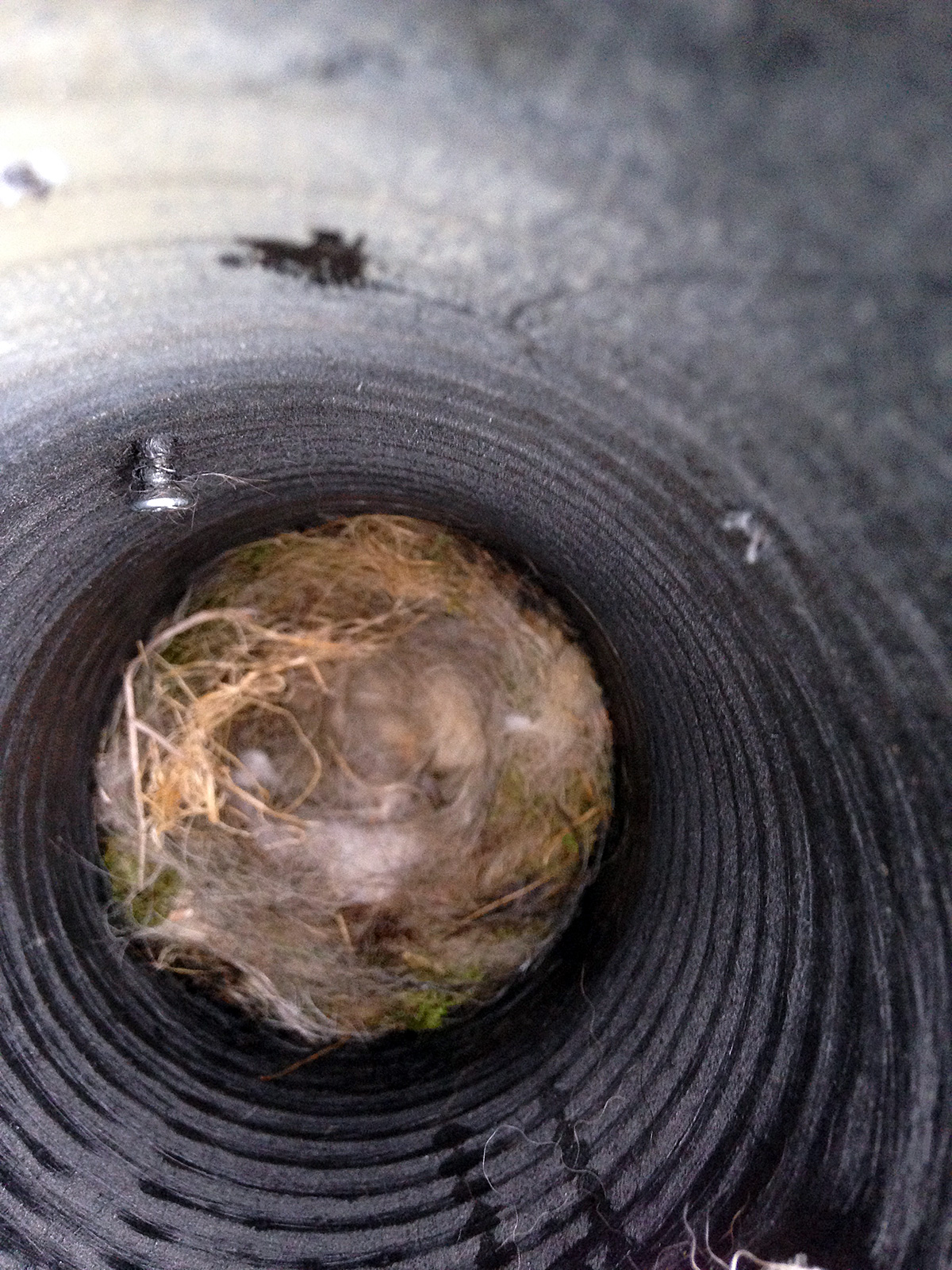 A Nestwatch Food Web Nest Box and a chickadee nest inside. This chickadee female lined her nest with dog fur she found in the surrounding neighborhood.
Now that resident birds are settling back on territory, we'll be conducting bird surveys in each yard to see if chickadees are present, whether they are breeding, and what other bird species are there, to see if there is a relationship between the types of birds and the type of trees and shrubs in the yard and neighborhood. In the meantime, we'll also collect additional data on as many nests as possible, in both nest boxes and natural cavities.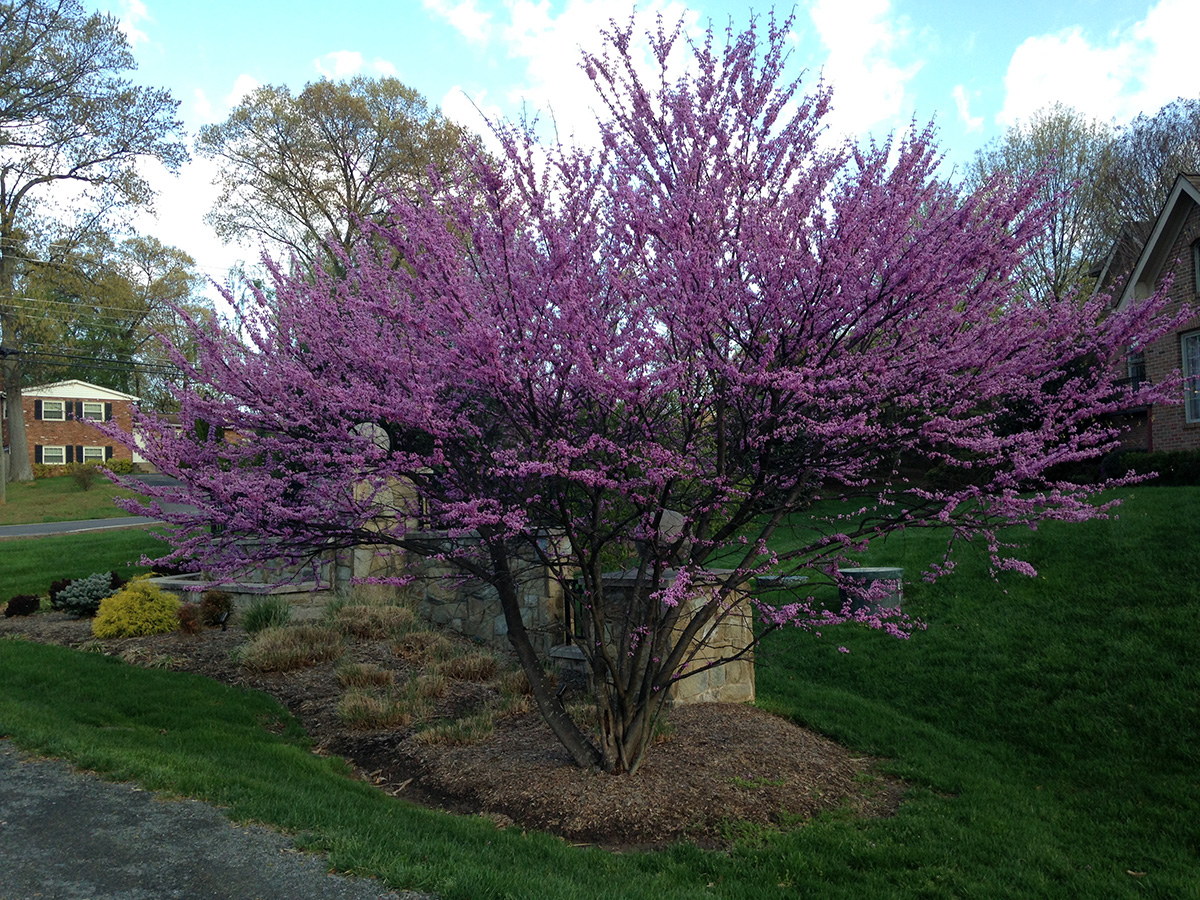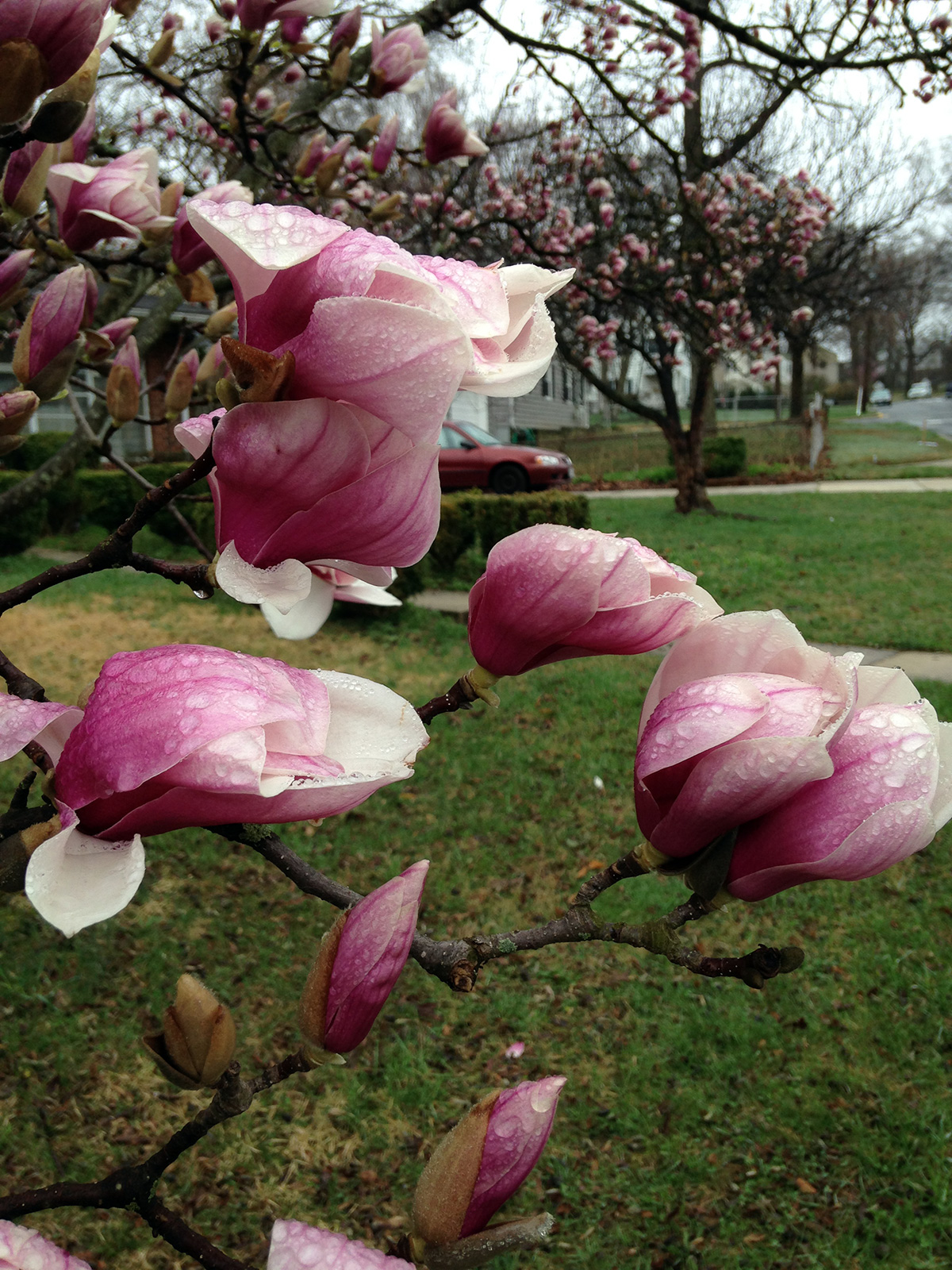 Both native and exotic trees are in full bloom this time of year. Not a bad view for a field site. Top: Native Eastern Redbud, Bottom: Exotic Saucer-cup Magnolia Hybrid.
Bonus! You can follow our field adventures and tweet us questions by using #nestwatchfoodweb on Twitter.
Office time: I'll be inside planning today. Tweet me your ?s abt backyard #birds, #bugs or #plants! #backyardwildlife #nestwatchfoodweb

— Desiree Narango (@DLNarango) April 27, 2015
On May 9 2015, while we are following chickadees around D.C., Nestwatch Food Web technicians will be participating in the "Global Big Day" event put on by our colleagues at Cornell's Lab of Ornithology. One catch though: we will only be counting birds we see and hear in residential backyards in order to bring attention to the importance of urban habitat and biodiversity! How many species do you think we'll see? Tweet us your guesses! We'll share the complete list on May 10!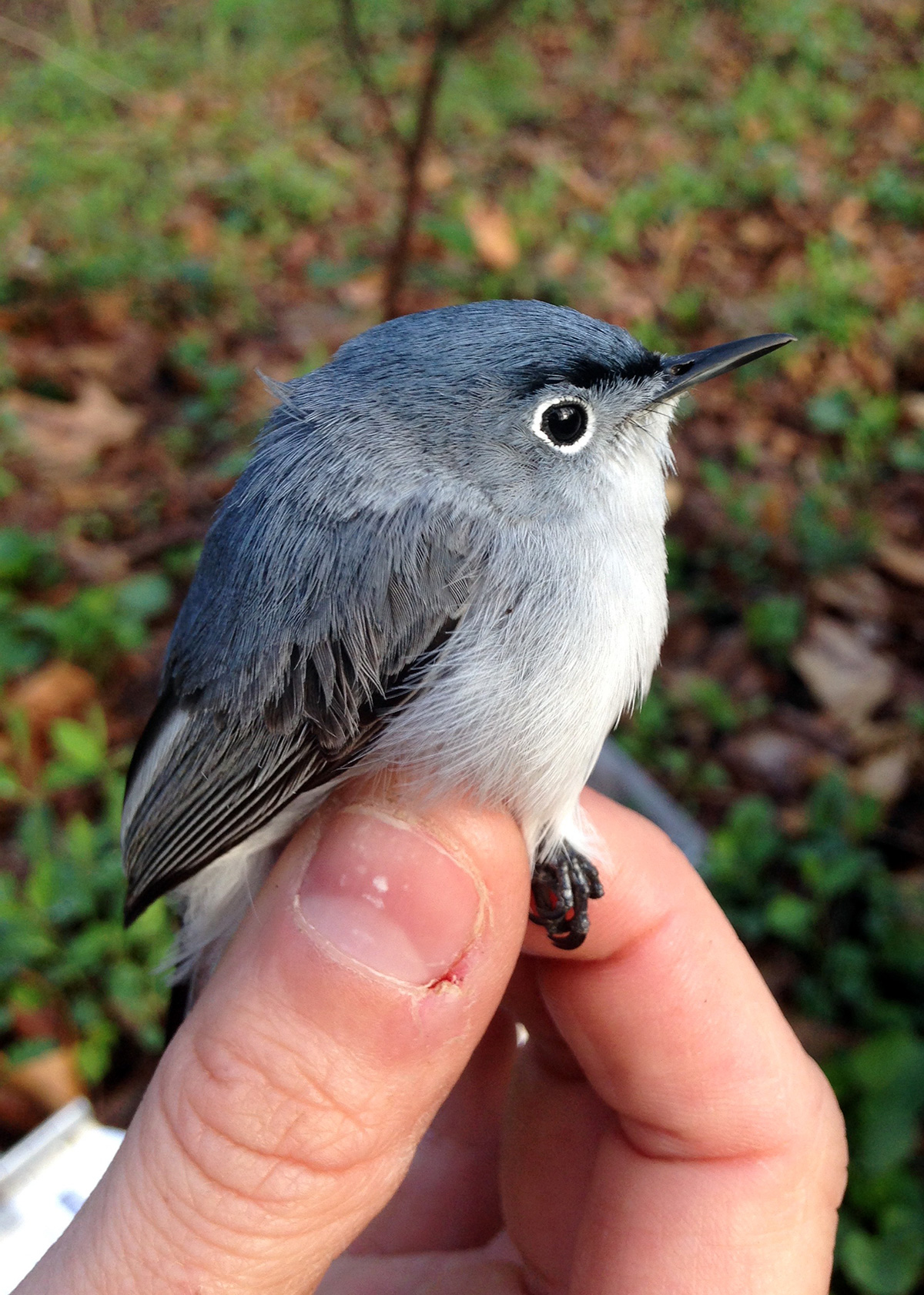 A blue-gray gnatcatcher, a common insect-eating migratory bird found along wooded edges and streams in the MD/DC/VA area. They're tough to see in the canopy, but you can hear their weezy calls all over the metropolitan area this time of year, even in your backyard!
Carolina Chickadee Study
Jun 4, 2014
Not much is more charismatic than a chickadee landing on a perch, turning majestically to the camera, and proudly displaying its food trophy. For birds, food is an incredibly important factor for raising a success nest.
It's been estimated that during the nestling period, adult chickadees need to find over 7,500 food items to feed their offspring while the nest is active. What type of food probably matters for birds too. A single large, juicy caterpillar may feed more young than a small beetle.
However, finding enough caterpillars to feed growing nestlings may be more or less difficult, depending on whether the chickadee is searching on an exotic Ginkgo or a native Oak tree.
One part of the Nestwatch Food Web project I've been involved with is filming adult Carolina Chickadees as they provision their offspring. From this, we can see what types of food, as well as at what rate, the nestlings are being fed over a 6-hour period.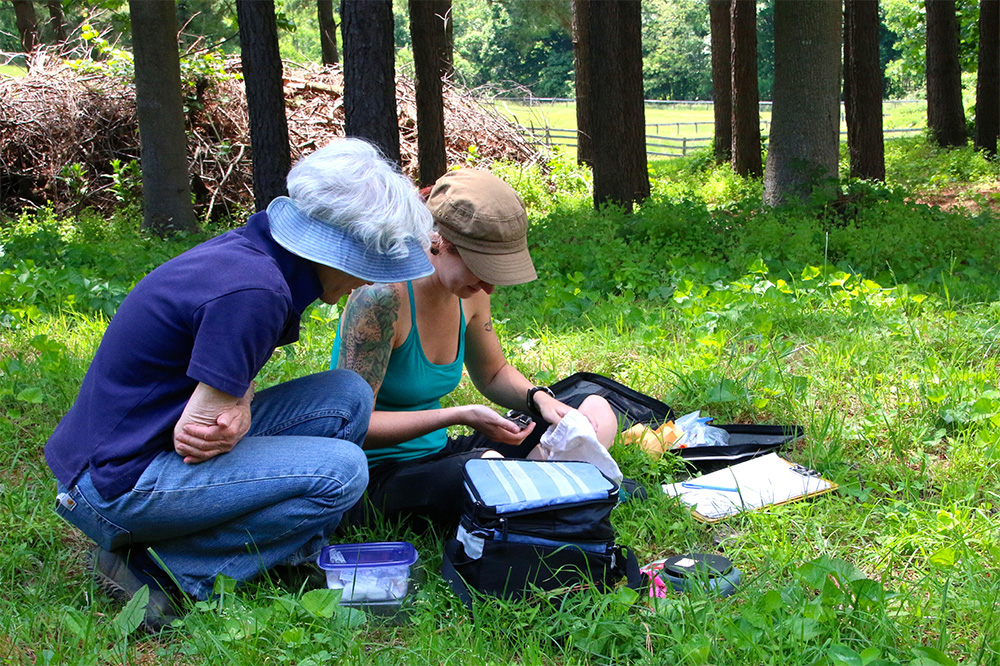 Nestwatch participants help band nestling chickadees (Photo: K. Oswald)
It is also a great opportunity for participants to be able to directly see some of the wildlife activity going on in their yards. Some of the Nestwatch home owners were surprised to learn just how many caterpillars the birds were actually finding in their backyards. Other folks were happy to hear that the chickadees were taking care of the insect control on their plants so they didn't have to.
The first part of this data collection involves making a temporary perch so that the chickadees will stop and display for the camera. Although some initially respond with some harsh scolding to the new obstruction, they eventually decide it isn't so bad to have someone show up and build you a front porch, and go about their day as usual.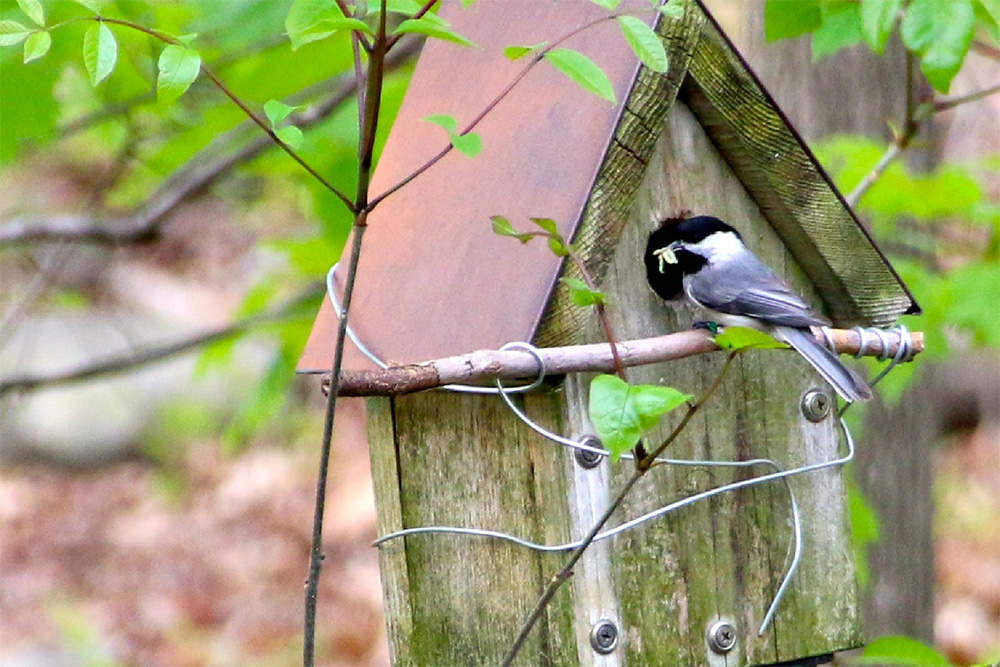 Chickadee posing on a temporary perch (Photo K. Oswald)
We film the nests for about 6 hours twice during the nestling period, once when the birds are 4-6 days old and once when they are older, between 9-11 days old. From these videos, we've seen birds bring all kinds of food items: mostly caterpillars, but also spiders, moths, leafhoppers and scale insects to name a few. This year we've video-taped 22 nests which is over 240 hours of chickadee feeding to go through! Fortunately, fast forward buttons help make the transcription process quicker and it doesn't hurt that chickadees are enjoyable to watch too.
After filming, we band three nestlings and take a few measurements (i.e. tarsus (leg bone), feather length, weight). We do this twice so that we can see how fast the nestlings are growing and compare it to
the food items that were fed to them
what trees are in the area and
whether those trees were native or exotic.
We complete our measurements quickly and return the birds to their nests before the adults even know they are gone. The nestlings grow very fast; by time they are nine days old they already start to look like chickadees because their black caps and white cheeks feathers are starting to come in. Soon after, about day 14, the nestling chickadees are fully developed and ready to leave the nest.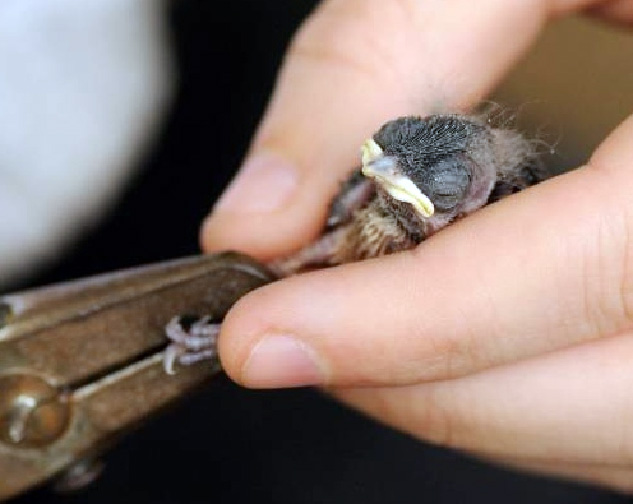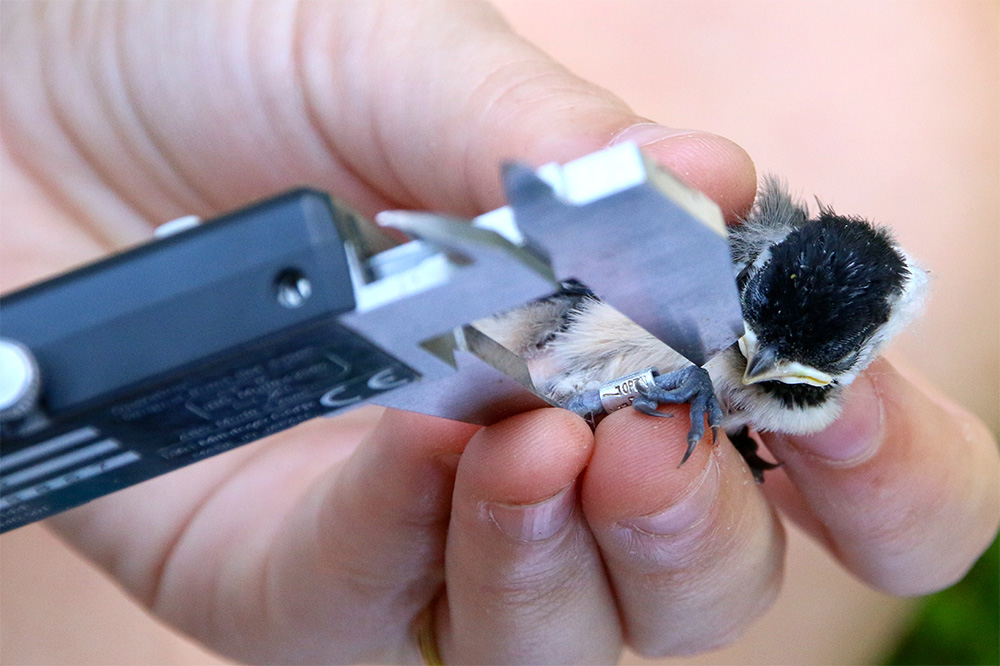 Top: Carolina Chickadee nestling day 5, banding (Photo: P. Vongsathorn); Bottom: Chickadee nestling day 10, measuring the tarsal bone
(Photo: K. Oswald)
Here is some sample video (courtesy D. Narango) from one of our video-taped nests.
Carolina Chickadee Study
May 28, 2014
The Smithsonian Migratory Bird Center isn't just about the migratory birds that spend the winter in the tropics. We're also interested in the birds that spend the year in your backyards too! I'm a University of Delaware Student who is working within the Washington, D.C. Dr. Pete Marra and Dr. Doug Tallamy to study the familiar (and arguably, most feisty) backyard bird, the Carolina Chickadee. I focus on the chickadee as a model insectivorous bird to investigate how urbanization and exotic plants affect food resources for breeding birds.
During the breeding season most birds, especially chickadees, feed their young almost exclusively insects. Caterpillars in particular are an important and abundant food source in forest systems. However, caterpillars are sensitive to the chemical compounds of individual plant species, so some types of trees may not support as many caterpillars as others. Dr. Tallamy's research on insects has shown that exotic plants support fewer caterpillars and insects than native alternatives and that caterpillars feeding on exotic plants do not grow as large. My research will expand on these findings to determine whether these patterns have consequences for individual breeding birds in urban/ suburban areas, where exotic plants can be abundant.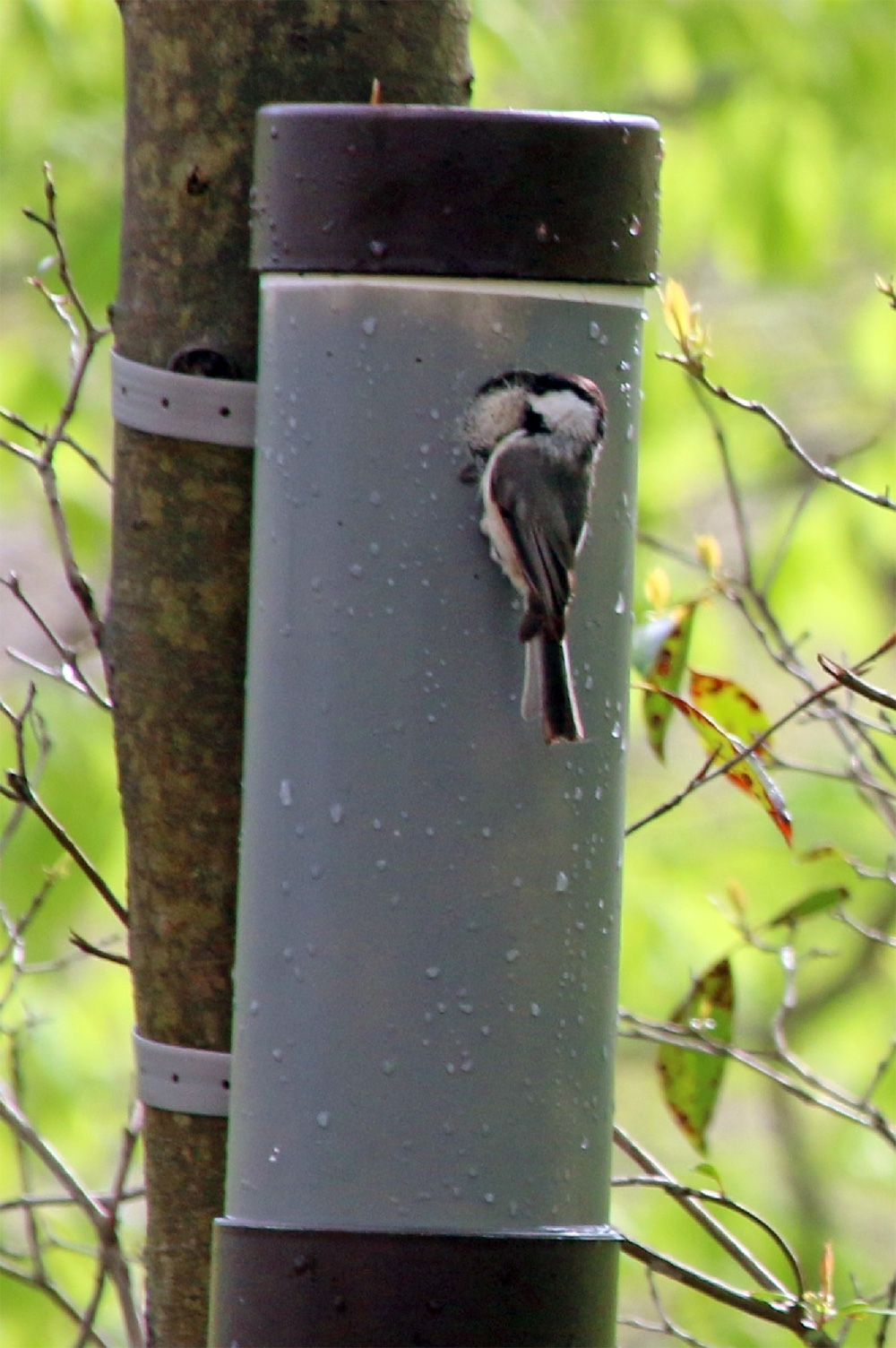 A female Carolina Chickadee gathering soft material to line her nest in a Neighborhood Nestwatch Nesting Tube (Photo: K. Oswald)
In >100 participating backyards throughout the DC metropolitan area, I set up PVC-pipe tubes to attract Carolina Chickadees to nest in. This tube design was chosen because chickadees prefer nesting in tubes that more closely resemble the cavities found in natural trees. They are also easy to make and all the supplies can be found at your local hardware store. If you're interested in making one for yourself, you can find the directions here. We use 3 cm entrance holes to keep out predators and house sparrows but entrance holes can be made bigger to attract large cavity nesters like Eastern Bluebirds or Tree Swallows.
This is the second year of my research and the birds have kept us very busy. Chickadees nest synchronously, meaning many birds have their nests at the nearly the same time. The trees in DC began to flower later than they had last year, likely because of the late snow and cold temperatures. The benefit of being a resident bird that stays here year round is that they can respond very quickly to changes in the phenology ('timing') of the environment. As soon as the cherries and maples began to grow leaves, my birds were busy pairing up and gathering moss to build their nests. This flexibility in nest timing allows birds to feed their nestlings when insects should be most abundant on young, palatable tree leaves.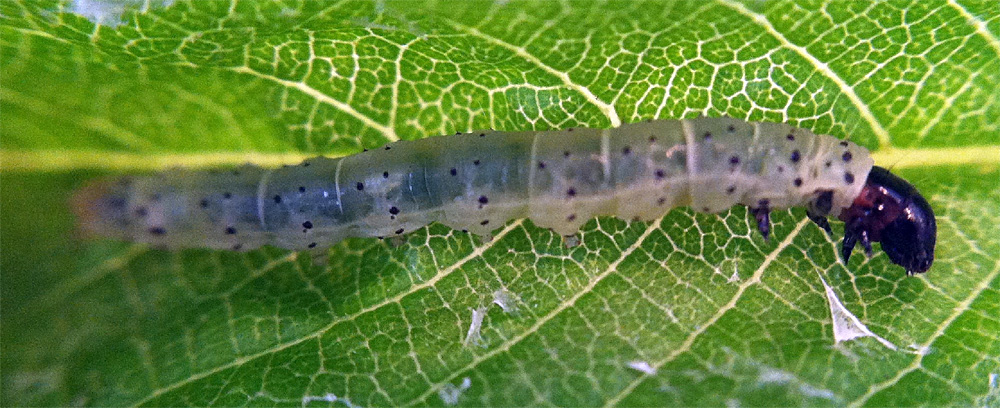 The favorite host plants of the 'Ugly Nest Caterpillar' (aka Chickadee food)
are cherry species.(Photo: D. Narango)
Because I have so many sites, participant volunteers are helping me monitor nest tubes in their backyard to let me know where and when I have active pairs. One day I had eight people email me the same day to report birds with nest material! When birds build their nests at the same time, they're also hatching at the same time, meaning a burst of fun and lots of data collection for me and my technicians. With help from volunteer landowners and friendly neighbors we've collected data on 55 chickadee territories this season.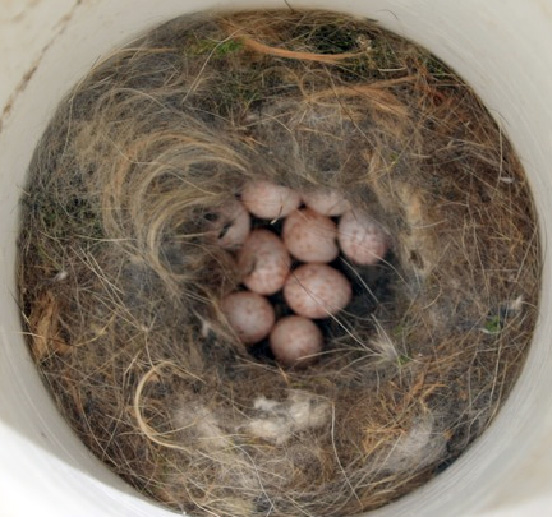 We have a winner! A participant volunteer reported a chickadee female incubating 10 eggs! This is the most we've observed so far. (Photo: J. Hull)
In this region, Carolina chickadees nest from the beginning of April until about Mid-June. Now that the season is slowing down, we can take a breather and let you know more about some of the data that we are collecting. Following individual color-banded chickadees within the suburban environment has been both challenging and exciting. Some of the data we collect includes observing the tree species chickadees are foraging in, identifying the insects we find on certain species of trees, surveying the other bird species breeding in the area, measuring nestlings, and using video to determine which insects chickadees are bringing their young. Stay tuned for more blog entries to share some of the interesting things we've found so far.
Carolina Chickadee Study
Dec 10, 2013
All over the world, habitat is being rapidly lost to human activities like urban development and deforestation. In addition, native vegetation communities are being replaced with introductions of plant species that are not native to North America, either by intentional (horticultural landscaping) or unintentional (exotic invasions) means.
The majority of herbivorous insects (for example, caterpillars) are specialist feeders, which means they are only able to feed on a specific species or group of plants. When native plant species are removed from a landscape, specialist insects may be lost as well if they are unable to adapt to feeding on the newly introduced species.
Although the loss of biodiversity in itself is important, removing insects from the landscape is of particular concern for birds that rely on insects for food. Many birds are mostly or entirely insectivorous, especially during the breeding season when nestlings are growing and food demand is highest.
Dr. Peter Marra from the Smithsonian Migratory Bird Center has started a new National Science Foundation-funded collaboration with Dr. Doug Tallamy, an entomologist at the University of Delaware, along with Ph.D. student Desiree Narango, to investigate how non-native plants may be affecting food resources for backyard birds.
This new study works in conjunction with the Neighborhood Nestwatch program to study a common insectivorous bird: The Carolina chickadee. Nestwatch participants with native and non-native landscaping in Maryland, the District of Columbia and Virginia have agreed to host nest boxes that attract chickadees to nest in their backyard monitor them over the breeding season.
In this study, individual chickadee pairs are color-banded and followed over the nesting season to determine:
which trees they prefer to forage on,
which kind of insects they feed their young, and
how successful they are at reproducing in neighborhoods with different densities of non-native vegetation.
The work will utilize a variety of different methods to test these questions, such as using stable isotopes to track trophic contributions of trees to different consumers, and video cameras to record food items and nest visiting rates by chickadees. In addition to the birds, they are also sampling caterpillars to determine what species feed on different types of trees and how the numbers of caterpillars change throughout the year.
This study will contribute to our understanding of the role of non-native plants in trophic food webs and novel ecosystems. Future findings will also be useful to homeowners and land managers that are interested in improving their backyards to provide food for resident and migratory birds.