Departure From Cat Island
Yesterday was our last day catching and tagging Kirtland's warblers on Cat Island. Overall, it was a great success! We caught and attached radio tags to 63 birds (58 males and five females).
The males proved fairly easy to find and catch, but the females were harder to find and less responsive to playback once we found them. We didn't reach our goal of 100 tagged birds, but that leaves us with leftover tags to study the late-summer and early-fall movements of Kirtland's warblers during molting and fall migration. We may also tag some brown-headed cowbirds to learn more about their movements.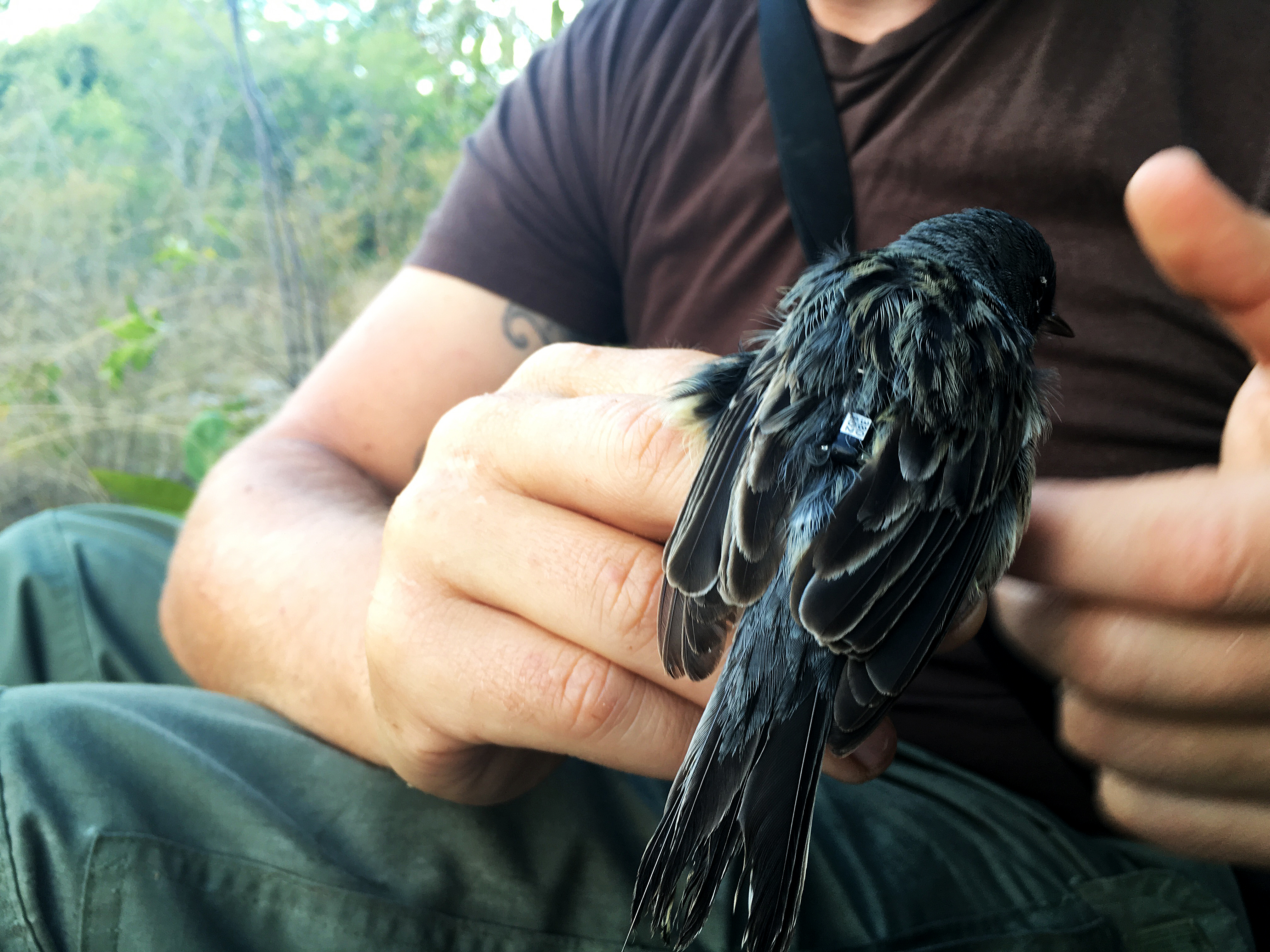 This past week, renowned author Scott Weidensaul and former National Geographic photographer Karine Aigner joined us on Cat Island to work on an upcoming article for Audubon magazine. We had a great time showing them around the island and telling them all about what we do. They arrived at a time when the field team was beginning to feel burned out, so their visit was a much needed injection of energy and excitement. After spending a week with Scott, it is clear that he is a masterful storyteller. I can't wait to see the Audubon article later this fall. Karine has a keen eye, and I'm very excited to see the results of all of her hard work visually documenting our efforts.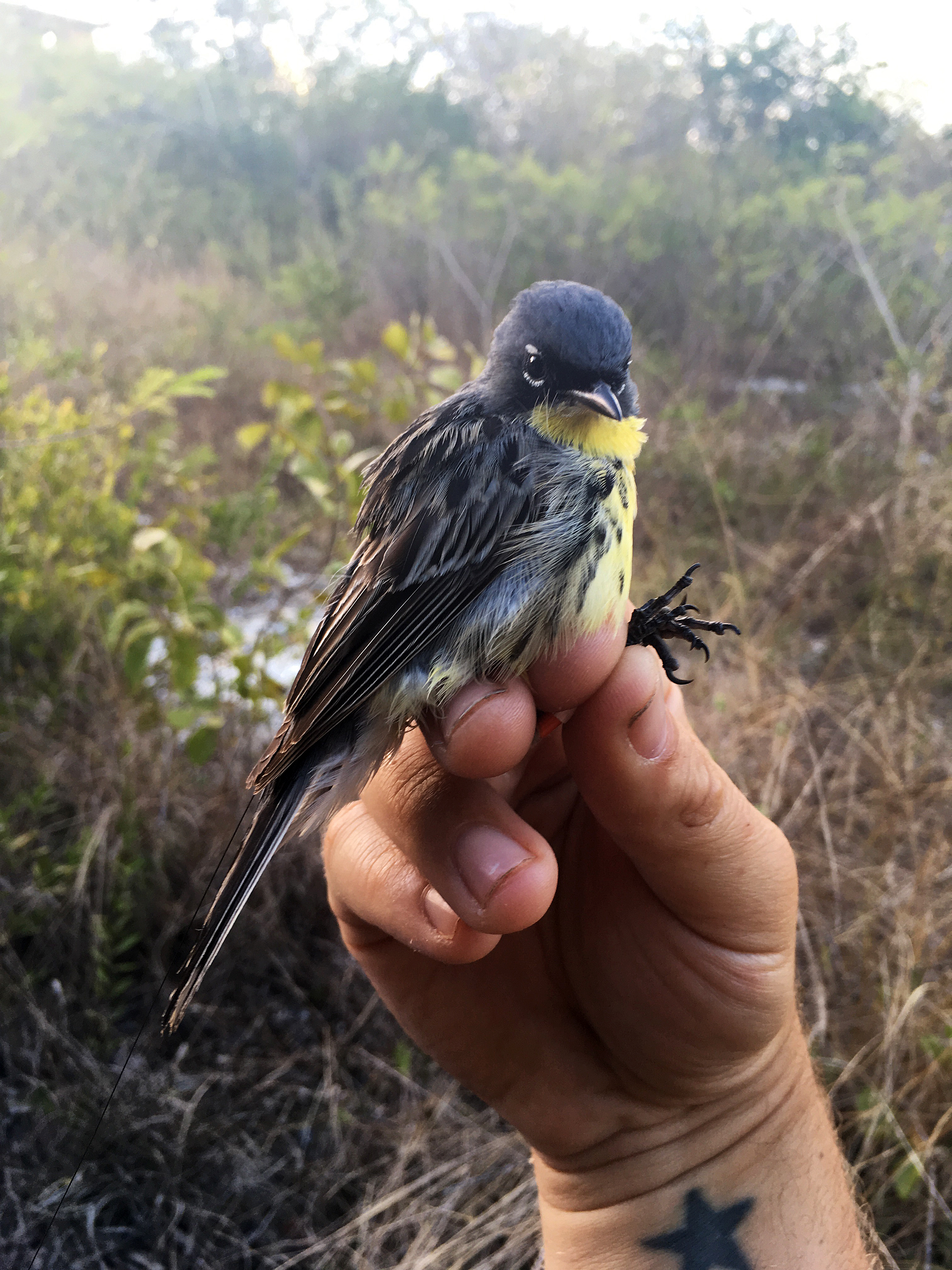 This morning, Adrienne, Scott, Karine and I all departed on our own migrations. Scott and Karine are rushing off to their next assignment and Adrienne has more fieldwork to do in Jamaica, Puerto Rico and the Dominican Republic. Meanwhile, I'm racing back to the breeding grounds. Our two interns this year, Steve and Chris, are staying in Cat Island for a few more weeks before joining me in Michigan. They will spend the remaining time tracking each tagged male to determine the day upon which they depart Cat Island on spring migration.
Sitting in the Nassau airport with a 5-hour layover, I'm experiencing a bit of culture shock. I haven't seen this many people in nearly a month! There are so many foreign smells, sounds and sights in once place that it's a bit overwhelming. I'll spend one night in D.C., and then drive the work truck to Michigan packed to the brim with solar panels, radio antennas and various tower components. On Thursday, I begin erecting 11 automated radio towers all across the breeding grounds in the Lower Peninsula of Michigan. Typically, the first male Kirtland's warblers begin to arrive around May 1, so it's crucial to get these towers built and tested quickly! I'm anxiously awaiting detecting our first tagged bird in Michigan. I'm anticipating that it will be one of the most exciting moments in my career. Once we start detecting tagged birds, we will capture them to reassess body condition and remove radio tags. We will then follow these birds for the next few months, finding their nests and monitoring their reproductive success.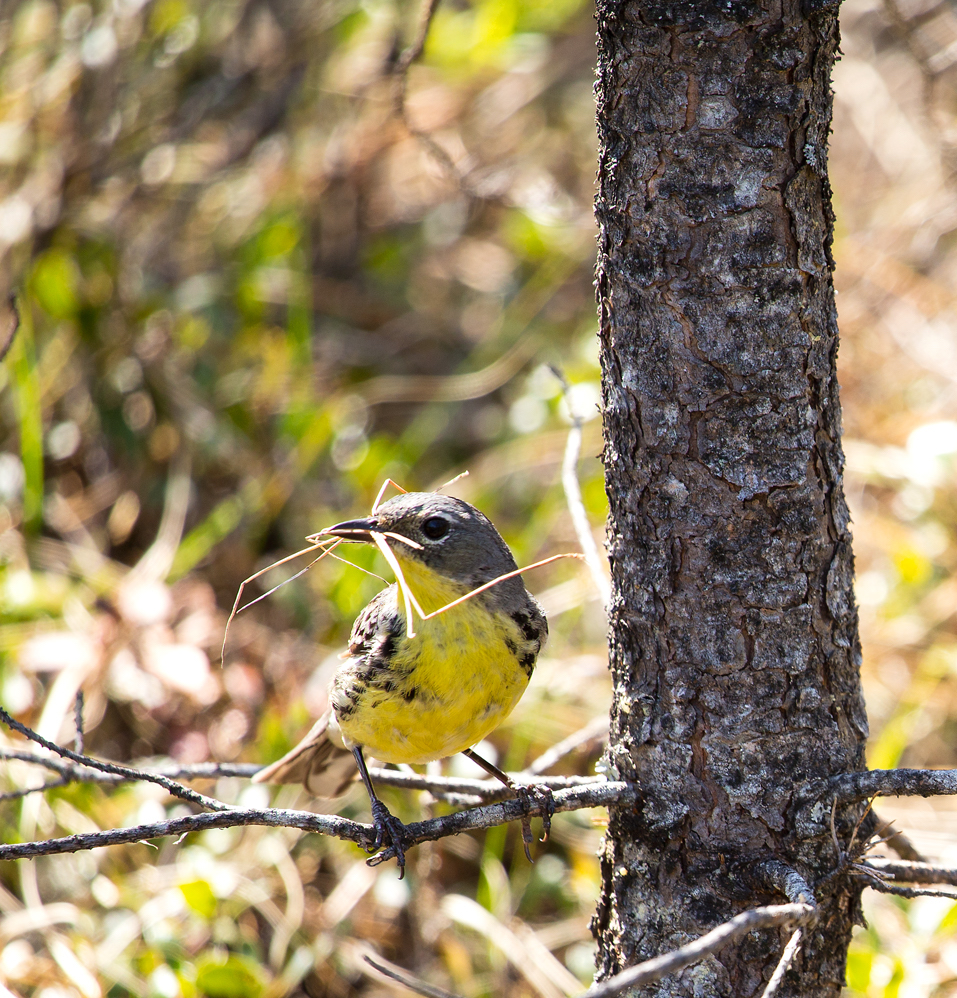 Once we get the towers up and running and start detecting birds, we'll update you on our progress!
Early Success on Cat Island
Apr. 12, 2017
We are about halfway through our three-week banding period, and things are going well on Cat Island. We've attached radio tags to 51 Kirtland's warblers (46 males and five females). We brought 100 tags with us and at this rate are on track to deploy about 75 to 80 of them, which we are quite happy about!
We have had good luck in both taller and shorter scrub forests, but the short scrub sites, like the one pictured below, have been the most productive.
Similar to Eleuthera, abandoned agriculture areas and goat farms have the most birds. This type of disturbance seems to keep the vegetation low and promote a lot of black torch and wilde sage, two fruiting plants that Kirtland's love.
Along the way, we have seen a lot of great sunrises ...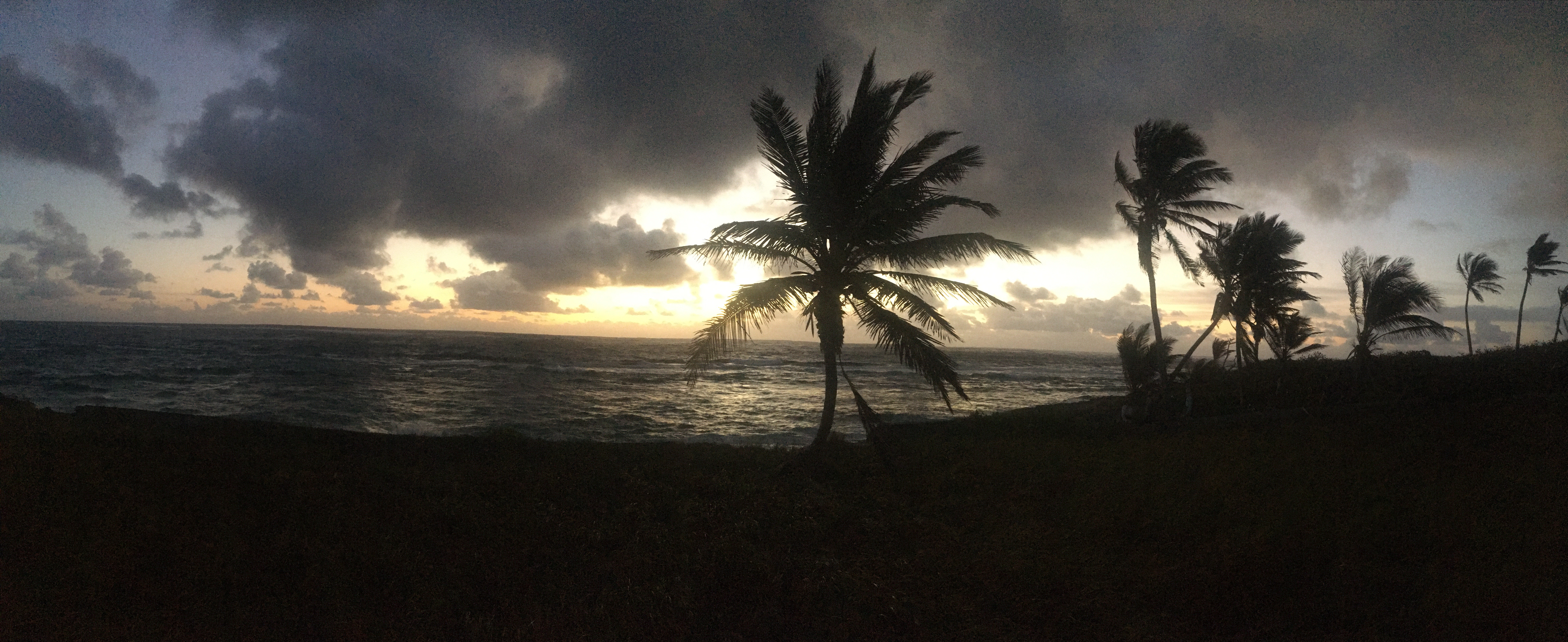 ... and a lot of other bird species, including North American migrants, such as ovenbirds, American redstarts, palm warblers and prairie warblers, northern parula and yellow-rumped warblers. We have also seen many Bahamian residents, including Bahama woodstar, western spindalis, bananaquits, Greater Antillean bullfinch, Bahama mockingbird, red-legged thrush and black-faced grassquits.
Today, I had a very surprising and interesting experience. I was walking quietly through the brush looking for Kirtland's warblers when I heard a fluttering sound near my feet. I looked down to find a thick-billed vireo flapping around and struggling to fly. My first thought was that perhaps it was hurt, or maybe I was very close to a nest and the mother was pretending to have a broken wing. I stepped back to observe and noticed what looked like something attached to the vireo. Chris Fox and I moved in for a closer look and saw a giant stick insect grabbing onto the vireo. They were locked in a furious battle, and the vireo could not fly away. I was tempted to just let nature take its course but then realized that the stick insect was missing its head.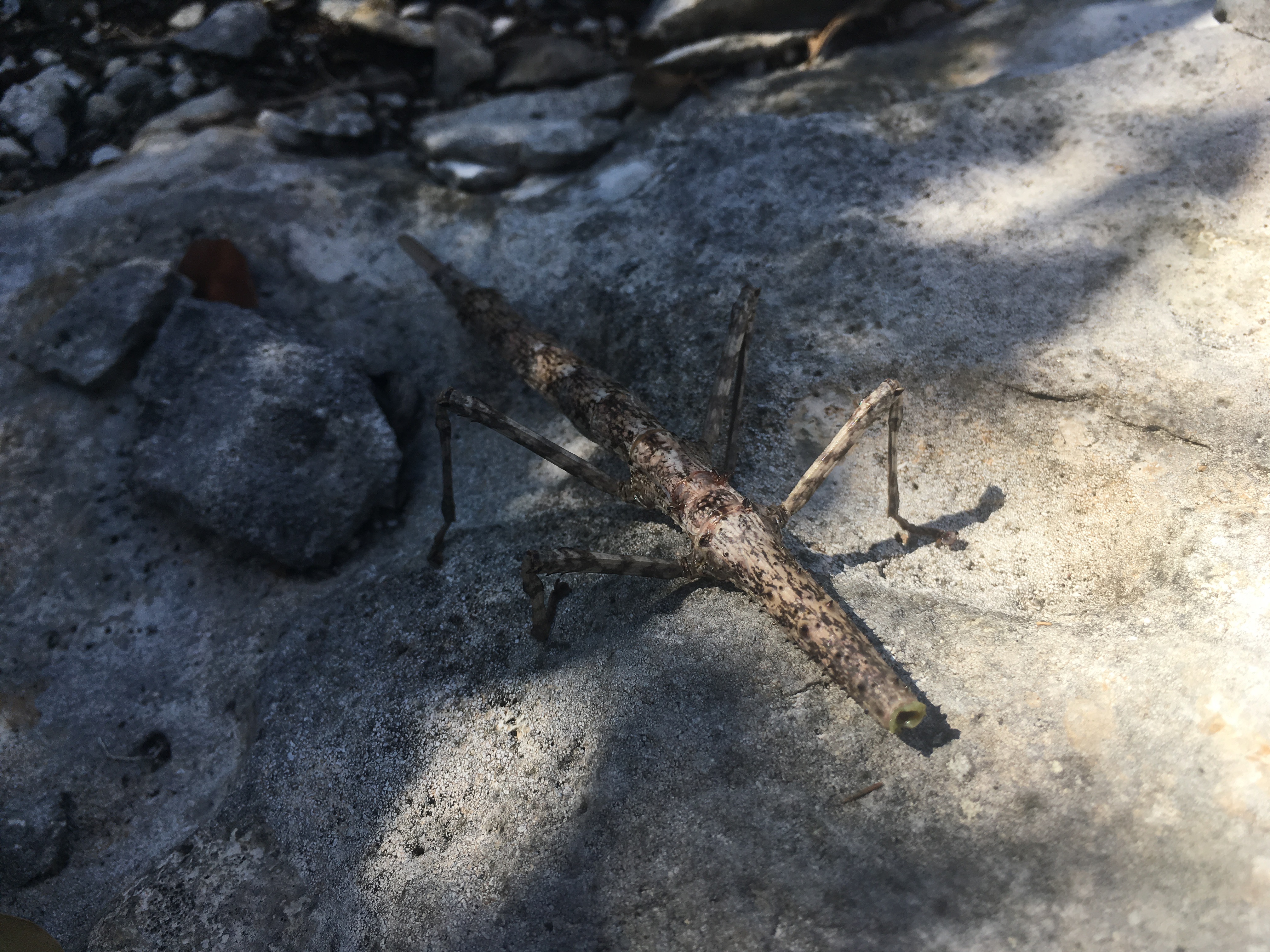 However, we could still see the insect moving its legs and grabbing onto the vireo. We cornered the vireo, and Chris was able to grab it, remove the dying stick insect and safely release the bird.
Finally, check out a slow-motion video of us releasing a Kirtland's with his new backpack. We can't wait to see these guys again in Michigan in a few weeks!
Adventuring in Science: Cat Island 2017
March 31, 2017
A few days ago, a team of Smithsonian scientists and interns arrived on Cat Island, Bahamas, to begin an exciting new project with Kirtland's warblers, one of North America's rarest songbirds.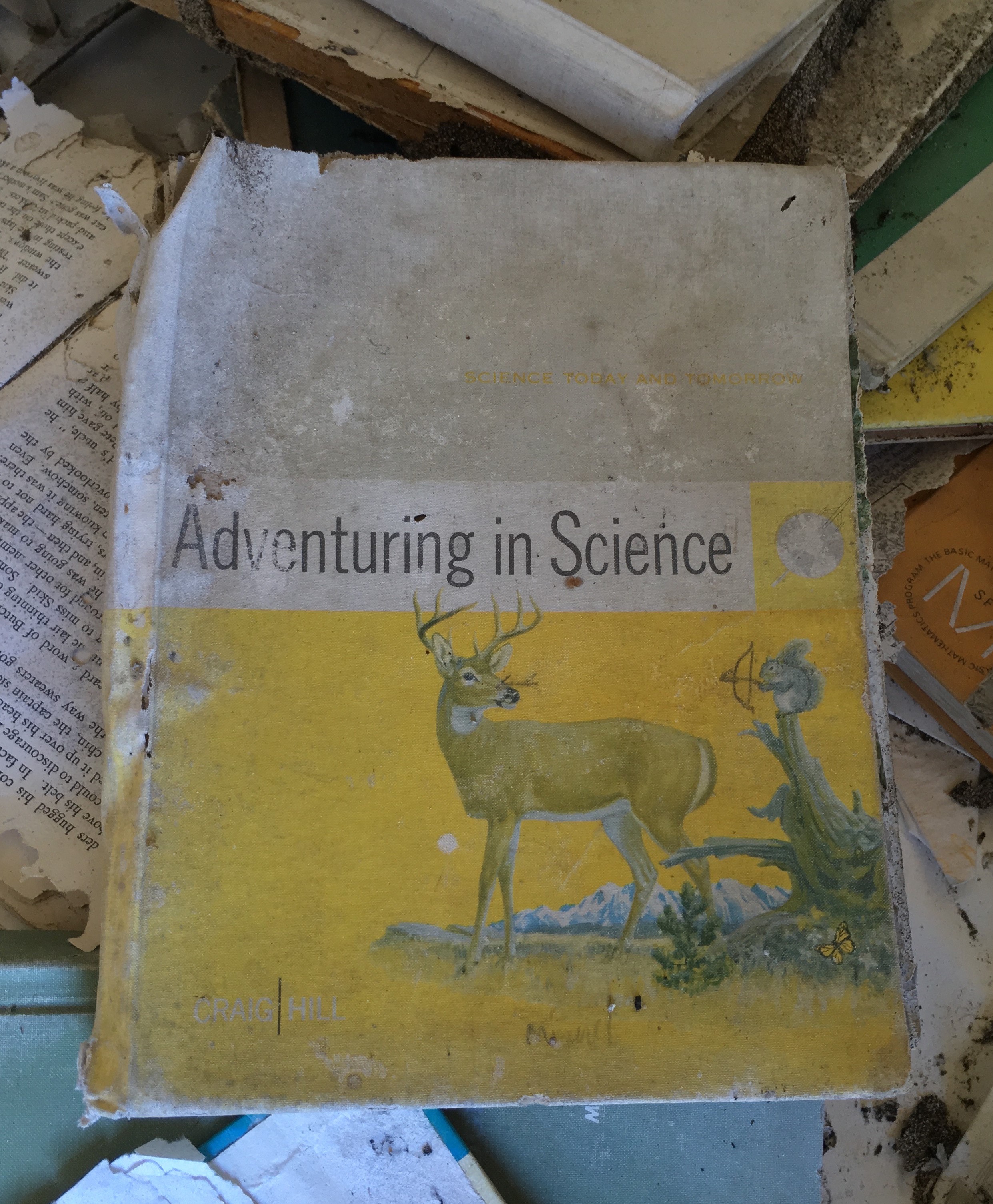 While we would love to have a much larger and more widely distributed population of this charismatic warbler, its small population size presents us with a unique opportunity. Using new radio transmitter technology, we plan to study the same individuals during both their wintering period in the Bahamas and their breeding season in Michigan. This has never before been possible in songbirds.
Our goal in the next month is to attach 100 coded radio transmitters to male and female Kirtland's warblers. Each of these tags weighs just .35 grams and sends out a uniquely coded radio signal every 30 seconds. Our plan is to attach the radio transmitters, measure the birds, assess their body condition and then release them. After that, we'll follow them around Cat Island using handheld radio antennas and assess how much fruit is available in each bird's home range. Around mid-April, I will race back to the breeding grounds to build 11 automated radio towers, which will cover nearly all of the Kirtland's small breeding range in Michigan. Two of our interns, Steve Caird and Chris Fox, will stay on Cat Island until early May and continue to follow each bird right up until they depart on spring migration, beginning in mid-April and ending in early May.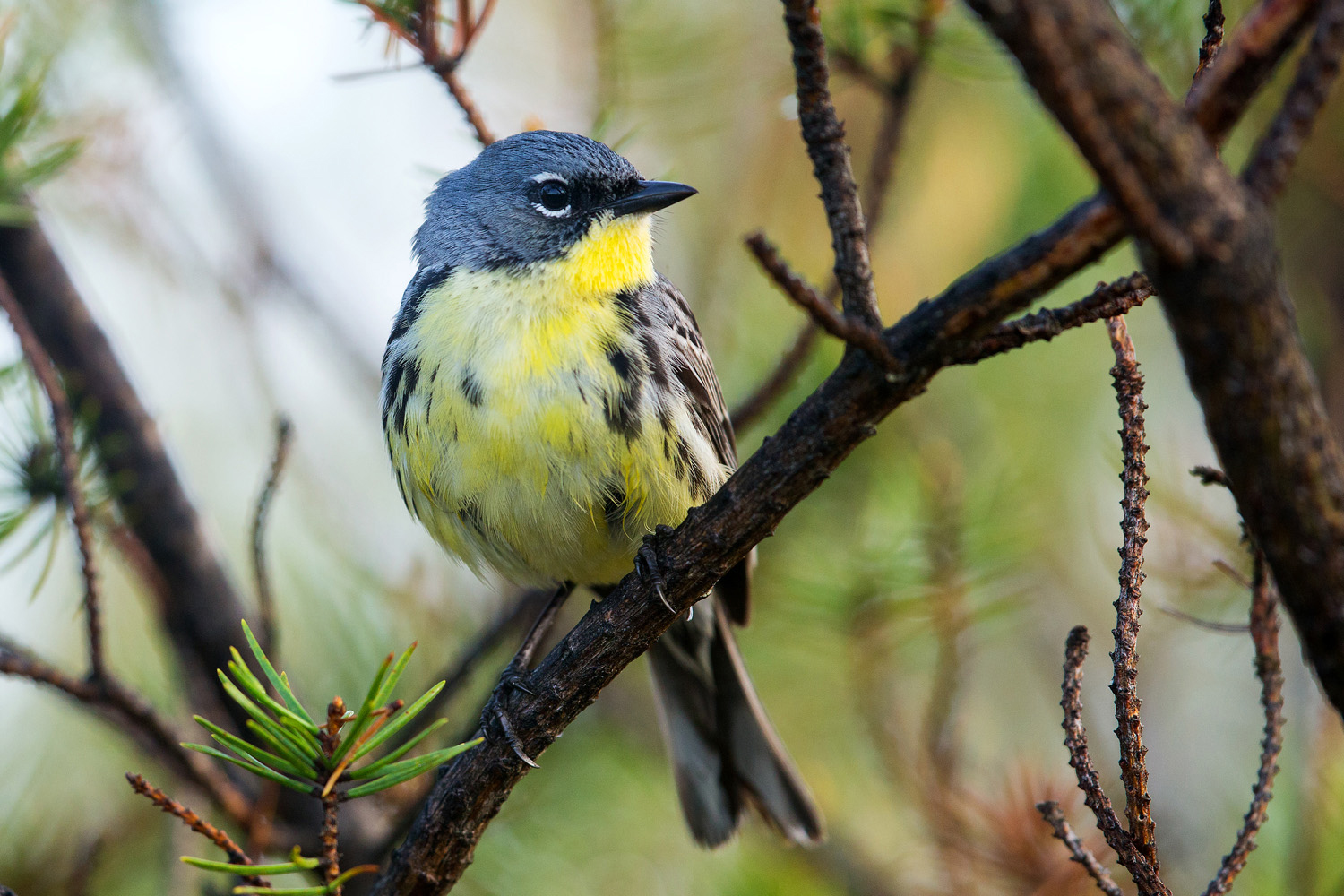 Based on our previous study of Kirltand's warbler migration, we know that in spring, birds head straight to Florida from the Bahamas and then continue north, passing through Ohio. After departure from the island, our tagged birds will likely pass nearby automated radio telemetry towers already erected in Florida and Ohio. These towers will automatically detect them, and save the date and time that each bird passes through the tower array. As they reach their final destination in Michigan, they will be automatically detected by our newly erected tower array. Then, we can track each individual down to its breeding territory, capture it, remove the radio transmitting device and re-asses body condition. We will then follow each individual through their breeding attempts, so we can begin to understand how winter rainfall, food availability and body condition affect migration timing, migration survival and breeding success! Understanding these relationships will be important, as climate change begins to alter their Bahamian wintering grounds.
We've only spent a few days in the field, but we're off to a good start with 10 radio transmitters deployed on eight males and two females! More to come soon, including photos and videos from the Bahamas.
Tracking Kirtland's Warblers
Jan. 10, 2017
The Kirtland's warbler is an endangered migratory songbird that breeds almost exclusively in the northern lower peninsula of Michigan and winters across the Bahamian Archipelago. After dropping to fewer than 400 in the wild during 1987, breeding-season management has resulted in a population of over 4,500 today. Despite this conservation success, it remains one of the rarest and most range-restricted species in North America. Moreover, Kirtland's warblers face unprecedented threats on their Bahamian wintering grounds from global climate change. Increasing drought is expected to reduce the arthropod and fruit resources which are important food sources for wintering Kirtland's warblers. Sea-level rise is also projected to result in the loss of 11 to 60 percent of the Bahamian landmass, over the next century.