Jan. 12, 2017
SMBC's Migratory Connectivity Project, in partnership with the USGS Alaska Science Center is tracking Pacific Loons from two breeding populations in Alaska, and the difference in migration destination of the two populations is striking!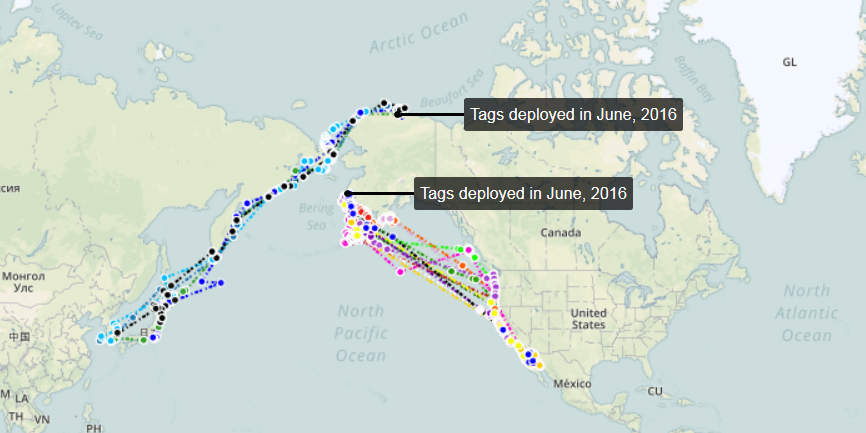 This past June, for the second year, we ventured to the North Slope of Alaska to outfit Pacific Loons with satellite tags. Before our work, Pacific Loons had never before been followed during their migration. The Birds of North America states, "Pacific Loons wintering in east Asia are presumably those that breed in Siberia, but it is possible that some North American breeders may winter on the Asiatic coast." Well, now we know for sure. All 13 individuals we tracked from Alaska's North Slope spent their winters in Asia.
But that's not the full migratory connectivity story! This summer, we added a new Alaskan breeding location on the Yukon-Kuskokwim Delta and have followed 15 individuals. They are currently meandering down the west coast of North America, spending time in Canada's Haida Gwaii, Washington, Oregon, California, and now, Mexico. According to Birds of North America, "a large proportion of the North American population winters south of U.S., but little information is available concerning distribution of Pacific Loons within Mexican waters." We hope our work will help fill in the gaps.
Because we simultaneously tagged individuals from the two separate breeding populations—one above the Arctic circle, and one in western Alaska—we were able to witness this stunning migratory divide in action. The Arctic is changing rapidly and the information we uncovered is critical for determining how changes might affect the two populations differently.
This year's work was made possible by Conoco Phillips Global Signature Program and through in-kind support from ConocoPhillips Alaska. All birds on the North Slope were tagged from ConocoPhillips Alpine Facility, where there happen to be a lot of interested birders! Thank you to all USGS Alaska Science Center staff that aided this effort including Joel Schmutz, Brian Uher-Koch, Ray Buchheit, Andrew Myers, Tim Spivey, and veterinarians Dan Mulcahy and Scott Ford.