Fennec fox News Archive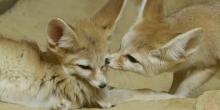 Get the answers to some of the most-searched questions about the desert dwelling, big-eared fennec fox!
The Small Mammal House's baby boom got a little bit bigger Feb. 4 with the births of two fennec fox kits! Keepers are hand-raising the kits—one male and one female—who were born to 7-year old mother...