Jan. 05, 2018
Some of the most endangered species on the planet can be found at the Smithsonian's National Zoo's Cheetah Conservation Station. Get a glimpse behind-the-scenes at a day in the life of keepers who work with animals, ranging from the graceful dama gazelle to the speedy cheetah, from assistant curator Gil Myers.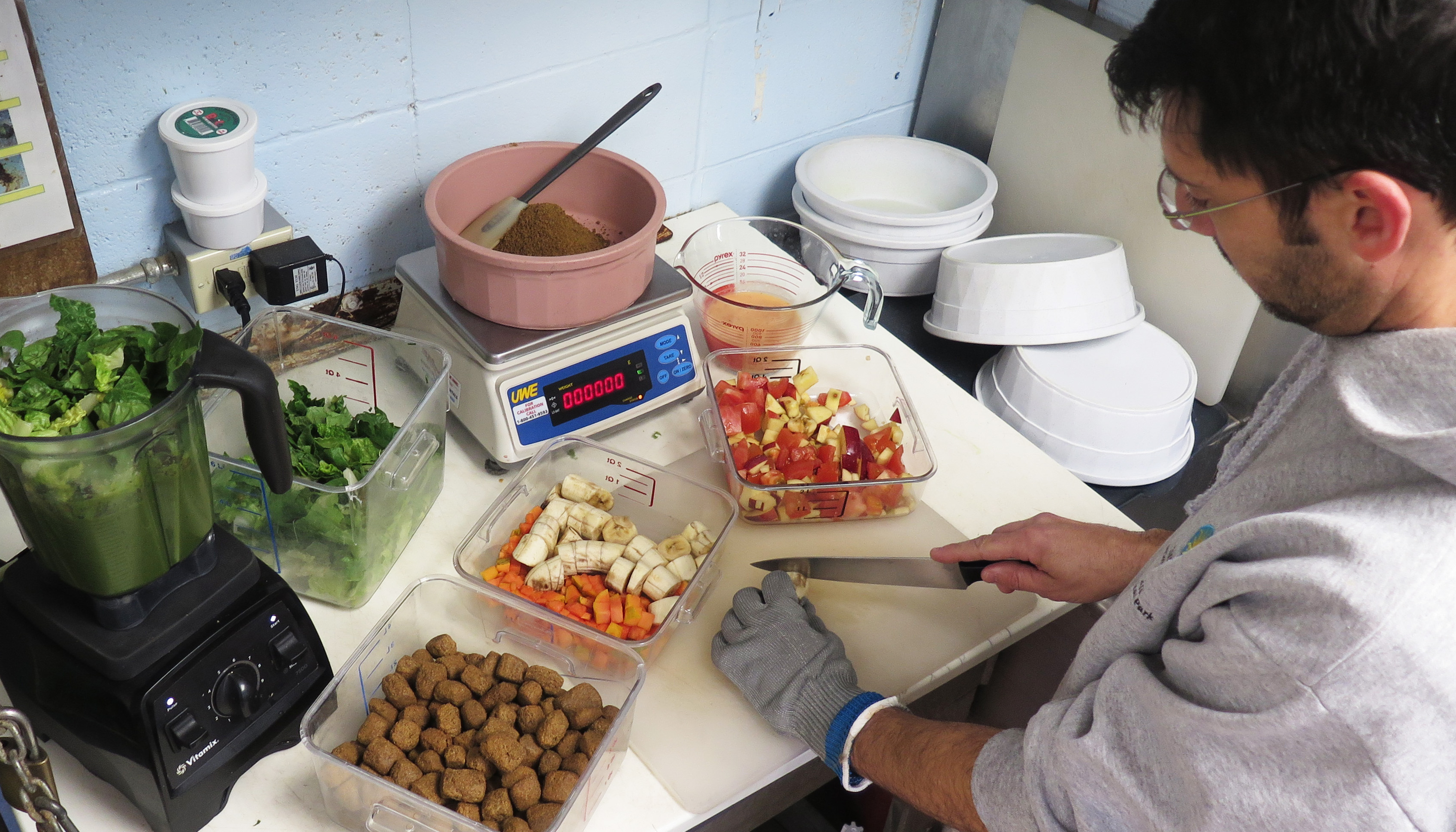 "Ten different species of mammals and birds live at the Cheetah Conservation Station. Every day, keepers prepare fresh meals that have been formulated by Zoo nutritionists to meet the dietary needs of individual animals. Here, I'm preparing kibble formulated specifically for our maned wolves, which are omnivores. Their kibble is blended with banana, apple, cherry tomato, lettuce and water. Frozen-thawed mice and fish are served separately. We strive for the right balance of nutrients, but creativity and presentation are important elements of meal time, too."—Gil Myers, assistant curator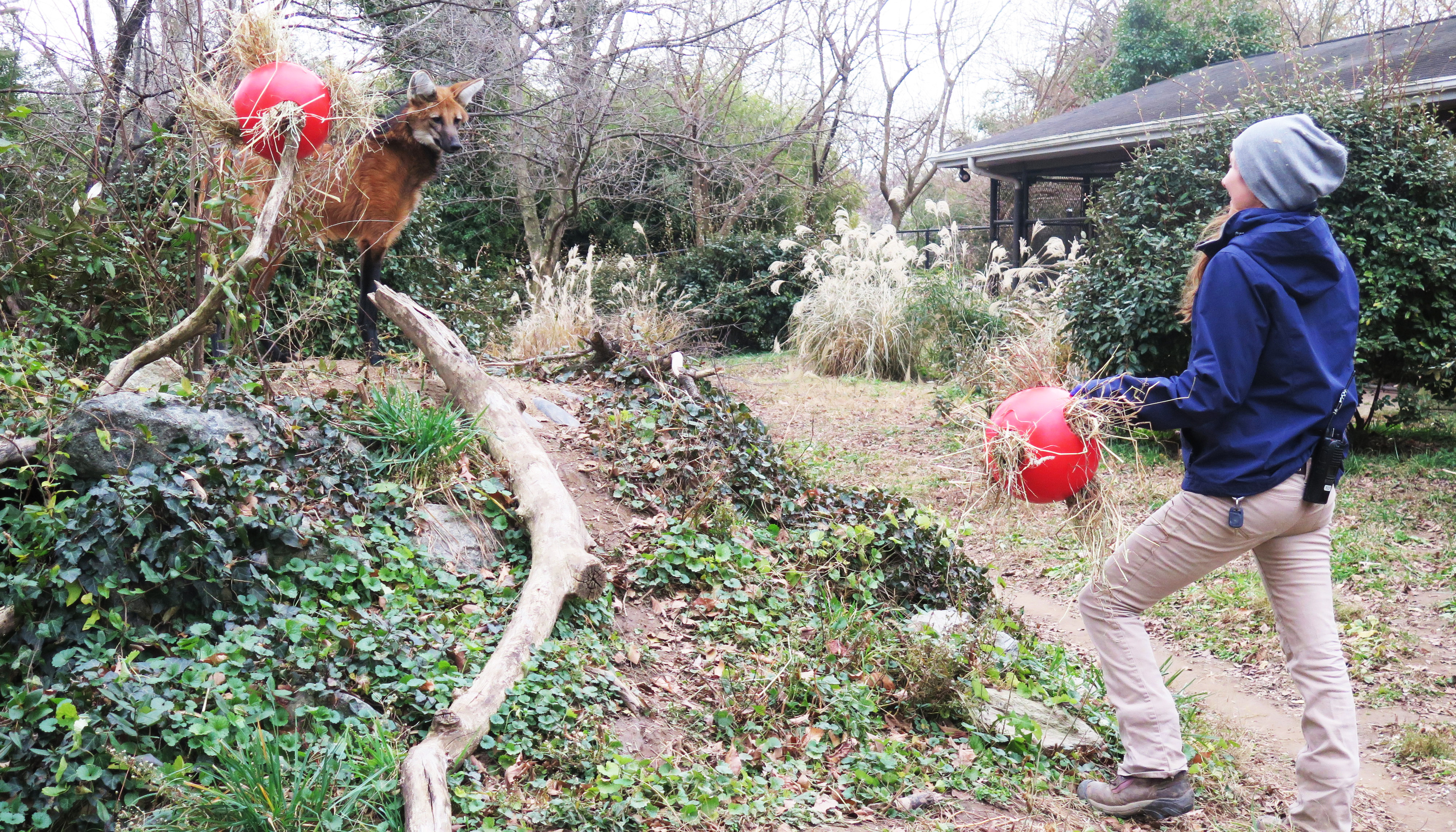 "Although our maned wolves do not encounter the same elements in their Zoo habitat as they would in the wild, it is their keeper's job to encourage them to use their natural behaviors. Presenting them with a variety of toys, feeder puzzles and foods is a great way to enrich their lives and stimulate them to explore their Zoo habitat. In this photo, animal keeper Kristen is placing toys containing food and spices (i.e. scent enrichment) for Mateo and Quito. In addition to providing an outlet for physical exercise, these toys require the wolves to use their cognitive skills to search for and locate the treats hidden inside."—Gil Myers, assistant curator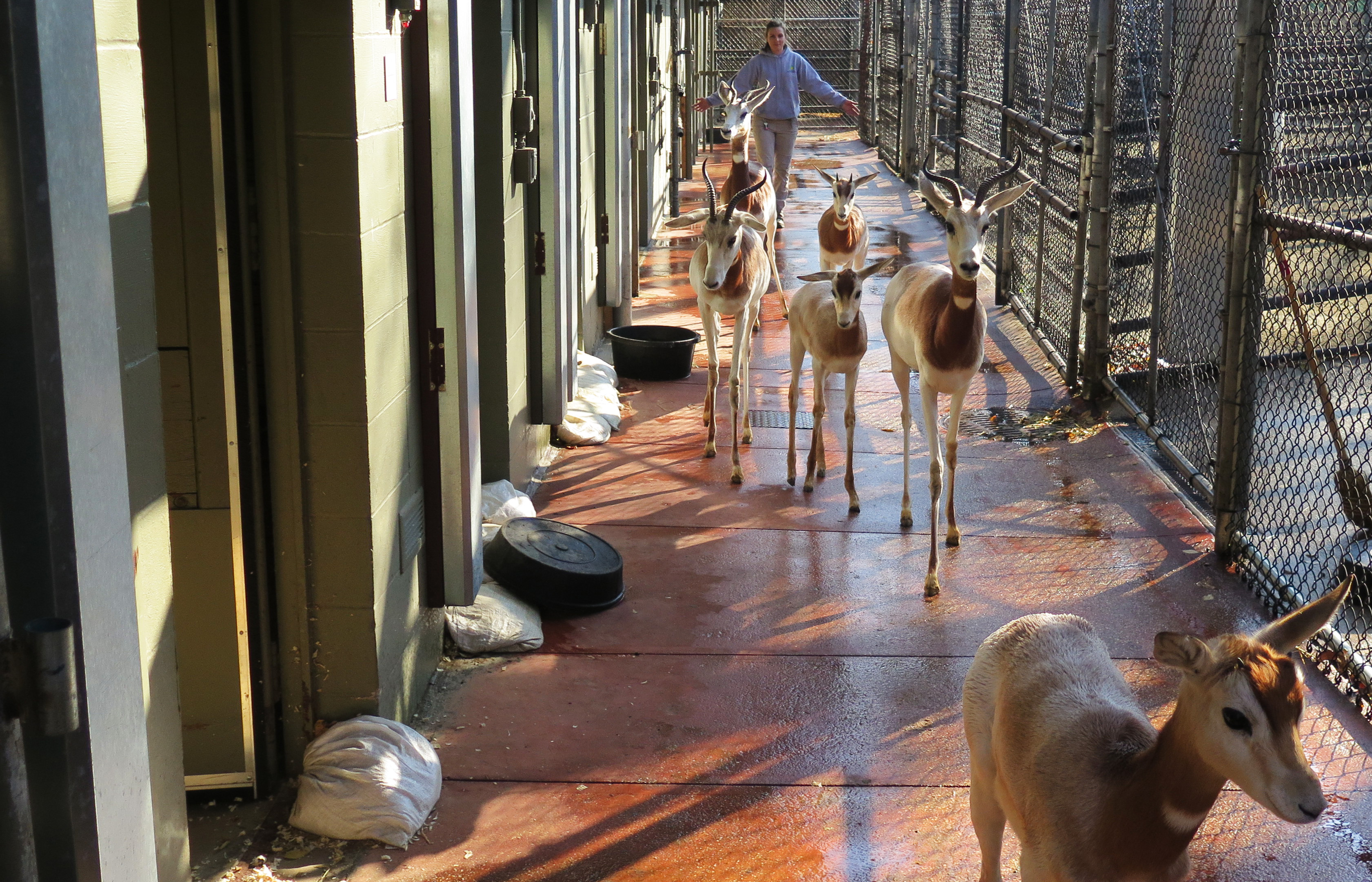 "Some animals are more sensitive and skittish than others. Working with the dama gazelles, for example, requires a keeper to understand their behavior and be patient in gaining their trust. We work in close proximity to these animals, so developing these skills is vital to their safety and ours. In this photo, animal keeper Michelle escorts dama gazelle moms (Adara, Fahima and Zafirah) and calves (Omari, Asha and Kamal) from their off-exhibit enclosures to their public habitat."—Gil Myers, assistant curator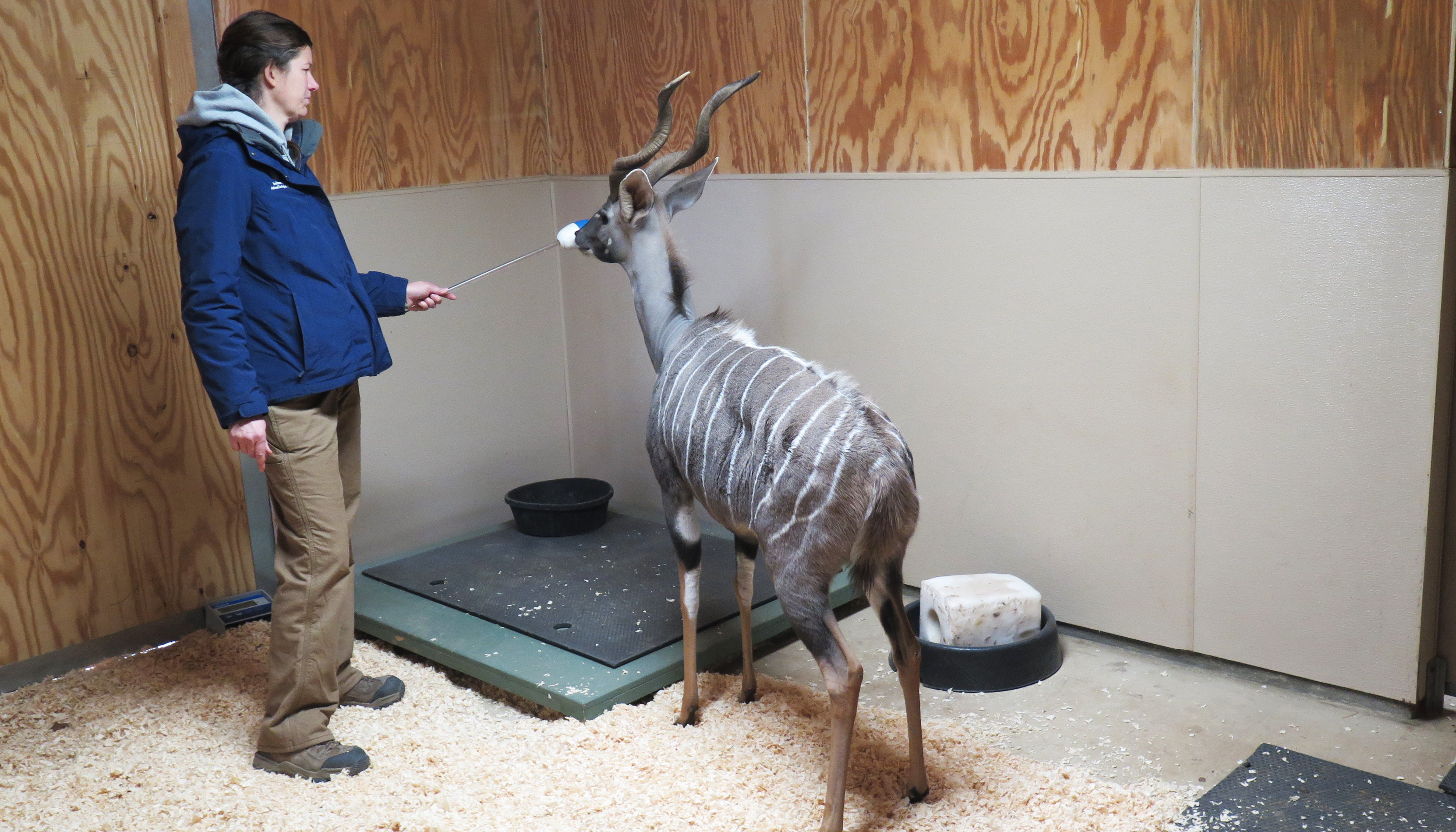 "Maintaining detailed records of our animals' weights is one way that keepers ensure Cheetah Conservation Station residents maintain a healthy body condition. We train our animals to follow a target and voluntarily step upon a scale; then, keepers give the cue to station (hold still). If the animals choose to participate, they receive their favorite food as a reward. This technique is called positive reinforcement training, and it gives the animals some choice and control over how they spend their day. In this photo, our lesser kudu, Garrett, is following animal keeper Deb's target buoy and getting ready to step onto a scale platform. He weighs 180 pounds."—Gil Myers, assistant curator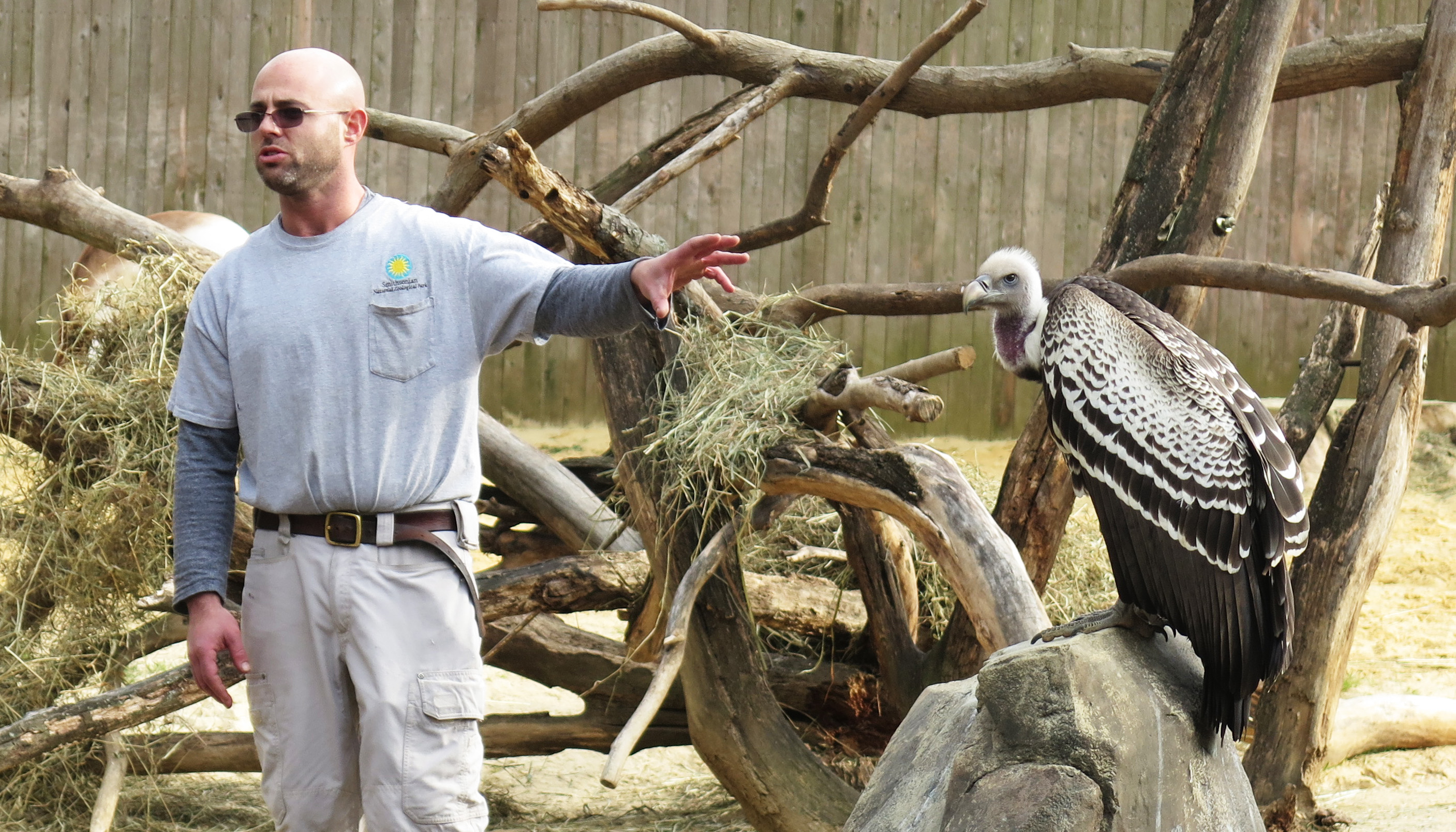 "Introducing Zoo visitors to the animals that we care for is one of the most important jobs that we do as keepers. Through daily demonstrations, keepers share amazing, bizarre and fascinating facts about our animals. We want to inspire our guests to appreciate the animals on a deeper level and impart ways that they can help conserve and protect these species. Animal keeper Adam chats with guests about our Ruppell's griffon vultures, Tuck and Natalie. Did you know they have been recorded flying at heights of more than 36,000 feet?"—Gil Myers, assistant curator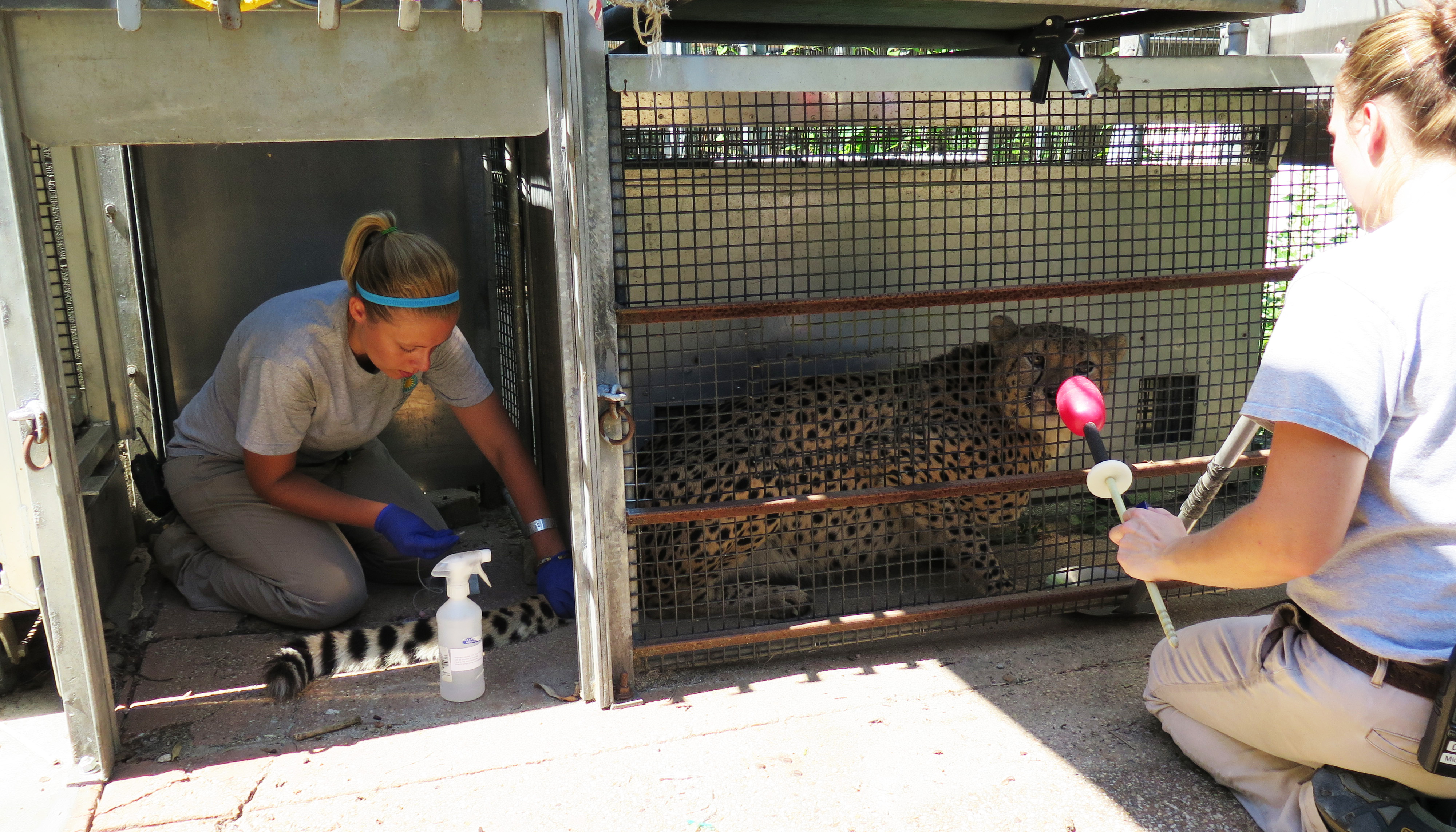 "Although training is often a component of our animal demonstrations, most sessions take place behind-the-scenes. In this photo, keepers Regina and Michelle team up to train our male cheetah, Bakari, to present his tail for a voluntary blood draw. Now, both he and another male, Gat, voluntarily participate in their own medical care. Without the need for anesthesia, keepers are able to obtain blood samples from the cats whenever Zoo veterinarians need them." —Gil Myers, assistant curator
This article appears in the January 2018 issue of National Zoo News.