Apr. 15, 2012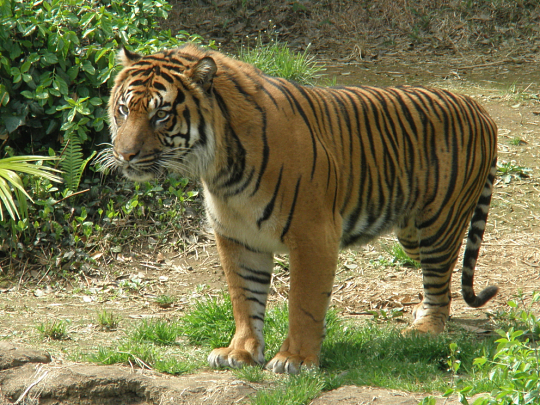 Guntur is officially the newest resident of Zoorasia in Yokohama, Japan! Guntur was sent there last week on a breeding recommendation with a female tiger that they have from Holland. As his keepers, we are all very sad to see him go, but we are excited that he will get the opportunity to increase the genetic diversity of captive Sumatran tigers.
The trip went very smoothly, and Guntur arrived to Japan without a hitch. The flight was a long—14 hours—and no other passengers were aware that a tiger was on board! It was a commercial flight, and Guntur was inside his travel crate positioned in the same place where other pets would be on the plane, below the passenger seating. Upon arrival in Japan, I met with their zoo animal transporter, we picked up Guntur from the cargo area, and then drove two more hours to Zoorasia. We arrived late at night, and there were about eight staff members waiting for us. Guntur's crate was unloaded from the truck, positioned into the tiger building, and safely let out into his new home.
At first, Guntur seemed calm and he walked around the den, inspecting everything. We left him with some food overnight and left to get some much needed sleep. The next day Guntur had eaten, but he seemed very nervous, especially when his new keeper was in sight. Because he seemed afraid of his new keeper, Toshio, I worked with both of them over the next four days to help out with the big adjustment. The new keeper started slowly by offering Guntur some meat, and then stepping back a bit until Guntur would eat it. We progressed with this until Guntur would eat some meat from Toshio via tongs. Success! Guntur is still not completely sure about having a male keeper, but I'm sure after a few weeks he'll settle in just fine.
Guntur's mate, Deru, is a beautiful tiger and the same age as him. She couldn't see Guntur, but she could certainly hear him, and that was enough to make her very nervous about going back into the tiger building! With time to adjust to each other I'm hopeful that they will be a great pair.
I got a chance to explore Zoorasia the week I was there. It is a very nice zoo that is only twelve years old. The zoo is set up geographically and the exhibits are designed well. The tiger exhibit has a lot of trees, grass, and a large pool for Guntur to swim in. I think he will be very happy there! Working with the Japanese keepers was a great experience for me. They do things almost exactly the way we do here, and as we do, they really enjoy their jobs! Overall, the trip to Japan was a success as Guntur arrived safely and new friendships were made with our colleagues at Zoorasia.
Sayonara Guntur!