Aug. 15, 2013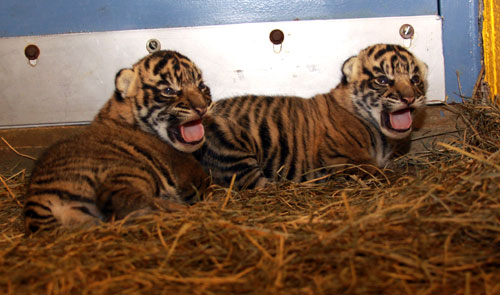 While Damai was enjoying a break from the cubs this morning, our keepers were able to continue desensitization training with them. And they were able to take some photos of them! The training is going well and will help get the cubs used to the keepers' smell and presence.
As you may have noticed, Damai and the cubs aren't on the cams at the moment. When she was pregnant, she had access to three possible cubbing dens, two of which had cams. Animal care staff did their best to make the two dens with cams as inviting as possible, to encourage her to stay there when she had her cubs.
Today, though, we opened up two other dens for her, which are farther back in the lion/tiger house as well as being a little darker. These are also the dens she was in for her quarantine period when she first arrived at the Zoo. She didn't move the cubs back there right away, but this afternoon she did choose to move the cubs back there.
Since she didn't move the cubs as soon as she was given the option, we do not think that her moving the cubs had anything to do with our keepers' sitting with the cubs as part of their desensitization training. If Damai had been upset about smelling the keepers on the cubs or the dens, she would have moved the cubs as soon as she had the chance. Since she waited, we think it's likely that she simply prefers those two dens as being slightly more comfortable, familiar, or protected-feeling.
Damai always has the option of moving the cubs back to the dens with the cameras, but we want that decision to be hers. Animal care is our first priority. We can't move the cams back to the den where she and the cubs are now. For the meantime, we promise to keep you updated with news and photos as soon as possible, and we'll be sure to let you know when and if she and the cubs move back to one of the dens with the live cams.