Aug. 08, 2013
Damai came out of her den on Tuesday while keepers were in the Great Cats building, which is a good sign! That means she is comfortable with the keepers being near her cubbing den. While she was out she appeared very calm and stayed out for quite a while. She ate all of the meat keepers had offered her, and did not seem overly concerned about the cubs.
Eventually she made her way back into the den, and when she got there she didn't move the cubs. That tells keepers that she didn't feel anxious or threatened by their presence.
First time mom Damai is a natural with her two newborn cubs. The Sumatran tiger cubs' eyes have not opened yet, so Damai is spending most of her time grooming and nursing them. Damai lets the cubs crawl all over her, as if her body is a jungle gym.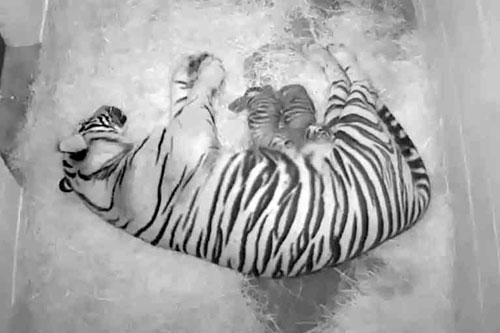 Damai is spending almost all of her time with her new cubs and who could blame her, they're adorable! Bonding time is critical for mom and her cubs, so for a few weeks they will be off of exhibit spending time together. In the meantime, visit the cubs' dad, Kavi, at the Great Cats Exhibit.
Not only are our two new Sumatran tiger cubs the cutest cubs in town but they are also a huge conservation success. With fewer than 500 Sumatran tigers in the wild, the birth of these cubs makes a stride in the direction towards saving this critically endangered species.
"It's taken more than two years of perseverance getting to know Damai and Kavi and letting them get to know each other so that we could reach this celebratory moment," said Craig Saffoe. "All I can do is smile because the team has realized our goal of producing critically endangered tiger cubs. Damai came to us as a young tiger herself, so it's really special to see her become a great mom."
Keepers and veterinarians began monitoring Damai closely in June after she began gaining weight and exhibiting behaviors that indicated she could be pregnant. Staff trained Damai to participate in ultrasound procedures, which allowed them to confirm her pregnancy on June 21, 2013. Keepers prepared for the arrival of cubs after Damai became restless and began showing signs that she would soon give birth. This is Damai's first litter of cubs, sired by the Zoo's 12-year-old male tiger, Kavi. The two bred several times from December 2012 through mid-April of 2013.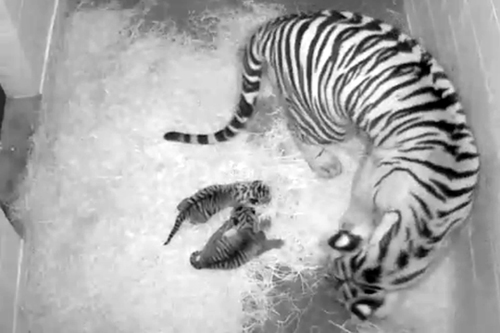 Tiger fans may be able to watch the newborn tiger cubs at the National Zoo reach every milestone for the next several weeks via live webcams on the Zoo's website. Damai has the choice of moving her cubs to dens in the indoor tiger enclosure that do not have webcams. If she chooses to move them, they may not be visible on the webcam. Viewers can toggle between two webcams in the cubbing dens. During the next few weeks the cubs will open their eyes, become more mobile and potentially even start to explore the other dens that Damai can access.