Nov. 06, 2013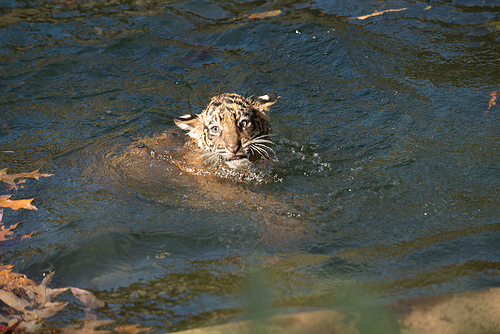 Our two Sumatran tiger cubs took a brisk doggy paddle at the Smithsonian's National Zoo today and passed their swim reliability test! The cubs also now have names: the male is Bandar and and the female is Sukacita (SOO-kah-CHEE-tah). All cubs born at the Great Cats exhibit must undergo the swim reliability test and prove that they are ready to be on exhibit. Bandar and Sukacita were able to keep their heads above water, navigate to the shallow end of the moat and climb onto dry land. Now that they have passed this critical step, the cubs are ready to explore the yard with their mother, 4-year-old Damai.
"Tigers are one of the few species of cats that enjoy taking a dip in water," said Craig Saffoe, curator of Great Cats. "The moat exists for the safety of our visitors, but it could present an obstacle for young cats. Our job is to make sure that if the cubs venture into the moat, they know how and where to get out. These cubs represent hope for their critically endangered species' future, so we need to take every precaution to ensure their survival."
Both cubs took the test under the guard of animal keepers Dell Guglielmo and Marie Magnuson, who gently guided the cubs in the right direction. The shallow end of the moat is approximately 2 ® feet deep. The side of the moat closest to the public viewing area is about 9 feet deep and is an essential safety barrier that effectively keeps the cats inside their enclosure.
Friends of the National Zoo hosted an opportunity to name one of the Zoo's tiger cubs on the website Charity Buzz. On Nov. 1, the winning bidder elected to name the female cub Sukacita, which means "joy" in Indonesian. The $25,000 donation supports ongoing research and education outreach at the Great Cats exhibit. Keepers selected the male cub's name, Bandar, in honor of Bandar Lampung—a southern port city in Sumatra.
Starting Monday Nov. 18, keepers will decide on a day-to-day basis whether Sukacita and Bandar will spend time in the yard and for how long they will be out. This decision will be based on weather and how the cubs adjust to being outdoors. The Zoo will continue to share the latest updates and photos on Facebook and Twitter.