Sep. 01, 2013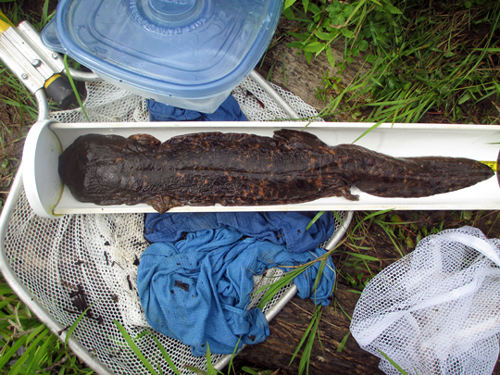 By Matt Neff, Animal Keeper at the Zoo's Reptile Discovery Center
When I started working at the Reptile Discovery Center late last year, I was lucky when I was asked if I'd be interested in helping with the Salamander Ambassador project. It rekindled the love for salamanders I've had since I was a kid. In preparing presentations for volunteers and visitors,  I was reintroduced to how amazing and special salamanders are.
One fact especially stuck with me—Virginia is home to 56 of Earth's 550 species of salamanders. That's more than 10 percent of world's population!  Reading about their behavior and seeing beautiful pictures of salamanders is fine, but seeing them in their natural habitat is even better—it's why we zoo keepers do what we do. Needless to say I was ecstatic when I was asked to accompany SCBI scientist Kim Terrell in the field portion of her study on how climate change affects the stress levels of hellbenders. Now I'm not usually a fan of bad puns, but I was "hell-bent" on going!
For any readers not quite sure what a hellbender is, it's a salamander that looks just like its name suggests. Most hellbenders are a mottled brown and black, wrinkly creature—like a shar-pei of the salamander world. They are so ugly that it's cute. They are also the largest salamander in North America (third largest in the world), getting up to two and a half feet long.
Although they are totally aquatic, they don't breathe with gills or lungs. Hellbenders breathe solely through their skin, and they rely heavily on swift-moving water to rush freshly oxygenated water over their wrinkly bodies. They take refuge under large, flat rocks so they don't end up downstream in their swift-moving environments. Hellbenders depend on the cooler temperatures of streams at higher elevations. For this portion of Terrell's study, we traveled to southwestern Virginia to locate them.
Finding hellbenders isn't easy. We had to wade out into a stream, sometimes chest deep, to find them. Wearing wetsuits or chest-high waders, we split into two teams. Each team had two people who would hold nets on either side of a rock, one or two people lifting the large rocks, and another person who would go under water to look for them—with snorkel gear on no less!
 It may have been a sight to behold for a stranger on the banks, but we didn't care how we looked; we just wanted to find a hellbender. The one thing about looking for any type of animal in the wild is they aren't always going to follow what the literature says. As Carl Kauffeld once said, "Animals are going to do as they damn well please." Just because you see a perfect rock, it doesn't mean you will always find one there. There may be other factors like competition from other animals, lack of food resources, or environmental conditions that limit finding any animal. After spending a good three hours at our first site we came up empty-handed.
Luckily we weren't in low spirits.  It's almost like gambling—you want to keep looking under rocks because eventually you will find one. We were ready to see what the next site had to offer, and it paid off. The first rock at the second site had a very large hellbender under it!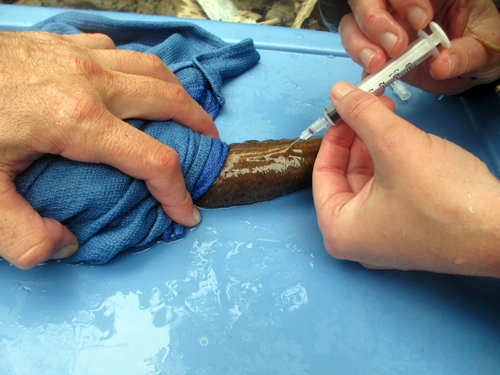 Part of Terrell's study is to look at the stress hormones in a hellbender's blood due to environmental conditions. She wants to compare blood from wild hellbenders to that of ones in the study to see how their stress hormones differ. The first thing we had to do was get blood within three minutes so that we weren't influencing the amount of stress hormones the animal released. So as best as I could, I rushed from the middle of the stream over slippery rocks with our hellbender in a net back to shore so we could start to take information on the animal. Terrell drew the blood as I held the salamander in a moist towel.
After we got the blood, we could take our time to get other measurements that weren't time-sensitive. We recorded lengths, weights, do a physical examination, and implanted the animals with an electronic passive integrated transponders (PIT tag) to help identify the salamander if it is found in future surveys. We recorded the GPS coordinates, and of course we took the opportunity to pose with our cute catch!
This first hellbender was a male and was 57 centimeters long and weighed almost 1,000 grams (22.4 inches, 2.1 pounds), WOW! The next one wasn't found very far from the first one, less than 50 feet, but was found a good hour or two later. It was definitely a production getting all the measurements on the hellbender, releasing it back to where it was originally found, and then continuing on the quest.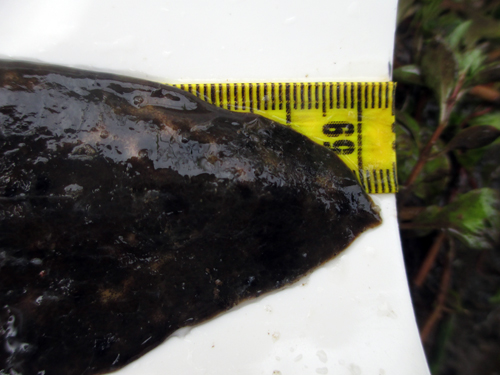 We followed the same procedure as with the first hellbender, and this guy was even larger: 59.5 centimeters and 1,050 grams (23.4 inches, 2.3 pounds)! What an incredible feeling to see the largest salamander in North America, in the wild, and find such large specimens. It was a very surreal experience. We continued up the stream for another hour or so and later found a female hellbender. She was smaller than the two, but still came in at a whopping 52.5 centimeters and around 800 grams (20.7 inches, 1.9 pounds).
For me to say the first day was a success is an understatement! Finding animals that always seemed to be mystical creatures to me growing up was a dream come true. Unfortunately the next day we went to a new site, but didn't find any hellbenders. That didn't take away from the excitement of the day before. Being able to see animals in their natural habitats that I've read about as a kid and currently care for at the Zoo just reinforces that what I do really matters. Hellbenders are threatened or endangered in every state they are found in. Being able to work with them in captivity to further understand their behaviors is a great experience.
Salamanders rule!
This story was originally published in Between the Lions, Friends of the National Zoo's volunteer newsletter.