Feb. 01, 2011
By Barbara Watkins, Reptile Discovery Center Keeper at the National Zoo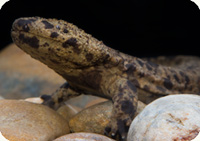 After an arduous nine years working to acquire Japanese giant salamanders, the National Zoo welcomed a group to our collection at the Reptile Discovery Center in December 2009. As our team stood waiting for the cargo at Dulles Airport to arrive, I had no idea I would have the opportunity to see these incredible animals and the facility from which they arrived within the next few months. As the warmer months began and we settled into our routine with the salamanders, I surprisingly received an invitation from a friend to attend his wedding in Tokyo. I have to admit, one of my first thoughts was, "I could see Japanese giant salamanders!" I accepted the invitation and started planning for his wedding and a trip to Asa Zoo.
Japanese giant salamanders are one of the largest amphibians in the world, weighing as much as 50 pounds and reaching lengths of up to five feet. They are native to the western region of Japan in a habitat of cold, fast-moving mountain streams. This species is listed by IUCN as threatened and the population suffers from habitat alteration. The pressures affecting their habitat are the damming and paving of the banks of streams. These actions compromise the animals' ability to migrate to spawning grounds. In Japan, the giant salamander is considered a "special national treasure." Other than one spawning in Amsterdam in the early 1900s, the Asa Zoological Park located in Hiroshima Prefecture is the only place to successfully and continually breed these animals since 1979.
With the wedding schedule and the travel required between Tokyo and Hiroshima, I had only one day to spend with the folks at Asa Zoo. They welcomed me warmly at the train station, and then our precisely scheduled day began.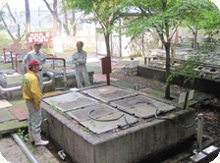 We started with a tour of the breeding facility. The breeding facility is a series of outdoor tanks adjacent to a wooded area. The facility consisted of concrete bins, plastic tubs, screen metal tops and drums all used to breed, rear, and house Japanese giant salamanders.
One remarkable aspect of the breeding facility is that they are able to use water directly from the streams in which the animals are native. This allows for water temperature and water chemistry to match perfectly, which may be one of the critical components to the successful breeding of this species. The breeding facility housed many animals of a variety of ages, from adult males guarding eggs (called "den masters") to juveniles.
One of our goals at the National Zoo is to breed our group of salamanders. This trip provided a wonderful opportunity to ask questions and make contacts with our colleagues at the Asa Zoo, the only institution successfully breeding this species. With my list of questions in hand, I photographed, took notes, and asked as many questions as possible before our schedule demanded we leave the breeding facility. Once we left, we did a whirlwind tour of the zoo with one of the curators, Otsu San. I consider myself a "herp girl" to the core, but it was quite a treat when I had the opportunity to feed a black rhino. I think I may have even giggled.
The next thing on our agenda was to visit giant salamander field sites in the countryside. This was unexpected and an experience I will never forget. I met with Dr. Kuwabara, a researcher and biologist specializing in Japanese giant salamanders. We loaded the car and set out for the countryside where I saw fresh-cut rice fields and farmers drying rice on wooden racks. We made a stop along the Yoshiki River to view natural habitat for giant salamanders and then visited Dr. Kuwabara's field station where a den master was guarding a small group of babies. My excitement was almost uncontainable.
Our last stop was a den site at a 400-year-old temple on the Okuchi River. The temple was beautiful, with towering trees, a cascading stream, and shafts of sunlight peppering our surroundings. It gave the site a somewhat enchanted feeling. The temple was a salamander oasis with a classroom full of children's crafts dedicated to the Japanese giant salamanders. Our view of the den master was a bit more compromised at this site, but it was still a fascinating trek. Once we returned to Hiroshima, we ended the day with a wonderful dinner with the incredibly hospitable Asa Zoo staff.
The next morning, I made my way back to the bullet train for my return trip to Tokyo. My flight back to the U.S. came much too soon. My eleven day trip to Japan included two zoos, an incredible giant salamander experience, a visit to hot springs and a traditional Japanese wedding ceremony that was the most beautiful exchange of vows I had ever seen. To say it was a trip of a lifetime is an understatement.
This story was originally published in February 2011 issue of Between the Lions, Friends of the National Zoo's volunteer newsletter.