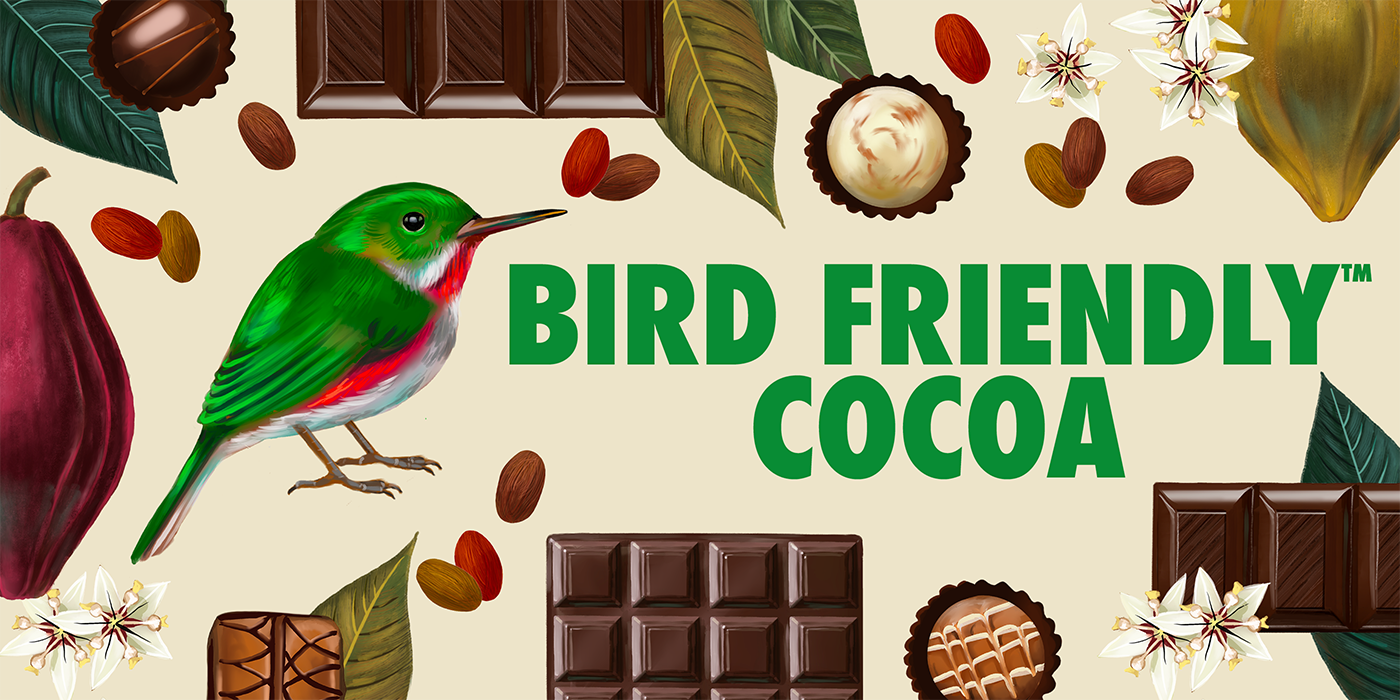 Bird Friendly Cocoa
The Bird Friendly™ Difference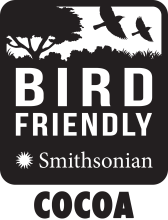 The Bird Friendly™ certification just got a whole lot sweeter.
Chocolate has joined the flock! Introducing Smithsonian Bird Friendly™ certified cocoa, the only certification that guarantees healthy habitat for birds and other wildlife with each delicious bite.
Bird Friendly™ flies above the rest by certifying cocoa farms that conserve birds and other wildlife by protecting tropical forests and native trees.
The result is delicious cocoa guaranteed to be wildlife-friendly, sustainable, and organic.
Research led by Smithsonian scientists found that cocoa farms with 30-40% canopy cover and diverse shade trees could support as many bird species as undisturbed forests. Based on these findings, Smithsonian Migratory Bird Center researchers developed the certification standard for Bird Friendly cocoa. Cocoa is the second crop type certified by the Smithsonian Bird Friendly program, following coffee.
Instead of clearing rainforest, Bird Friendly cocoa grows under and alongside the shade of native trees that provide food and shelter for birds and other wildlife. All Bird Friendly certified cocoa meets strict environmental criteria developed by Smithsonian scientists, assessing for qualities like canopy cover, tree height, and organic certification, resulting in the most biodiversity-friendly chocolates on the market.
Meet the First Bird Friendly™ Cocoa Farm
Explore Bird Friendly™ Chocolates
Three chocolatiers partnered with Smithsonian for the launch of Bird Friendly cocoa: Dandelion Chocolate, Raaka Chocolate, and French Broad Chocolates. Each chocolatier sources Bird Friendly certified cocoa from Zorzal Cacao and has committed to using 100% Bird Friendly cocoa in their certified products. Only chocolate products made with 100% Bird Friendly certified cocoa display the Bird Friendly certification logo.
Learn more about the first Bird Friendly chocolatiers and their certified products using the links below. 
Raaka Chocolate
From their factory in Brooklyn, New York, Raaka Chocolate crafts unroasted, single origin dark chocolate from scratch.
Raaka's first Bird Friendly chocolates include a Pink Sea Salt chocolate bar and chocolate minis.
Dandelion Chocolate
Located in San Francisco, California, Dandelion Chocolate has been crafting small batch, bean-to-bar chocolates for more than 10 years.
Dandelion's two Zorzal Comunitario Dominican Republic bars mark their first Bird Friendly certified chocolates.
French Broad Chocolates
French Broad Chocolates is located in Asheville, North Carolina, and handcrafts intentionally sourced cocoa into small-batch chocolate bars, bonbons and confections. 
The first certified chocolate products from French Broad Chocolates will be available later this year.
Interested in learning more about the Bird Friendly cocoa™ certification? Contact us at 
birdfriendly@si.edu
. For media requests, please visit our
newsroom
.