Apr. 14, 2011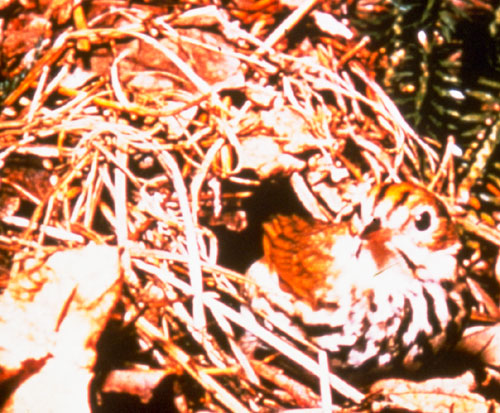 Many people may have heard or recognize the, teacher teacher teacher teacher song of the ovenbird (Seiurus aurocapilla) as they walk through forested areas in North America during the spring and summer months. The ovenbird's song signifies late spring and early summer as they arrive to northern forests in late April and early May from their wintering grounds in southern Florida, Central America, and the Caribbean.
Males sing loud and often during the first few weeks after arriving to the northern forests to attract mates and let neighboring males know they have claimed a piece of forest for themselves. During this time they sing so loudly that Robert Frost wrote of their song in a poem titled "The Oven Bird" writing:
"There is a singer everyone has heard,
Loud, a mid-summer and a mid-wood bird,
Who makes the solid tree trunks sound again."
They have another type of song in addition to the teacher teacher teacher teacher that most people recognize. Male ovenbirds also sing a warble song with a few recognizable teacher teacher notes mixed in when chasing off males intruding into their territories and also during an aerial above-the-forest canopy flight usually around dusk.
The purpose of this aerial flight and their warbling song is not well understood. It may help attract mates or let neighboring ovenbirds know of their territory boundaries.
Although ovenbirds sing a familiar song, getting a good look at an ovenbird is not always easy. They have an impressively loud song, but their plumage is drab, at least in comparison to other North American warbler species. This drab plumage may act as camouflage as walk along the forest floor in search of arthropods in the leaf litter.
Good luck trying to determine whether you're looking at a male or female ovenbird. Unless the male is singing or the female is sitting on the nest, there is no way to tell them apart by looking at them. Ovenbirds are monochromatic, unlike many other North American warblers, both males and females look alike.
Drab plumage is not the only characteristic that makes the ovenbird well suited for life on the forest floor. Ovenbirds also place their nests on the ground, usually in open areas with little to no cover, but their nests are not as easy to find as you may think. Ovenbird females build a nest that is quite unique from other North American warblers in that she builds a "cover" for the cup of the nest.
When the nest is complete it resembles a Dutch oven: hence the name ovenbird. In these nests females lay between 3 and 5 eggs. Twelve days later the eggs hatch, and 8 days after hatching, the young leave the nest. Nesting on the forest floor comes with the risk of predation from a whole suite of species including squirrels, chipmunks, and other ground-dwelling nest predators.
Habitat fragmentation has deleterious effects on ovenbirds during the breeding season. The ovenbird requires large tracts of intact forest to breed successfully. Habitat fragmentation affects ovenbird reproductive success by increasing the number of predators, increasing brood parasitism by brown-headed cowbirds (Molothrus ater) and reducing a male's ability to attract mates in small forest fragments. Although affected by forest fragmentation, the ovenbird breeding population has remained stable as identified by the Breeding Bird Survey.
Ovenbirds are only able to raise one successful nest a season. However if their first nest fails, they will attempt re-nests through the breeding season. By late July the successful nests will have fledged young and unsuccessful pairs will stop trying to re-nest. During this time they are difficult to detect as they are no longer singing and are preparing to migrate back to their wintering locations in the tropics.
Like other migratory warblers, ovenbirds spend the majority of the year in their tropical wintering areas. Not much is known about ovenbirds during this time of their life cycle. At one location in Jamaica, they forage along the dry forest floor of limestone forest in search ants.
They are quiet as they walk along the ground only chipping when they encounter other ovenbirds. Some ovenbirds hold territories during the winter while others do not. The ovenbirds that don't hold territories float around in search of areas with good food sources, such as ants and other arthropods.
Identifying where a breeding bird spends the winter months or vice versa has been challenging. Recently, technological advances have allowed researchers to determine where breeding ovenbirds spend the winter, and vice versa. Ovenbirds are large enough to carry archival light-level geolocators which record the light levels the unit experiences throughout the day.
These units are carried by the birds attached by a harness that sits on their back, something like a backpack. Unfortunately, the light-level data are only obtained by recapturing the same bird the following year. When the ovenbirds are recaptured, these data are downloaded and researchers are able to identify where (within 150 kilometers or so) the bird wintered and/or bred.
These data give researchers valuable information about the degree of connectedness between wintering and breeding locations which will add valuable knowledge about the life history of ovenbirds as well as help managers make informed conservation decisions. Stay tuned to find out which tropical location ovenbirds breeding in the White Mountains of New Hampshire spend their winter!