Sustaining Wildlife in Sarawak, Malaysia (Borneo)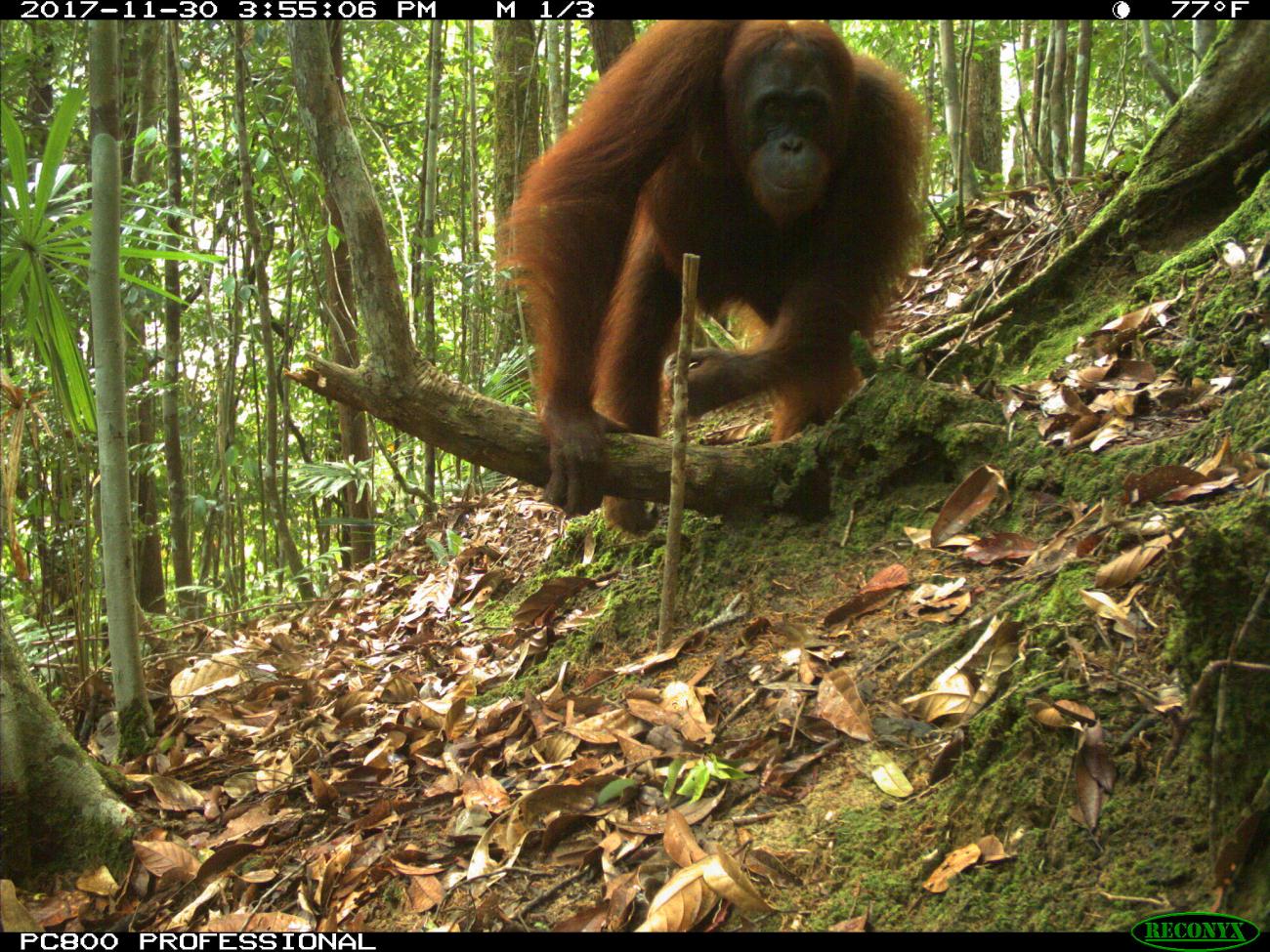 Conservation Ecology Center scientists are examining how wildlife use habitats in remote communities bordering protected areas in Sarawak, Malaysia (Borneo). Throughout Sarawak, forests bordering protected areas are threatened by illegal hunting, expanding industrial agriculture and logging.
Researchers are gathering baseline data on at-risk species and working to improve ecological monitoring. They are working directly with local communities and protected-area staff to generate data about clouded leopards, sun bears, orangutans, pangolins and other species. The project's aim is to promote the sustainability of Borneo's forests by engaging communities in the conservation of their local wildlife through traditional practices merged with conservation goals.
Since 2016, the Conservation Ecology Center team has collaborated with Sarawak Forestry Corporation to conduct camera trap studies and bi-monthly phenology surveys of important wildlife foods (fruits and seeds) within Lanjak Entimau Wildlife Sanctuary and the surrounding forest. Lanjak Entimau Wildlife Sanctuary is part of a 1.1 million hectare (2.7 million acre) transboundary area of contiguous primary forest, home to Sarawak's largest population of orangutans and bordered by a large indigenous Iban community.
Many forest stands within Iban territories are maintained as community fruit gardens, and research has shown that these forests serve as "hot spots" for wildlife. In 2020, to facilitate the conservation of community-managed forests adjacent to the wildlife sanctuary, the research team expanded their survey to include more forests actively used by Iban farmers. This expansion allows more women and youth to participate, while providing insight into the impact of traditional practices on the presence of at-risk wildlife. Scientists are also documenting, via focus groups and participatory mapping, how indigenous communities use the forest and wildlife.
Collaborations with local communities are critical to long-term conservation success. Traditional Iban practices maintain forests and can deter illegal encroachment. As such, the team is focused on continuing to engage communities through participatory and targeted skill trainings, so they can advise on the wildlife sanctuary's decision making and management process.
To learn more about this project, explore eMammal and the Conservation Commons project story map.
This work is currently supported by the Sarawak Forestry Corporation's Research for Intensified Management of Bio-rich Areas (RIMBA) Initiative and the Smithsonian Conservation Commons Working Lands and Seascapes Initiative. Past support has come from Friends of the National Zoo, and the Point Defiance Zoo and Aquarium Dr. Holly Reed Wildlife Conservation Fund. This study is only made possible through collaboration with the Iban communities of Ulu Engkari who support the research through regular participation in field work.