About Bird Friendly Coffee
About Bird Friendly Coffee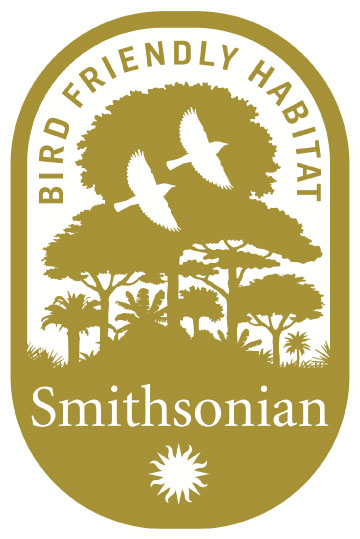 The Smithsonian's National Zoo and Conservation Biology Institute's Migratory Bird Center conserves bird species through the world's first and only scientifically backed shade-grown coffee certification: Smithsonian Bird Friendly®. Bird Friendly certified coffees are recognizable by the emblematic gold seal representing the gold standard in habitat conservation.
Bird Friendly Coffee By the Numbers in 2018
More than 31,000 acres (12,800 hectares) of protected land
Bird Friendly coffee farms in 11 countries
More than 4,600 participating coffee producers
More than 19 million pounds of coffee
Three-quarters of the world's coffee farms destroy forest habitat to grow coffee in the sun and typically use harmful pesticides and fertilizers that poison the environment. When forests disappear, migratory songbirds disappear, too. In order to combat critical population and habitat loss, Smithsonian scientists created the Bird Friendly certification.
Bird Friendly certified coffees grow under biodiverse shade that provides habitat for migratory songbirds and other wildlife, sequesters carbon and fights climate change. Certification standards cover everything from canopy height to insect biodiversity to protect the wildlife that lives where coffee is grown. Bird Friendly coffees are also certified organic, meaning they are grown without pesticides, which is better for people and for the planet.
Bird Friendly producers can also earn more for their crops. The certification gives growers access to gourmet market price premiums, and the timber and fruit trees on shade coffee farms provide farmers with additional income. Every cup of Bird Friendly coffee purchased rewards these farmers for being good stewards of the environment and encourages them to continue conserving Bird Friendly habitat.
Buying Bird Friendly also supports the Smithsonian Migratory Bird Center's conservation research aimed at understanding and protecting your feathered friends, including advancing Bird Friendly coffee research.
Learn more about Bird Friendly coffee in the Bird Friendly Coffee FAQ.
Coffee drinkers: Find out where you can buy Bird Friendly coffee.
Farmers, Roasters and Distributors: Learn about Bird Friendly coffee certification.